The Death of the Last Black Man in the Whole Entire World AKA the Negro Book of the Dead
Suzan-Lori Parks
Signature Theatre
Signature Theatre, New York
–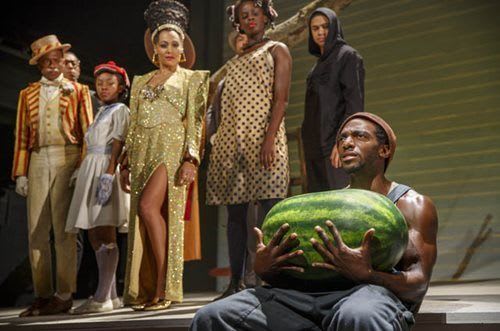 Those that enjoy traditional, well-made plays should avoid this hour-long reunion reading like the plague.
This production of a work which first saw the light of day 30 years ago reunites the whole of the team that performed the Signature revival under the direction of Lileana Blain-Cruz four years ago but has a very different appeal.
Strangely, two Irishmen might come to mind. Perhaps if either James Joyce or Samuel Beckett had been reincarnated as an African-American in the age of Black Lives Matter they might have written a piece like this, which works almost entirely at a visceral level.
The language is nothing like standard American-English. Instead, it utilises what might well be a unique poetic patois and benefits greatly from the rolling presentation of the text alongside the actors' heads.
Pleasingly, just as we are all getting tired of so many Zoom squares, the director and her design team have chosen to place the 11 actors performing from home in strange, expanded bust shapes, creating an interesting visual effect.
Equally evocative are the characters' names, which include such glories as Yes and Greens Black-Eyed Peas Cornbread and Lots of Grease and Lots of Pork.
They largely perform in two configurations, either as a large post-Greek chorus or as a pairing between Daniel J Watts as the Black Man with Watermelon and Roslyn Ruff playing Black Woman With Fried Drumstick.
The plot, such as it is, can be difficult to interpret and follow but it is relatively easy to get the drift. That is because the main themes, which come through effectively, are so powerful and, while historical, sadly still relevant.
The play acts as an indictment of the inhumane treatment of the black man through US history, with reminders of the various ways in which black everymen met their ends at the hands of white owners who like to be described as their "masters".
On top of what should always have been regarded as murders, there are further tales of the difficulties faced by those from a race that was enslaved for centuries in the United States, not to mention forced to bear children for the aforementioned masters, sometimes incestuously.
Lileana Blain-Cruz has clearly benefited from an opportunity to reconvene her original cast, who work perfectly as a unit, bringing what should be a difficult play to vibrant life.
Viewers may not comprehend every word that is spoken, nor should they since some are hardly part of common parlance, but they will fully understand the underlying message and its importance as this play hits the Internet with less than a week to go before the US presidential election and, sadly, just after yet another black American man has died at the hands of police officers.
Reviewer: Philip Fisher