The Devil Speaks True (Or Shakespeare's Macbeth As Told By Banquo)
William Shakespeare / Goat and Monkey
Goat and Monkey
Vault Festival
–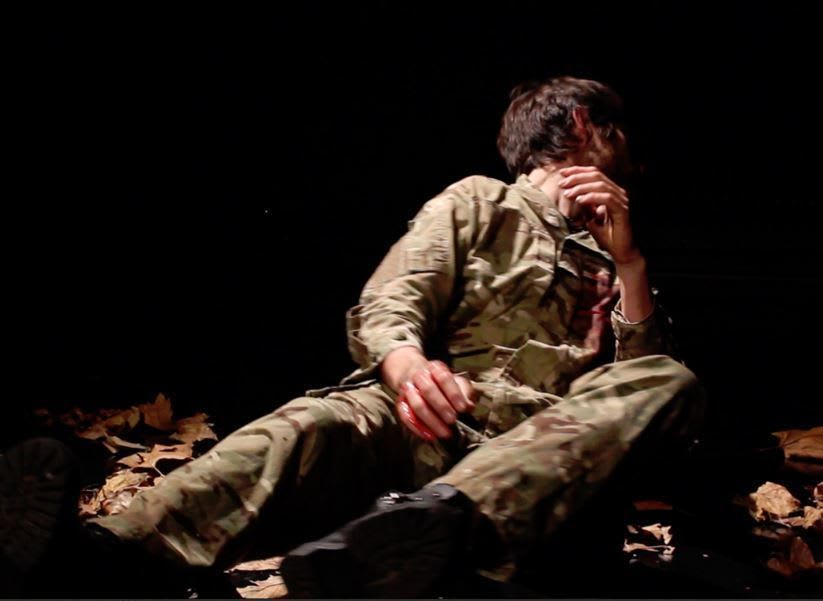 Theatre company Goat and Monkey has created a superbly immersive experience in its reworking of Macbeth, The Devil Speaks True.
I could have done without the scents, but sitting in true pitch black, submitting to the detailed and complex soundscape presented through the wireless headphones, was disconcerting, focussing and transfixing.
Rarely at the theatre do you experience the event in turns through your ears or your eyes but this is the impression I came away with—that I listened without sight and often watched in silence or without the spoken word, startled into swapping senses by sudden changes in sound or lighting (lighting design by Leo Woolcock).
There are some memorable tableaux provided through video projections (from Alex Vipond and Adam Young) and live performance (from Neil Callaghan, choreographer and performer) contrasting peaceful scenes of the sun setting in the desert with coming under fire in modern conflict.
Having these interspersed with recordings of ex–servicemen recounting their experiences of Iraq and Afghanistan was stirring stuff and the binaural sound (sound design and composition by Dominic Kennedy) had a very real, three dimensional effect that made me want to look round to see if there was someone there.
Side by side with the ex–servicemen's interviews in the soundscape are excerpts from Shakespeare's Macbeth.
Through this, we are to apply what we know of one world to other and to see the fraternity between soldiers and the difficult adjustment between the violence of conflict and life away from it.
The Devil Speaks True seeks to draw parallels between Banquo's inability to reacclimatise after his battle experience with those of Britain's modern war veterans suffering Post Traumatic Stress Disorder.
The play has moments of brilliance but the issue remains that that parallel lines don't meet and there is something uneasy about judging the mores of past times by contemporary criteria.
Although I was moved and engrossed—and certainly entertained—by Goat and Monkey's interpretation of Macbeth, it was rather like having two experiences at the same time.
It wasn't always clear who of Shakespeare's characters was speaking but I am not sure that, had it been, it would have made the connections ring solidly true. For all that, The Devil Speaks True excited my senses and teased my mind and for that it is worth more than the price of a ticket and rewards a visit.
The Devil Speaks True runs at Vault Festival until 27 February (various times) then tours through to end March to The Garage Norwich, New Theatre Royal Portsmouth, The Firestation Windsor, Attenborough Arts Centre Leicester, Brunel Arts Centre Uxbridge, Maltings Arts Theatre St Albans, The Old Fire Station Oxford and Brighton Dome.
Recommended for those aged 14 and over due to themes of violence and strong sense of threat. Trigger warning: This performance contains potentially distressing material in the form of personal accounts of war and descriptions/depictions of Post Traumatic Stress Disorder.
Reviewer: Sandra Giorgetti