The Dirty Flea-Bitten Scrounging Bastard
Peter Mortimer
Cloud Nine Theatre Company
Alphabetti Theatre, Newcastle
–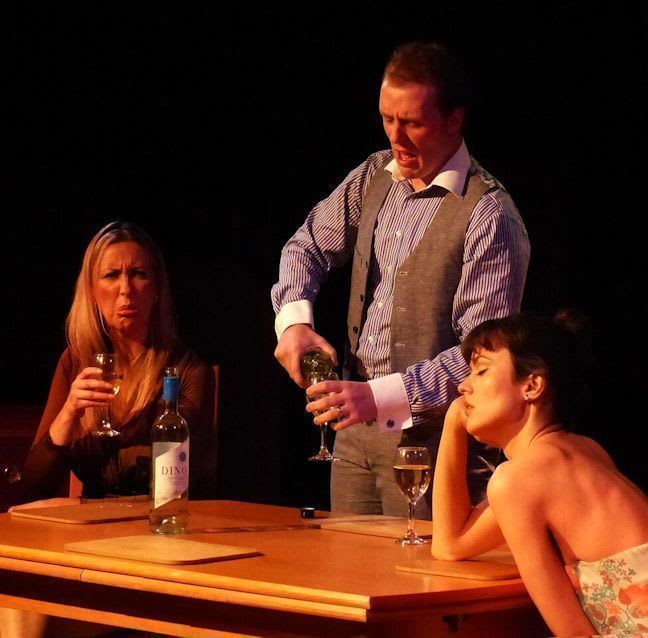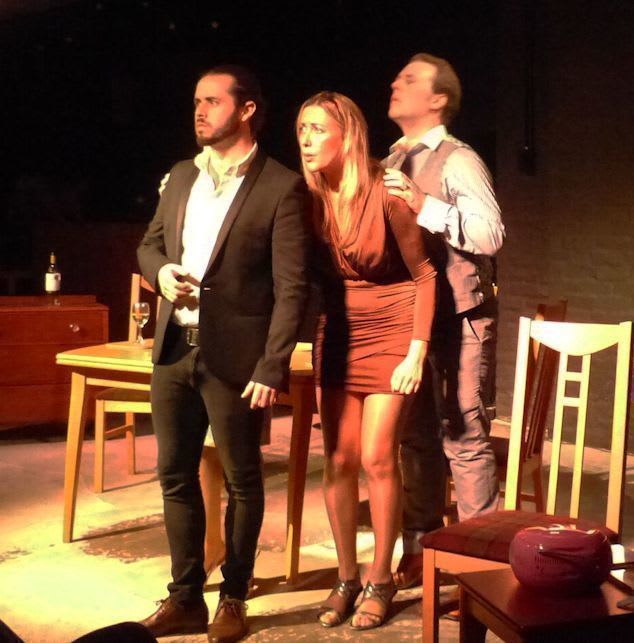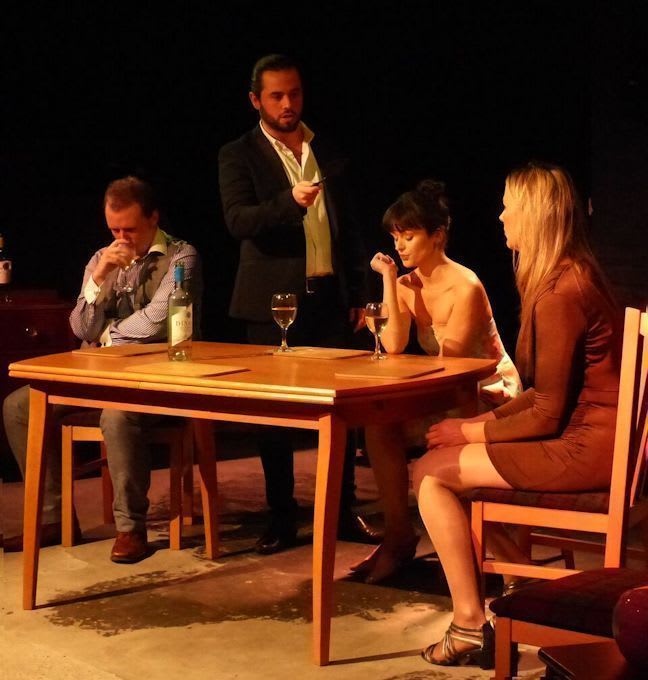 For some years now most (but not all; there was, for example, Death at Dawn) of Peter Mortimer's output as a playwright can best be described as surreal or absurdist—sort of "by N F Simpson out of Ionesco"—but The Dirty Flea-Bitten Scrounging Bastard is different. Mortimer calls it "a modern tale" but it might more accurately be described as a modern allegory.
The setting is the dining room in an expensive London apartment where two couples, property developers and their wives, are in the middle of a celebration meal after pulling off what they expect to be a hugely profitable deal. The two men, particularly Edwin (Dale Jewitt) who seems to be the major partner in the business, are full of themselves, very self-satisfied, dismissive not only of those who do not have their money-making skills but also to an extent of their wives. Rich (Lawrence Neale) is perhaps a little less extreme but still not one you would choose as a bosom buddy.
One of the wives, Laura (Jill Dellow), is the archetypal dumb blonde (trophy wife perhaps?) with the most excruciatingly whining cockney accent you have ever heard, whilst Muriel (Sam Neale—no relation to Lawrence) is clearly bored by the whole thing, nodding off quite frequently early on.
Then the doorbell rings. It's a homeless man, begging, the dirty flea-bitten scrounging bastard of the title.
I'll say no more of the plot, for more would be too much and would spoil the enjoyment of its unfolding and the lead-in to an unexpected ending. Mortimer doesn't draw things out, though; at just under 40 minutes the piece is compact, pacy and effective.
Here he does not, as he did, for example, in 2015's The Stolen Rubber Band, create a surreal universe with its own internal logic but gives the real (and, in his work, one has to ask just what that means) world a slightly off-kilter twist. The characters are just that little bit over the top—nothing excessive; just a tad—and the language just a little more repetitious than normal.
Heightened reality or low level surreality? The effect is the same, making the ending (no, I'm not saying anything more!) more impactful and thought-provoking.
The piece is directed by Neil Armstrong, Cloud Nine's usual director, who, as ever, firmly anchors the piece in its own reality, finding the comedy in the situation and the characters without making them comic.
The actors, too, make us believe in their characters, neatly balancing on that fine line where reality and surreality meet. Excellent performances all round.
The production moves to The Exchange in North Shields from 19 to 21 October and then to The Quakerhouse in Darlington on 22 October.
Reviewer: Peter Lathan