The Distance
Deborah Bruce
Orange Tree Theatre
Orange Tree Theatre
–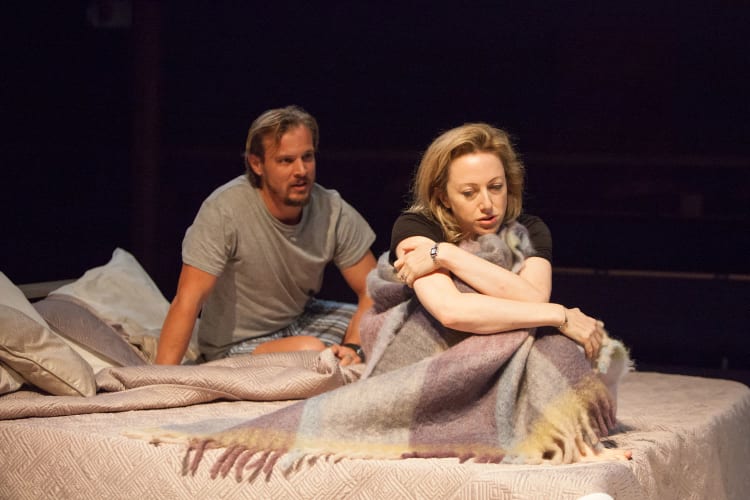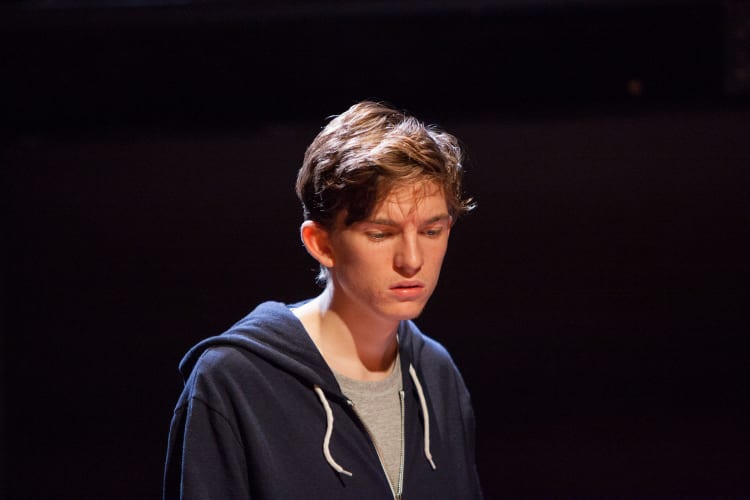 The Distance deals with difficult issues of motherhood and parenthood not normally at the centre of social debate.
Is the right for a mother who feels no love for her children, and feels imprisoned in her role of parent and wife, to abandon them? Why is more socially acceptable for a man to leave his family behind than it is for a woman?
Another secondary theme at the heart of the play is that of friendship: should friendship be about unconditional acceptance of the other's bad choices? Or shall a good friend try to rectify these bad choices?
These are what the main three female characters have to contend with in this bold new play. Bea (Helen Baxendale) has returned to England leaving her Australian husband (Timothy Knightley) and her two small children behind. She looks for refuge and understanding in her oldest friends, Kate (Clare Lawrence-Moody) and Alex (Emma Beattie).
Kate tries to talk some sense into Bea and wants to persuade her to go back to Australia and battle for her children's custody. She is controlling and patronising in her righteous rationality toward both her friend and her submissive husband, Dewi (Daniel Hawksford).
Alex, instead, a fretful and frantically absent-minded single mother who seems to worry more about her son's whereabouts during the riot—allegedly these are taking place just round the corner from her house—than her friend, negotiates with Bea while compensating for Kate's tubbornness to help her friend.
The focus of the first act is on this triangle, the three friends involved in heated discussions of gigantic moral scale on the responsibility that comes with motherhood and parenthood, the meaning of friendship, etc etc.
The scenes are very often humorous, thanks to the intersections and the effective punchlines emerging from the mundane small worlds of Alex and Kate, who clearly, though, have problems of their own, bigger than they might admit to. It is the consistent back and forth between the ludicrous and the serious in which the writer Deborah Bruce excels.
Halfway through the first act, Bruce introduces Vinnie (Oliver Ryan), Dewi's brother, who has been working on a shed in their garden. Brilliantly played by Ryan, Vinnie brings a breath of fresh air with his big entrance, like the odd, slightly dull jester that we all love to laugh at and to laugh with.
However, the big entrance is all what is left of this maverick character that is soon enough sucked in the discussion between the women, his role being reduced to a mere tool for revelations. Vinnie not only addresses what we already knew were the main failures and mistakes in Kate's behavior but also reveals the dark secrets of Kate and Dewi's marriage.
It is, in fact, at the end of the first act that much of the drama and the back-stories are explained and we arrive at the interval, at the edge of our seats, asking ourselves how all these are going to be solved.
The second half starts with the introduction to another character, Liam—Alex's fifteen-year-old son—played convincingly and very naturally by the young, talented Bill Milner. Liam faces an awkward dialogue with the supposedly drunk Bea. Complete with some subtle sexual innuendos, it is Liam's sincere and realistic reactions that remind us of how much the choices adults make really affect the young and vulnerable.
This intimate and highly evocative scene is, then, followed by an intense fight between all the main characters involved, a climax that leads too quickly to the end of the play. It is here where the play and conversely Bruce fail to take responsibility for the brave themes and complex situations they have presented.
The script leaves some of questions behind and gives us very few answers. Without giving anything away, it is enough to say that some of the conflicts are solved too easily, some are left hanging and the changes in some of the characters' journeys are far too simplistic.
It is, however, still a brilliant production that offers some good acting and some fine directing by Charlotte Gwinner. It has to be said again that it is the young Milner who shines through in his brief role of an unpretentious teenager who has learnt to cope with a dysfunctional mother.
All the other actors juggle well between punchlines and articulate word fights—Clare Lawrence-Moody is possibly the strongest in this regard—yet, they do not always appear comfortable in their shoes. The male cast is, also, too often overshadowed by the three powerful women.
The Distance is, in any sense, a highly entertaining drama that brings in a new perspective on the contemporary family and our society and wants for more to be said.
Reviewer: Mary Mazzilli