The Divide Parts 1 & 2
Alan Ayckbourn
The Old Vic
King's Theatre
–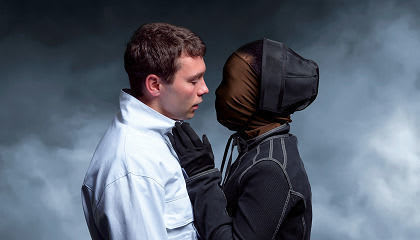 In every sense, The Divide was always going to be the big event of the 2017 Edinburgh International Festival.
This magnum opus runs to six hours and is uncharacteristic, even for a playwright who prides himself on variety, although his formidable reputation largely rests on quirky comedies about unhappy couples.
This new work has moments of unrequited love but is primarily a something topian (U or Dys depending on the viewer's own opinion) vision of the future.
It starts with a lecture delivered in the year 221PD (Post Divide of course), on a day that we would know as 11 August 2201.
The history lesson fades into a drama taking place around half a century before, when puritanical South Sarum (old Salisbury) was a dangerous place for a man.
Having said that, there were almost none, the divide itself having taken place on gender lines a century before, ostensibly to protect men from infectious women and the plague that they all carry.
Our narrators are young siblings of fundamentalist parents. Indeed, their Mapa is a political animal faithful to the Orthodox Party in the face of the cavalier attitudes of their dangerous Progressive rivals, while Mama is as dull a housewife as that role could ever welcome.
Erin Doherty is Soween, a plain girl who suffers at the hands of bullying friends led by Joanne McGuinness as cruel gang leader Axi and Sophie Melville's Sassa, a putative partner. In Part 1, we follow her coming of age anguish at their inhumanity and her own eczema.
Soween's growth is contrasted with that of Jake Davies in the role of her arty brother, Elihu. His time in the bosom of the family is temporary, since the rare boy (less than 1% of the population) will be forced to move north to the male side of the divide on achieving maturity.
By the end of Part 1, trouble is clearly brewing, since both are being courted by the sexy Progressive Free Spirit, Giella, played by Weruche Opia.
In the ponderous second half, accepting that one looks back and the other (like 1984) forward, similarities to The Crucible become even more apparent as love causes problems to a repressive community and there is even a show trial.
As the evening progresses, it can be confusing and a number of plot inconsistencies begin to emerge, which may be a function of juggling with such a long script.
One major plus point for this work is the opportunity that it offers a bevy of young actors from across the UK, directed by Annabel Bolton, to shine in a large work. Led by the superb Erin Doherty, Jake Davies and Weruche Opia, they step up to the mark and should be booking sparkling futures with these performances.
Overall, Alan Ayckbourn has shown great ambition in this co-production between EIF and the Old Vic and invented a challenging scenario but many will conclude that this material could have been perfectly well served by a much sharper production running to at most a couple of hours rather than a theatrical marathon that struggles to keep its audience on track for such a long period.
Reviewer: Philip Fisher