The Doctor's Dilemma
George Bernard Shaw
Lyttelton Theatre (National)
–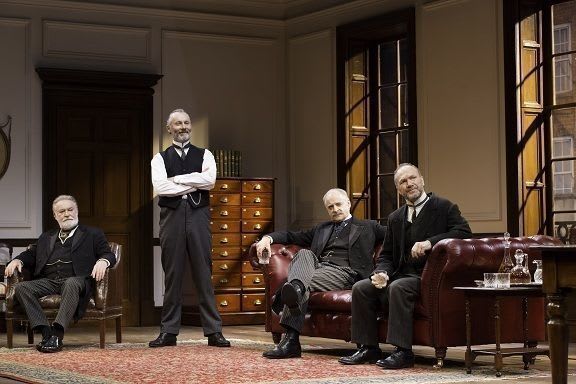 Nadia Fall may be an inexperienced director but she has justified the gamble taken by Sir Nicholas Hytner who has given the debutante all of the National's resources to show her skills.
She has lovingly restored a practically forgotten classic to the repertoire in a production that will be remembered for its beauty as well as the philosophical intrigues that Shaw loves so much, the whole delivered by a splendid cast.
The Doctor's Dilemma is a century-old morality play that, almost throughout its 2¾ hours, feels as fresh today as it must have done to Edwardian audiences when it was first seen.
The opening scenes are light-hearted as the writer wittily satirises a group of self-satisfied, knighted quacks each of whom cares far more for his theories than his patients.
They are personified by the newly ennobled Sir Colenso Ridgeon, well played by Aden Gillett. He is not quite as pompous as some of his fellows but that might owe much to his mother-hen maid, the scene-stealing Maggie McCarthy having a whale of a time.
Amongst the friends, David Calder donning a Shavian wig and whiskers impresses as Irishman Sir Paddy Cullen, who has seen it all before, while Malcolm Sinclair is effortlessly funny throughout as the wealthy but brainless Sir Ralph Bloomfield Bonnington, who could pontificate for England.
Their clubbable bonhomie is broken up on the entrance of Genevieve O'Reilly who gives a touching performance as frail, beautiful Jennifer Dubedat. This sweet innocent has come to plead for her husband's life, believing that Sir Colenso is the only man alive who can save him from the ravages of tuberculosis.
This is where the morality comes in, as the doctor has the capacity to save only ten lives at a time he is forced to choose between the suave 23-year-old artistic genius but thoroughgoing scoundrel, Louis Dubedat, and a harmless but public-spirited Derek Hutchinson's Doctor Blenkinsop who is goodness incarnate, if a trifle dull.
To add to the dilemma, the new knight has fallen head over heels for the lovely prospective widow. It gets worse, when the doctors discover that she firmly believes that Louis is a good man, unaware or unwilling to acknowledge his bigamy and financial indiscretions.
Shaw being Shaw, in addition to a generous dose of good humour, there is enough food for thought to supply a banquet. This is frequently triggered by Tom Burke in the role of Louis, a man who will challenge every societal standard regardless of the consequences, even movingly from his deathbed.
This really is a lovely revival, given period feel by Peter McKintosh's designs that make the most of the Lyttelton's stage's mechanics and also a generous budget, reaching a peak in a touching scene in the artist's studio, embellished with morbid iconography and lit like an old master by Neil Austin.
The National seems destined for yet another success with this amusing, intellectually satisfying, if sometimes contrived, work and deserves it for showcasing a sparkling new directing talent on a big stage.
Reviewer: Philip Fisher