The Dragon
Yevgeny Schwartz, in a new adaptation by Daniel Goldman and Tangram Theatre Company
Tangram Theatre Company
Southwark Playhouse
–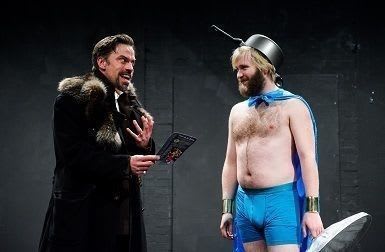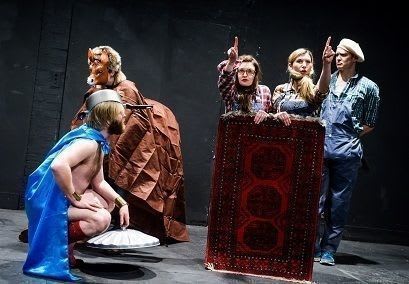 Londoners should offer Daniel Goldman a vote of thanks for introducing them to Yevgeny Schwartz, a playwright whose work is virtually, or possibly completely, unknown here.
Judging by The Dragon, the Russian-Jewish playwright is a fine writer who occupies similar territory to Mikhail Bulgakov.
This samizdat satire, completed in 1943, presents a wicked allegory lampooning the Soviet system during a time when writers who did not take their political masters seriously tended to end up in prison, Siberia or a grave.
Daniel Goldman's adaptation attempts to work on three different levels. First, it is a postmodern piece poking fun at actors, audience and the characters themselves from a 21st-century perspective. Secondly, it is a fairy-tale and lastly, a wicked allegory taking pops at the communist regimes that ruled Russia in the middle of the last century.
On the surface, the story is simple enough. A wicked, oversized fire-breathing dragon played with appropriate gravity by Justin Butcher is terrorising a town, while promising protection from even greater monsters.
We meet it the day before the annual eat a virgin event. The lucky winner of this contest is Jo Hartland's Elsa, as pretty and innocent as a picture but resigned to her fate.
Step in James Rowland as cut-price superhero Sir Lancelot in tight trunks that might have been borrowed from Superman. The blond-haired, bearded knight happily brandishes a dustbin lid and saucepan in his efforts to ward off the fiery, three-headed dragon in a contest that seems horribly uneven.
Unexpectedly and rather inexplicably, our man wins but apparently suffers fatal injuries in the process.
After an interval to break up the 2 hour 20 minute running time, the refreshed audience returns to discover that instead of peace and harmony reigning as result of the efforts of their saviour, a year on one diabolical dictator has been replaced by another.
Now, complete with a Stalinesque moustache that has caught on with the whole town, the former Mayor played with great conviction by Hannah Boyde has taken over with totalitarian zeal.
In doing so, he gets dedicated support from Peter Stickney in the role of his intellectually challenged son, Henry.
The drama builds nicely to a seemingly disastrous finale for all concerned. This witnesses the impending marriage of the ex-mayor to unhappy, unwilling Elsa.
Even a child can guess that no playwright would allow this outcome and, thanks to an unlikely but welcome turnaround in fortunes, the good live happily ever after while their evil denigrators receive their come-uppance.
This is a highly enjoyable production of an important play that can still speak to us today, as Elsa does in a well-judged late speech in which she implores every man and woman present to remember that "we are all dragons".
She then reminds us of the responsibility that rather than turning a blind eye we have to oppose violence and wrongdoing wherever it occurs.
Some of the theatrical shenanigans in the early scenes, which mirror the pantomimes going off across London at the moment, can give a wrong impression of what is the follow.
The Dragon is not the childish romp that this might suggest but simultaneously a light-hearted rendition of a fairy tale and a very serious political satire that fully justifies a trip down to the Elephant and Castle.
Reviewer: Philip Fisher