The Dreamer Examines his Pillow
John Patrick Shanley
Lightning Jar
Old Red Lion
–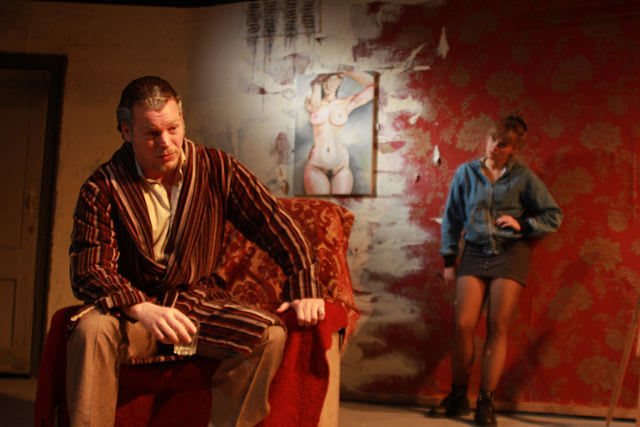 John Patrick Shanley is now best known for his light film comedies and also the major hit, Doubt. The adventurous Lightning Jar Theatre Company is now giving British viewers a chance to have their first sight of this much earlier, grungy look at New Yorkers on the edge, 28 years after its original performance.
As The Dreamer Examines his Pillow, set in 1983, demonstrates, he has a very different view of love from the average writer of rom coms. This is steamy passion with the gloves off, more in the style of David Mamet and Sam Shepard (especially Fool for Love) than say When Harry Met Sally.
The central figure in this 1¾ hour drama is Stacie Bono as Donna. She is a sassy, strong but vulnerable character who finds herself trapped between two weak men.
Her former boyfriend Kieran Moloney's Tommy is on the skids and far gone. He lives in a barely furnished, Bronx dive, talking to the fridge and viewing himself, judging by a gruesome self-portrait, negatively as a post-Baconian horror.
Tommy is also intent on punishing himself, having left Donna and subsequently taken up with her sister, Mona. If leaving your girl for her kid sister wasn't bad enough, his new squeeze is eleven years his junior at 16, questioning the bounds of legality let alone taste.
At the end of the first act confrontation between this pair, we leave for the interval with a Tommy tirade ringing in our ears and little hope that a couple who clearly love each other will ever get back together.
Donna turns to her old Dad (in this case, not that old), played by Jason Will. In most love stories, he would provide lashings of mature wisdom but in Shanley, the father figure is an old soak who was once an artist and now does nothing but drink whisky and try to forget the wife whom he loved too much.
However, what he and Donna recognise in different ways is that the girl wants to marry her father in replica.
This leads to a darkly witty finale as the two men meet to talk uncompromisingly about love and marriage prior to a suitably novel ending that establishes The Dreamer Examines his Pillow as a comedy in the classical sense.
Anil Douglas's minimalist production is graced by an excellent performance from American actress Stacie Bono who really gives her all, with adequate support from the two men.
Fans of plays about the impenetrability of the urge to love and lust with an American twist are likely to enjoy this hard-boiled example of the work of one of America's best living playwrights.
Reviewer: Philip Fisher