The El. Train
Eugene O'Neill
Found Productions in association with 31 Productions and Just Opened
Hoxton Hall
–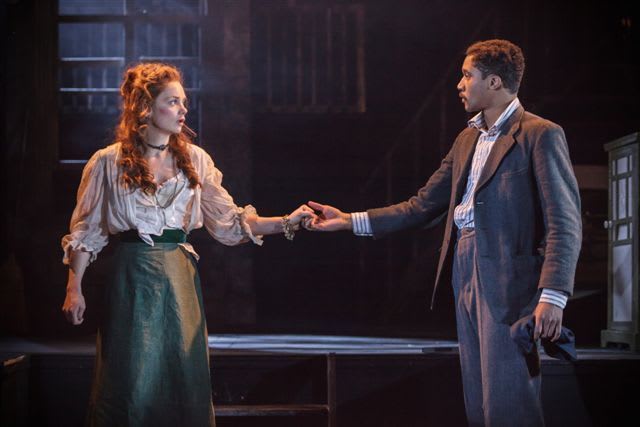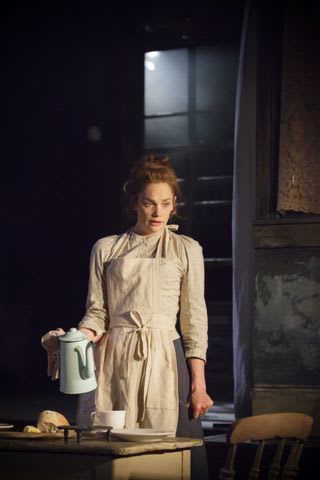 This is a triple bill that puts together three of O'Neill's one-act plays: Before Breakfast (1916), The Web (1913) and The Dreamy Kid (1918) and frames them with jazz numbers newly composed by Alex Baranowski with lyrics by Rory Mullarkey that are splendidly sung by Nicola Hughes.
They are dovetailed into the plays themselves as the cast as the company assemble each new scene in a beautifully choreographed manner through Neil Austin's misty lighting on Richard Kent's atmospheric set.
The black, wrought-iron balconies of Hoxton Hall rise upwards to suggest the crowded tenements of New York. Kent has created a set on several levels on and below Hoxton's original stage that is a world full of atmosphere with its grey outlines, tattered hangings and battered furniture which create three quite different rooms for the three plays.
Even before the play begins, the setting and the playing of the band builds a vibrant theatrical atmosphere that helps prepare for the strong stuff to follow, which at times verges on the melodramatic.
Before Breakfast is virtually a monologue except for noises from behind the hanging sheets that conceal a bed, occasional shadows on them and, for one moment, an extended arm that takes a bowl of food. A woman at the end of her tether harangues a husband still lying in bed as she prepares breakfast and gets ready to go to work.
It is an opportunity for a virtuoso performance from Ruth Wilson as Mrs Rowland that gives us the whole story of a marriage from its romantic beginnings, when ex-Harvard, would-be poet Alfred goes in the face of his family to marry this woman from a lower order, to its disintegration with his failure and unfaithfulness while she slaves to keep them going. He has awoken and starts to shave his stubble but then goes further.
Ruth Wilson's performance and director Sam Yates's direction build up an atmosphere potent enough to carry off the theatricality of the dramatic conclusion.
The Web, also directed by Yates, presents Wilson again as consumptive Rose, a woman driven to prostitution and abused by Steve her pimp. As he rails at her, demanding that she gets rid of the tiny baby who has become the centre of her world, things escalate to such violence that the tenant in the next room bursts in to intervene.
It is high-voltage stuff as gun-wielding intruder Tim throws out Zubin Varla's malevolently sleazy Steve. Tim seems a kindly black guy, Simon Coombs gives him gentleness and honesty, but need has driven him to crime. He is a safe-breaker and offers Rose some of the proceeds of his latest crime to start a new life.
There is a clear attraction between them—perhaps there could be a future together—but, before they can leave, Steve is back, unseen by them, and this time he is armed. Rose's hopes are dashed as the police arrive to find her with Tim's body in another melodramatic ending.
Wilson (who won an Olivier when she played the title role in O'Neill's Anna Christie) not only delivers two strong performances in these two plays but also makes her debut as a director with the third play: The Dreamy Kid.
For The Dreamy Kid, as she ends the number sung to lead into this play, Nicola Hughes hides her shining night-club glamour as her head is wrapped in a simple kerchief and she assumes the character of Mammy Saunders, a black old lady lying on her death bed.
Convinced her grandson Dreamy will turn up to be with her at her passing, she drifts in and out of sleep. Sharon Duncan-Brewster's Ceely Ann attempts to comfort and reassure her but is interrupted by the arrival of Irene (Ony Uhiara) also wanting Dreamy.
Dreamy does arrive. He is a gangster on the run who has just shot a white man. Ceely Ann returns to say the cops are looking for him—they are bound to come here, but when he plans to leave his mother curses him with ill luck if he does not stay with her.
Simon Coombs gives him an attractive personality. He may be a gangster and a murderer but this is a man setting duty and superstitious fear against the need to flee and he becomes a tragic figure not a villain.
A century old, these three plays seem to bridge old melodrama and new twentieth-century theatre of social reality. This relatively early work of O'Neill's is somewhat formulaic and violently dramatic but it provides some histrionic opportunities that this cast seizes on to deliver so excellent performances.
With a superb band and great vocals from Nicola Hughes, this becomes a seamless sequence of nearly ninety minutes that never breaks the atmosphere established by the setting which is a triumph, with railway tracks overhead and the rumble of the trains adding dramatic impact, replaced by thunder in the skies in the sound design of Baranowski and Andy Hedges.
At £45 for a top priced seat on hard chairs packed close together, this isn't a cheap fringe evening, but the audience proximity may help the atmosphere and you get high production values and three one-act plays that give meaty drama.
The evening extends onwards too with the band playing in the specially configured bar which is intended to recreate the mood of the Hell Hole Saloon, O'Neill's own New York drinking place.
Reviewer: Howard Loxton