The Elephant Man
Bernard Pomerance
Theatre Royal Haymarket
–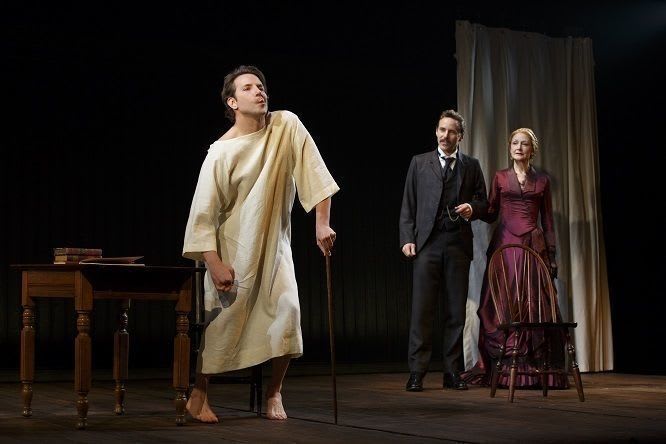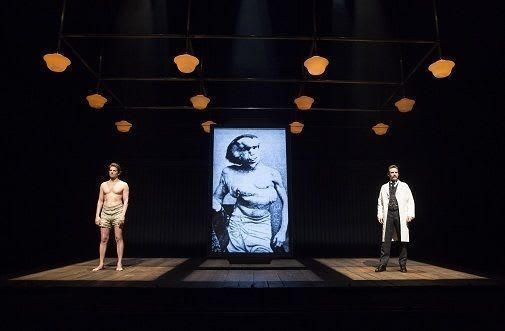 The latest Broadway import is bound to be the hottest ticket in town this summer.
Not only is Bernard Pomerance's play based on the kind of moving human interest story that appeals to audiences but the producers have given director Scott Ellis a cast led by Hollywood heartthrob from American Sniper, Bradley Cooper.
Unusually, the production has been brought over lock stock and barrel from New York so that all of those in front of and behind the scenes are American, though for the most part you would not know it from the well-crafted English accents.
Scenic designer Timothy R Mackabee uses the simplest of concepts to keep the action moving through 140 minutes. Scene changes are created by pulling screens across the stage, allowing actors and the backstage crew to work speedily with the simplest of props.
The story has become almost mythic, perhaps in part due to the film version starring John Hurt.
Cooper plays John Merrick, one of life's unfortunates having been born in Leicester with a disorder that turned his body into a monstrous mess, which repels even a hardened leprosy nurse.
As was the way of things in the 1880s, he survived only by being exhibited in a freak show like some wild animal.
The sad man's passport to a new life was provided by Alessandro Nivola's Dr Frederick Treves. As the play opens, the 31-year-old visits the freakshow in a spirit of scientific exploration and takes pity on a man whose is so badly afflicted that he has to travel with a sack over his head.
Bradley Cooper is a fine physical specimen and it is a tribute to his acting abilities that, as Treves describes his character's abnormalities, the performer literally appears to lengthen his right arm, developer limp and take on massive facial disfiguring becoming ugly to our eyes.
Remarkably, a man shunned by the world became the darling of "the highest in the land" right up to the regal Princess Alexandra.
Merrick proves to be kind and gentle but ultimately doomed. Pleasingly, though, the years that he spends at the London Clinic under the care of Treves at least delivered a degree of happiness to a life that had previously been filled with torment.
The most moving scenes in a play that brings every drop of sentiment possible out of the story come when Merrick is rewarded by altruistic kindnesses from his friends.
In particular, Patricia Clarkson as Mrs Kendall, an actress hired specifically because of her ability to hide personal repulsion behind a neutral persona, comes up trumps.
When faced with a particularly intimate request to give The Elephant Man a few moments of genuine pleasure, she barely hesitates.
Bernard Pomerance's version of the Merrick story works on two levels. First, it may be a little melodramatic but is nevertheless a deeply moving portrayal of the gentle hero's rise from the depths of Victorian society to at least association with its zenith.
Secondly, The Elephant Man himself is a metaphor for his age, showing the massive gulf between rich and poor and the way in which members of Victorian society would literally laugh at those less fortunate than themselves, rather than showing compassion.
There can be little question that every ticket for this run will sell out. Any Londoner wishing to see a real Broadway show (or Bradley Cooper in the flesh) without having to travel to New York should somehow find a way of acquiring one. They will not be disappointed.
Reviewer: Philip Fisher