The Emperor
Ryszard Kapuściński, adapted by Colin Teevan
HOME, Young Vic and Les Théâtre de la Ville de Luxembourg
HOME Manchester
–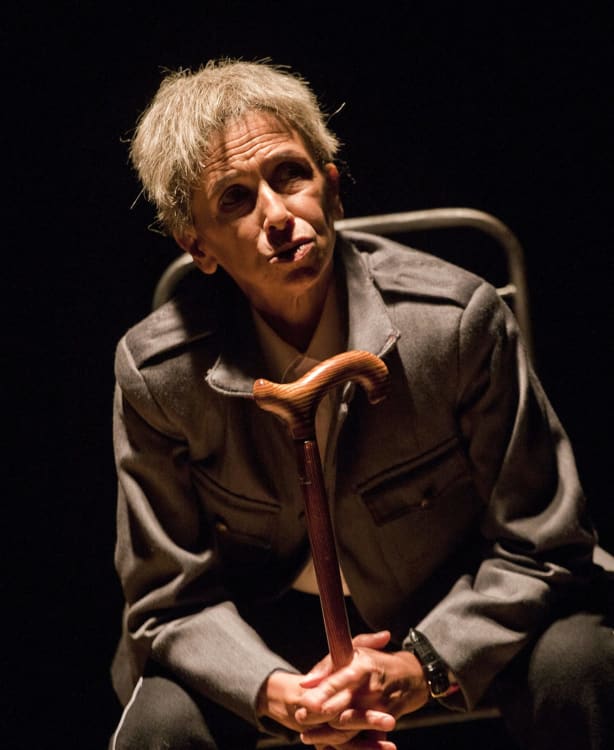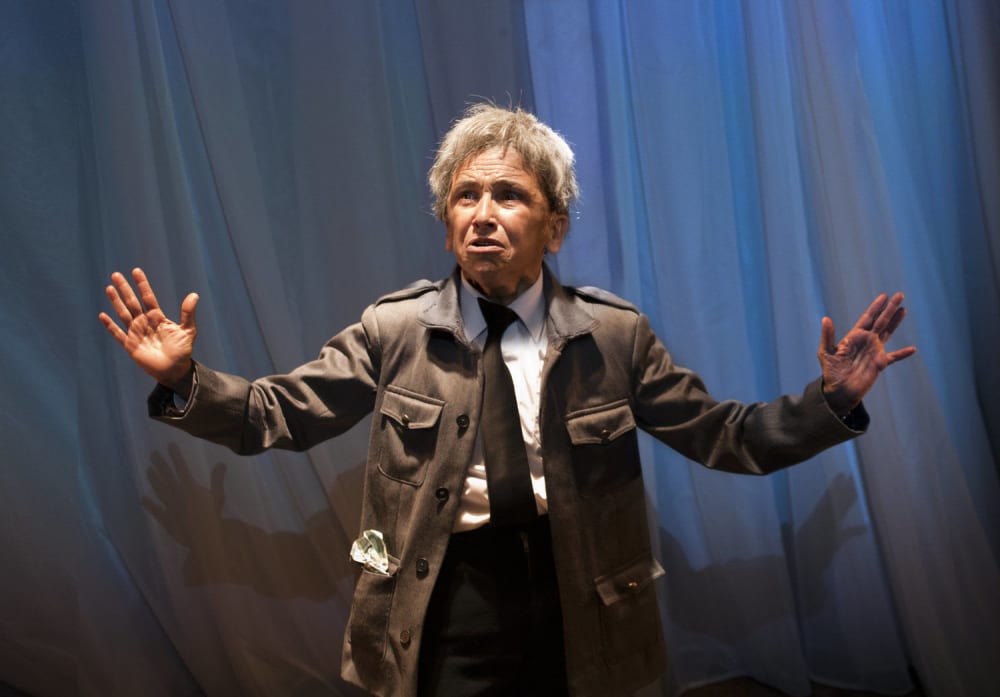 Last year, we were fortunate that artistic director Walter Meierjohann brought Kathryn Hunter to his new HOME in a restaging of his 2009 Young Vic production of Kafka's Monkey.
Now he has tempted her back to Manchester for another tour-de-force (almost-) solo performance in a new piece, again adapted by Colin Teevan and directed by Meierjohann, this time about the reign and fall of Haile Selassie, Ethiopia's Emperor from 1930 until he was deposed in 1974.
However this is no straightforward recreation of events. It is based on the 1978 book of the same name by Polish journalist Ryszard Kapuściński for which he travelled to Ethiopia in 1974, while the army was still taking over control of the country, to find and interview Selassie's servants and close associates.
Hunter plays all of these witnesses, identified only by their initials and job title in subtitles, in the same military uniform, just using a few props—spectacles, a walking stick, epaulettes, cushions—and her remarkable ability to both physically and vocally transform. We never see the Emperor himself, but the picture drawn for us impressionistically by his aides and his staff is all the more vivid for it.
All of those who speak remain loyal—devoted even—to the man they still refer to as "King of Kings of Ethiopa and Elect of God" every time they mention his name, even the man whose son was one of the victims of a crackdown on student protests—which produces one of the most moving moments in the production.
But we can see through their excuses and justifications, even if to them the situation is normal. This applies as much to the menial tasks that some servants are proud to perform—such as the "keeper of the third door" (the most important door, he boasts) and the man who places cushions under the Emperor's feet when he sits on a throne so his short legs don't dangle—as to the scandal that the Emperor was spending a fortune on expensive food and building projects, squirreling some of the cash into foreign banks and (literally) under the carpet, while thousands in his country were dying from starvation.
Selassie had some protests and an attempted coup dealt with violently, but the world became aware of the situation after Jonathan Dimbleby's 1973 documentary film The Unknown Famine was released. This was the beginning of the end for the Emperor, but, we are told in a final subtitle, the regime that took over from him was responsible for millions more deaths from famine and mass killings.
The play feels important both politically and historically, but it is also told with great humour and sometimes with genuine sadness for the man that is beloved by all of our narrators.
Hunter is joined on stage by musician and singer Temesgen Zeleke, who also fills in a few smaller parts and whose live music blends with recorded music and other sounds (sound designer Paul Arditti, music Dave Price) to create the perfect atmosphere for the piece. The rig for Mike Gunning's lighting design looks like it was stripped from a rock concert, but is used delicately to highlight very small areas.
It's a short but fascinating piece, played straight through without an interval, that doesn't allow the attention to wander for a moment, not least due to another charismatic performance from one of our greatest actresses.
Reviewer: David Chadderton