Enquirer
Vicky Featherstone, John Tiffany and Andrew O'Hagan
National Theatre of Scotland
Mother at the Trampery, Clerkenwell
–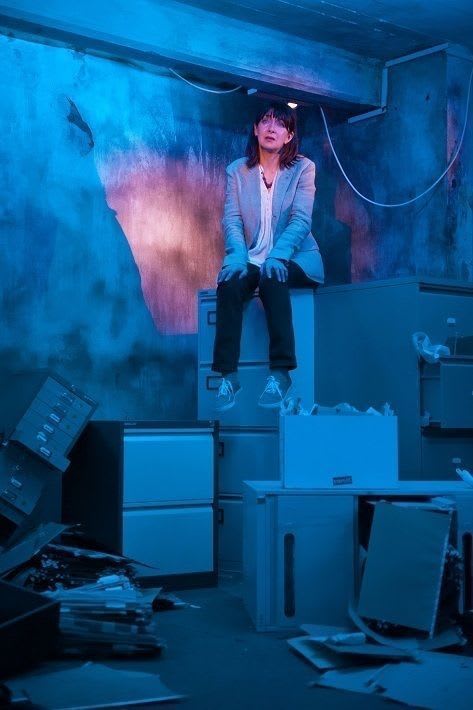 The prospect of a London visit from the National Theatre of Scotland led by Royal Court's Artistic Director designate Vicky Featherstone inevitably sets the pulse racing.
The quality of this company's best work is unbeatable, with Black Watch putting the bar at the kind of levels even Olympians would find terrifying.
Their latest work, Enquirer, has already toured in the company's native country and is a verbatim drama produced in association with the London Review of Books.
It explores the murky world of contemporary journalism with every word drawn from one of 45 representatives of the Fourth Estate between 12th February and 15th September this year.
Although the slightly updated London transfer is presented under the auspices of the Barbican, it actually takes place in an empty office building in Clerkenwell.
This gives the company the opportunity to range around different locations, dragging their audience behind them, which inevitably slows proceedings at various points during the 90 minutes.
The overall impression that one gets is of an ageing profession that probably passed its sell by date when the big names moved out of Fleet Street into less salubrious quarters, some might suggest leaving their morals behind.
Its representatives tend to have equally old-fashioned views, the senior members represented by John Bett and Billy Riddoch being determinedly everything -ist to a shocking degree.
To be fair, almost every one of the interviewees, their views dramatised by a solid company of six actors, is an idealist, albeit of the self-justifying variety.
They ought to be defensive by now, following revelations about phone tapping, the payments of bribes for information and most recently debates about prurience versus public interest when members of the Royal family unwisely divest themselves of clothing.
Ultimately, despite the attempts to glorify the trade, this compilation turns into a terrible indictment until a poignant but witty final scene in which it becomes apparent that even its scions seem to accept that the print media is on its last legs.
Whether blogging, promoted by youngest cast member James Anthony Pearson, will be any better in the long run is a moot point, with the suggestion that journalistic standards could sink to even lower depths.
There are some balancing stories, in particular one delivered with great delicacy and feeling by Maureen Beattie about the effects of a massacre on a tabloid journalist, who then discovers the indignity of taking second place to the frivolity of a Royal Wedding.
Elsewhere, the highlights tend to be scenes of unintended comedy in which influential, affluent old drunkards reminisce about the good old days when women, minorities and lefties could all be kept at bay.
Despite the immediacy of some of the set pieces, it is not entirely clear that the promenading around a building in which piles of old papers find a new use as temporary seats adds much to the experience other than wearing out the legs.
As a requiem to a dying industry that at one time dominated the country and decided the outcomes of general elections, Enquirer is valuable. It helps that it has been compiled by Vicky Featherstone, John Tiffany and Andrew O'Hagan with an eye to crowd-pleasing through humour and is performed by a well-chosen cast that is completed by Gabriel Quigley and Hywel Simons.
As such, it should appeal to anybody with an interest in any form of media, news or hypocrisy at its very best.
Reviewer: Philip Fisher