The Events
David Greig
Actor's Touring Company
Traverse Theatre
–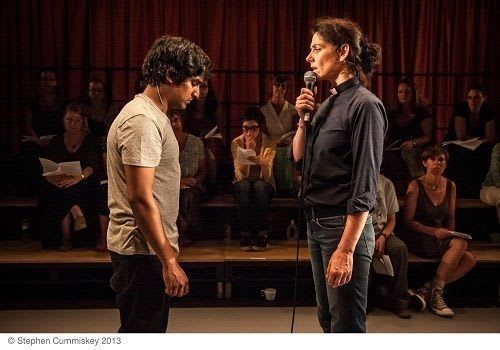 Over the last decade and more, David Greig has given this critic more pleasure at both the Edinburgh International Festival and Fringe than anyone else. To be fair, he has also probably produced more work than any other live writer.
His raison d'être is to explore the contemporary zeitgeist using an incisive vision and broad frame of reference.
Like all of Greig's work, The Events is characterised by wit and intelligence. It uses the medium of Claire, played by Neve McIntosh. She is a trendy female vicar struggling to regain her faith.
Following a soothing choral opening from a fourteen-strong group of singers, we discover the reason.
This hinges on the arrival of Rudi Dharmalingam as the unnamed, uncommunicative Boy. He is a misfit from far away and piques the interest of the jeans-wearing priest.
Suddenly, the mood changes when the message emerges that their connection has been forged as he perpetrated a "mass shooting event", which has decimated the multi-cultural choir.
This is a chance for Greig to view racism and inexplicable violent acts on both a personal and global level, Dharmalingam playing a stream of other characters as Claire examines her soul and by extension we look at that of society.
The contributors include not only the Boy's father but Claire's lesbian partner and a racist politician from an unidentified right-wing party who predictably denies that he is any such thing.
One can never be sure of the motives of madmen who might just be politically-motivated anarchists. The debates about 9/11 and the more recent Boston bombing and Woolwich murder continue. David Greig throws in his own ideas, which will get the audience thinking too, which is no bad thing as society becomes victim to more and more acts of seemingly random violence.
The approach in this Actor's Touring Company co-production under the direction of Ramin Gray can seem a little scattergun, as the writer considers a widely diverse set of issues and keeps bringing in more.
The Events occasionally lacks clarity but is undoubtedly an important piece that will inevitably prove popular in Edinburgh and also in October when it reaches London at the Young Vic.
Reviewer: Philip Fisher