The Fantasist's Waltz

TongueTied Theatre
York Theatre Royal Studio and touring
–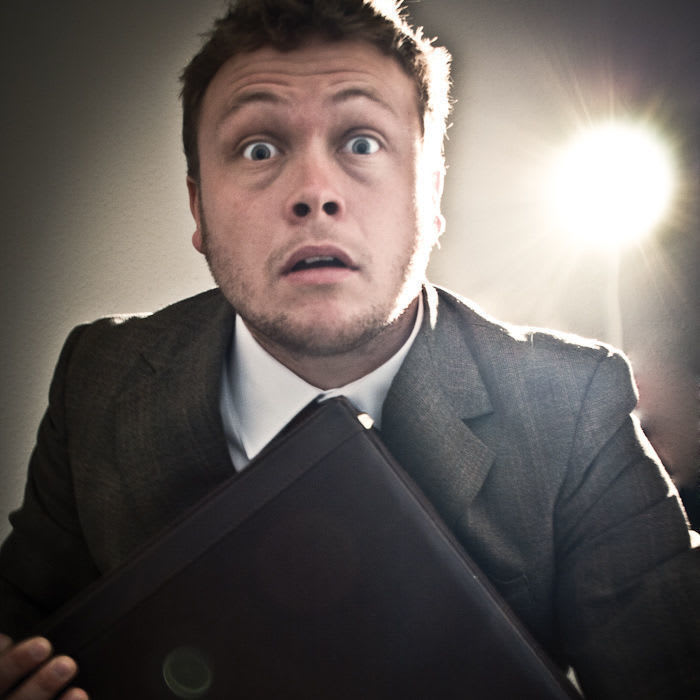 TongueTied Theatre, a relatively recent addition to York Theatre Royal's roster of associate companies, was formed in 2009 by Lizzie Wiggs and Kyle Davies, who met at the renowned Lecoq School in Paris. Having performed at the Theatre Royal's TakeOver festival in 2010, they now premiere new show The Fantasist's Waltz, based on a short story by sometime company collaborator Julia Gwynne.
The production, directed by Davies and Wiggs, centres round the eponymous Fantasist, given a frenetic and moving embodiment in Joe Bone. While Bone gives a bravura performance, this is at heart an ensemble production, and the choral trio of Seiriol Davies, Lizzie Wort and Edward Wren create the characters and environment surrounding the Fantasist with equal commitment and a playful lightness of touch.
Play is at the centre of Lecoq-based training, and this comes through clearly in this piece. After a not completely convincing start, with a long stretch of wordless action, centred round the Fantasist, in which Bone is not quite sufficiently precise in some of the mime, the show comes into its own and there are many lovely touches and moments. This brand of imaginative, musical and lyrical physical theatre seems particularly suited to the examination of hopeless dreamers, lovelorn fantasists—as in some of Dancing Brick's work or, on a larger scale, Gecko's The Overcoat. Here, too, we have a contrast between the monotonous world of work and the multicolour, high-society adventures of the fantasy world conjured by the central figure. Wort, Wren and Davies create a supporting cast of characters with wit and enthusiasm, and are at their best when seamlessly choreographing the mundane routines of the Fantasist's daily life outside his dream. Berkoff's Kafka adaptations, as well as the aforementioned Paris school, are clear points of inspiration.
James Perkins's design is neat and provides a great space in (and on) which the cast can play. Andy Pilliner's lighting is well-nuanced and as evocative as the performances. The music, co-composed (or even devised?) by Dominic Sales and the company, and performed live by the ensemble of Davies, Wort and Wren, is one of the production's strongest points. It is at times moving, at times boisterous, always supremely apt and skilfully executed.
Davies and Wren show a range of comic (as well as musical) skills, though some of the semi-improvised rapid-fire repetition of the salesmen may grate to some as too forcedly 'playful'—perhaps too close to the rehearsal room exercises from which the show derives. The whole ensemble invests entirely in the performances, though, and Wort, who has previously impressed at the Theatre Royal in children's show When We Lived in Uncle's Hat, again marries solid-gold comic timing with moments of true feeling, and spot-on physical performance.
On the whole—and without wishing to give away too much of the show's contents—this has moments of inspiration, and some genuinely moving sections. There may not be much genuinely to surprise those who are familiar with other Lecoq-inspired devised theatre, but the rarity with which this is executed with such heart and by such talented performers means that this is a production worth catching when it comes to town.
Touring to: Hull Truck Theatre Studio, 30-31st March 2012; Harrogate Theatre Studio, 18-19th April 2012; Georgian Theatre Royal Richmond, 25th April 2012; The Carriageworks Leeds, 1st May 2012.
Reviewer: Mark Smith