When We Lived in Uncle's Hat
Finegan Kruckemeyer, adapted from the book by Peter Stamm and Jutta Bauer
Tutti Frutti and York Theatre Royal
York Theatre Royal and touring
(2010)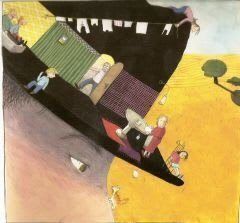 After last year's successful Mike Kenny collaboration, Visiting Grandad, tutti frutti and York Theatre Royal's latest offering, When We Lived in Uncle's Hat, again seeks to introduce young theatregoers and their families to several generations of an unorthodox family through colourful, musical, imaginative theatre.
After the audience is warmly welcomed into the theatre by the ensemble of four actors, the lights dim and the endearing central narrator Sammy (Joe Woolmer) introduces us to the idea that it's not walls but family that makes a house. Woolmer is a wide-eyed, shy beanpole of a boy/man, perfectly cast and charmingly communicative with the audience.
The other three actors play two family members each - a selection of grotesques (in the nicest possible sense) who become quickly recognisable through excellent vocal and physical work, and a few simple costume indicators which are imaginatively played with throughout.
Imagination is the key word here, as the ensemble takes us on a boisterous journey through various locations which the family at one moment or another feels may make a home. We're treated to a bus house, a cinema, a moon landing; the company even succeeds in showing us the absurdity of living "nowhere". Finally - or nearly finally - we see them attempting to live in Uncle's hat.
Moments of physical and verbal humour as well as more touching themes are interwoven lightly and effectively throughout the piece. The whole cast sings, and each actor plays a bemusing range of instruments to create a wonderful range of musical backings to the different chapters in Sammy and his family's journey.
Michael Lambourne, whose performance was one of the standouts in York Theatre Royal's recent take on Wind in the Willows, is on fantastic form again, thrillingly rambunctious as little brother (Super)Kareem as well as delightfully scatty as the father of the family. Julia Gwynne as sister Mali and the grandfather also demonstrates a great range of physicalities. Lizzie Wort as Mum and Gran is particularly engaging, for me almost stealing the show with her facial and vocal contortions. Without recourse to complex props or projected images, the cast as a whole create a wondrous comic-book atmosphere which is welcoming to youngsters but will doubtless appeal to the adults who accompany them as well.
If there is a stumbling point, it comes after the eponymous episode in Uncle's hat (with Sammy finding employment of his own with astounding and joyful ease). Despite surprising, laugh-out-loud moments such as these, and the amusing interlude during which we see Sammy at work, there is a sense of uncertainty about the story at this point, with the result that this section feels somewhat like a coda. It's here that younger members of the audience may start to wriggle: we've seen the hat house; what's left to tell?
Of course, the narrative is finally neatly wrapped up and the family are all happily reunited, in one form or another. The resolution leaves room for later discussion of some of the deeper issues touched upon, if children are inquisitive and mature enough to ask the questions, while also providing a neat and simple end point for those who simply want to revel in an accessible, warm and engaging piece of theatre.
Touring to Stratford Circus, artsdepot, Half Moon, Watermans, Barnsley Civic
Reviewer: Mark Smith