The Father
Florian Zeller, in a Translation by Christopher Hampton
Theatre Royal Bath Productions
Tricycle Theatre
–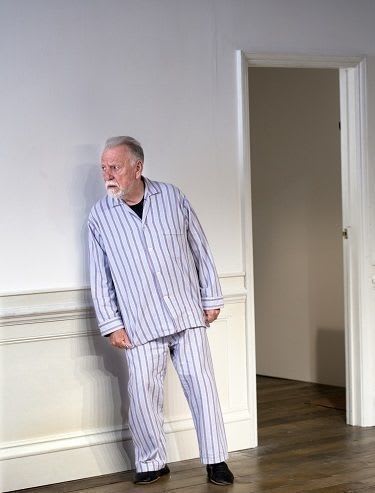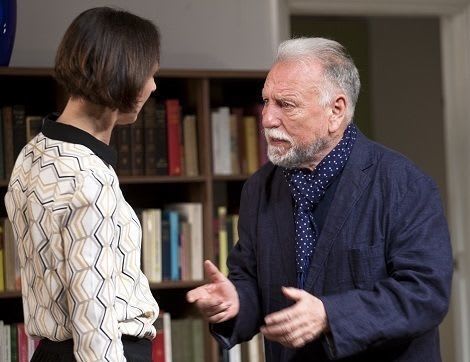 It is hard to imagine a better representation of the horrors of dementia than this intense 90-minute penned by a young Frenchman.
Florian Zeller has had the great good fortune to be supported in the United Kingdom by a translation from Christopher Hampton, whose other French collaborations include two super hits, Art and Les Liaisons Dangereuses plus the directing skills of the versatile James Macdonald.

The first of many short scenes takes place in the Paris apartment of Kenneth Cranham's 80-year-old André, a feisty retired engineer whose memory is beginning to play tricks.
He is accompanied by his loving daughter Anne, played with great sensitivity by Claire Skinner. She is clearly anguished and at the end of her tether following years of help and support for The Father.
A crisis approaches as she prepares to reveal plans for emigration to join her lover in London, while consistently hiding the secret of her sister Elise's absence.
Following one of many staccato piano-accompanied blackouts between scenes, not only does André's mind seem to be playing tricks but our own.
Quickly, as with Art, viewers find themselves in the middle of an intellectual puzzle trying to make sense of much that appears to be nonsensical and illogical.
Not only is it difficult to identify characters but plotlines change in mid-flow to add to the sense of unsettling mystery.
However, this is more than a European playwright showing cute cleverness. Gradually, the fact begins to dawn that we are being allowed to share the frustrating experiences of an elderly man who can no longer trust his memory.
There is also the hint that Anne might herself be experiencing vivid and confusing dreams, making up a separate strand of the story.
As the tale of an old man, his daughter, her men friends and a carer (sweetly played by Jade Williams) sink itself into consciousness, in parallel, Miriam Buether's set, which is stark to begin with, loses the metaphorical equivalent of its own marbles until the play reaches an inevitable conclusion.
Kenneth Cranham gives an epic performance in a role that must be both challenging and difficult but, one hopes, also deeply rewarding.
While this is a highly serious play, humour is never far beneath the surface, ensuring that the piece never becomes a chore to observe. This also owes a great deal to the sparse, skilful direction of James Macdonald, who keeps his audience on the edges of their seats from start to finish.
The Father may be simple in conception but it is one of the most powerful and moving plays that London has seen this year and Theatre Royal Bath Productions plus the Tricycle's Indhu Rubasingham are to be congratulated on identifying and capturing such a thrilling piece of drama.
Reviewer: Philip Fisher