The Firm
Roy Williams
Hampstead Theatre Downstairs
–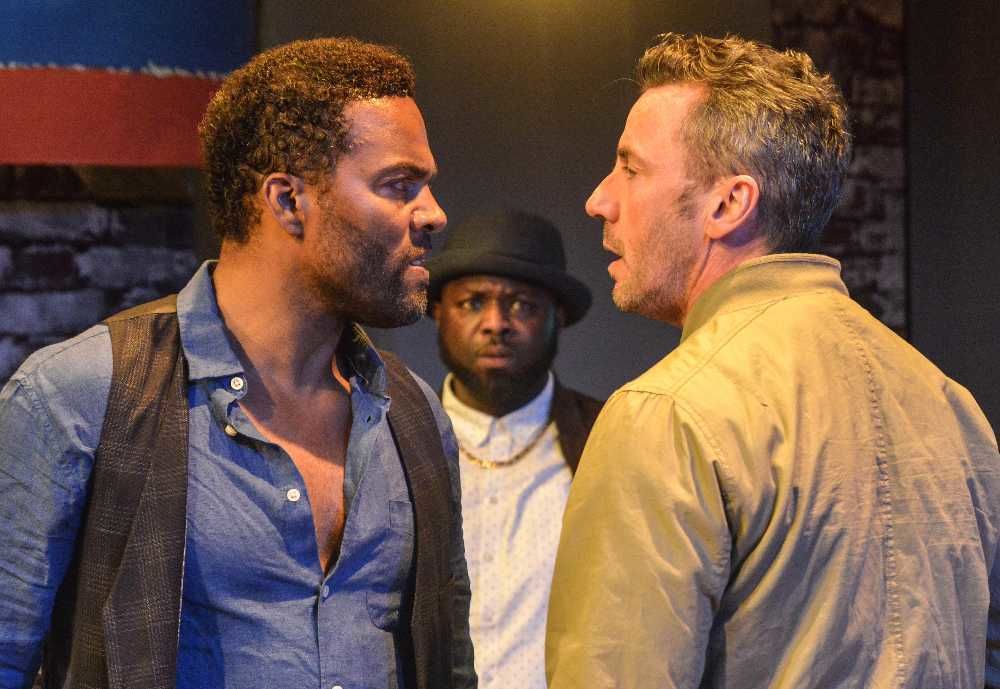 The Firm was such a hit at Hampstead Downstairs in 2017 that Denis Lawson's production has been called back for a second run.
The piece combines two familiar genres. Set in a stylish new South London bar which, thanks to the efforts of designer Alex Marker, looks so real that you want to order a designer cocktail, the 90-minute-long performance combines that theatrical staple the event-filled pub evening with a tale of petty gangsters (in this case London Yardies) long past their sell by date enjoying a reunion.
The bar belongs to cool Ray Fearon's Gus, a wealthy entrepreneur so much brighter than his erstwhile companions in The Firm that he is the only gang member who has never so much as been in court, let alone prison.
Like the host, the visitors who arrive one by one are approaching 50, very much aware that after long spells in prison their patch has been taken over by a new generation of knife wielding thugs.
First on the scene, with just as convincing an Anglo-Jamaican patois as his black "brethren", comes Jay Simpson playing Leslie, now in a relationship with his probation officer and desperate to go straight.
Trent and Selwyn, respectively portrayed by George Eggay and Clarence Smith, might be happy to make some money on the side but in various proportions age, weight and the after-effects of a stroke push the odds of them returning to a successful life of crime into the stratosphere.
What might otherwise have been a run-of-the-mill comedy drama takes on a more sinister edge with the arrival of Makir Ahmed's Fraser, young enough to be any of the other men's son.
Having negotiated an unlikely series of coincidences that add little to the evening's flow, that is exactly what the 20-year-old turns out to be, creating considerable conflict as streams of skeletons fight their way out of cupboards.
Fraser is eager to step into dad's gangster shoes, without necessarily having the heart or cold brutality needed to beat all-comers in what sounds to be a highly competitive and violent market.
While some of the early scenes betray an overly contrived construction, the evening builds to some exciting dramatic moments and eventually achieves its purpose when some of the older men take the opportunity to reflect on their past lives and, in doing so, achieve an unexpected level of wisdom about their failures and Fraser's future.
The Firm is refreshing in its depiction of a slice of contemporary London society that rarely receives serious treatment on the stage. While some of the lesser characters are not fully fleshed out, its main strength lies in the central conflict between some highly believable major players with Ray Fearon and Makir Ahmed making the most of the stronger roles.
Reviewer: Philip Fisher