The Flick
Annie Baker
Barrow Street Theatre, New York
–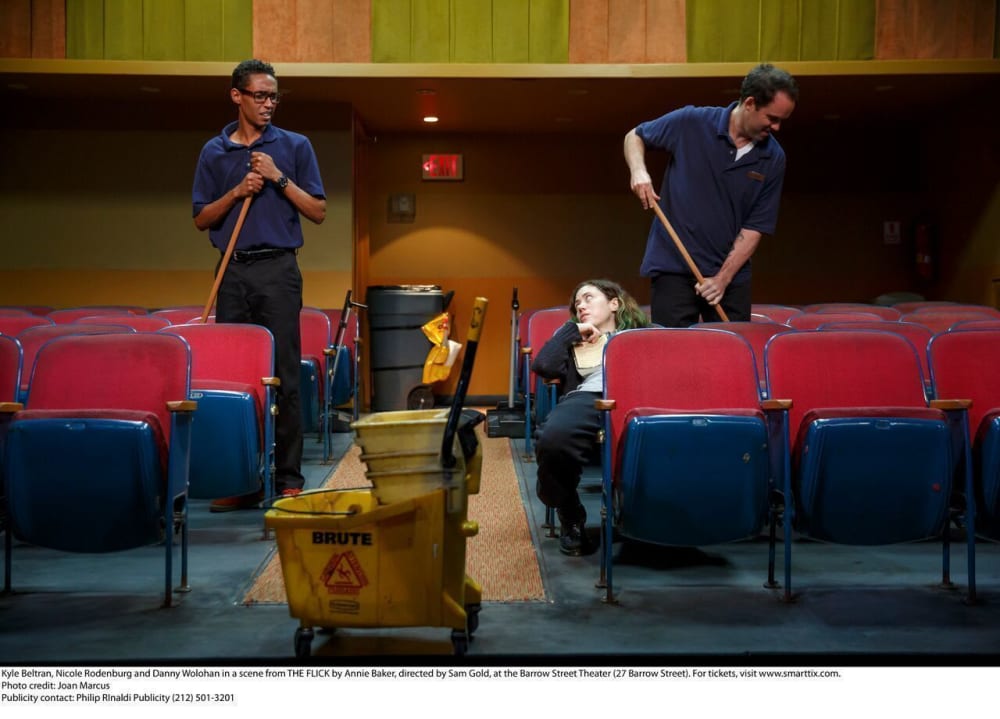 The Flick is already scheduled to play at the National in the spring. It will be fascinating to see how British audiences react to a work that proved controversial and divisive prior to winning the Pulitzer Prize.
Taken at face value, the often elusive Annie Baker has written a 3¼-hour three-hander (with a briefly sighted fourth character) about unexceptional people doing very little. For those willing to explore its metaphors and delve beneath the surface, the feted young playwright has created a challenging but potentially rewarding piece of theatre.
The drama takes place in a Hopper-style, single-screen movie house in Worcester County, Massachusetts a couple of years ago.
There, for the most part, we witness the staff cleaning up late at night and chewing the fat. While Kyle Beltran's young Avery, a student who is merely raising funds to make college days a little pleasanter, is obsessed by the medium, his fellows are merely there enduring mundane jobs to keep their heads above water.
Unhappy Sam, played by Danny Wolohan, seems destined to remain on the bottom rung of the very low ladder and is no luckier in love than career.
More hopeful is Nicole Rodenburg's projectionist Rose. With her valley girl accent but lacking the wealth usually associated with that species, Rose seems more level-headed and better able to deal with the world. However, that could be a misapprehension as it is based on a modicum of self-confidence that her fellows singularly lack.
There is little action, although the main plotline is driven by the cinema's commercial failure and the inevitable need to replace the 35mm camera, worshipped by cineastes such as Avery, with modern digital equipment.
This vision of society's desire to change and modernise can be seen as one of a number of themes in a work that seeks to provide a loose commentary on aspects of our existence in an age of technological and social change.
The inability of each of the characters to fulfil whatever potential they have is also a stark reminder of how tough life can be today for those with limited financial opportunities.
Miss Baker's regular director Sam Gold not only trusts the script to make its own points but complements it with pauses that might even have unnerved Harold Pinter but do add impact. He is well served by a dedicated and impeccably drilled cast.
The Flick works on a number of levels. It portrays ordinary people at work, pays homage to the movies as an obsessively loved art form and obliquely refers to the human condition as it is experienced in the USA today.
That makes it an important play, which will be enjoyed by those willing to work at the experience.
Reviewer: Philip Fisher