The Flying Lovers of Vitebsk
Daniel Jamieson
Kneehigh Theatre
Wilton's Music Hall
–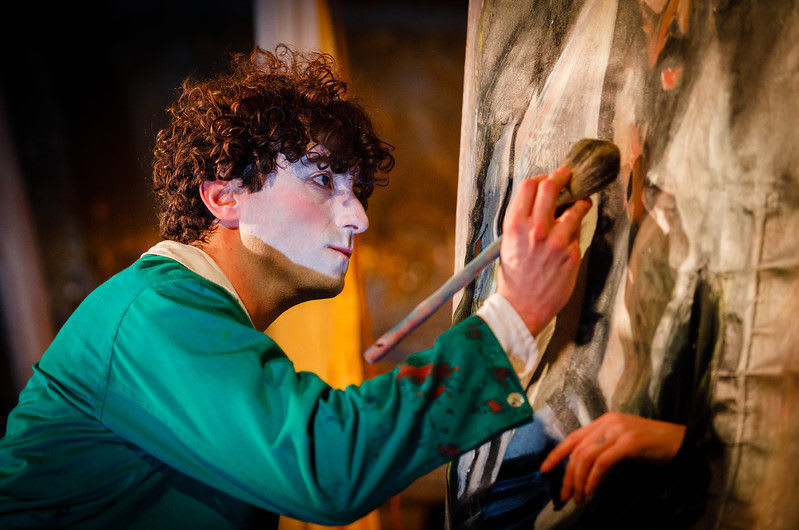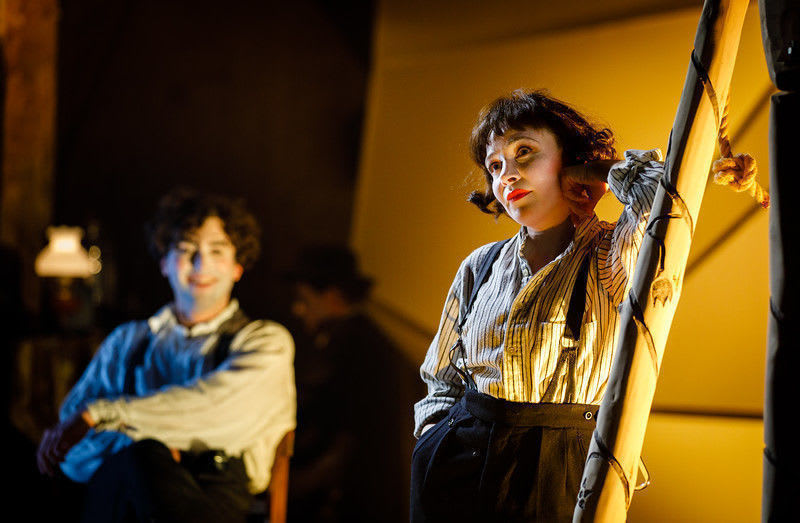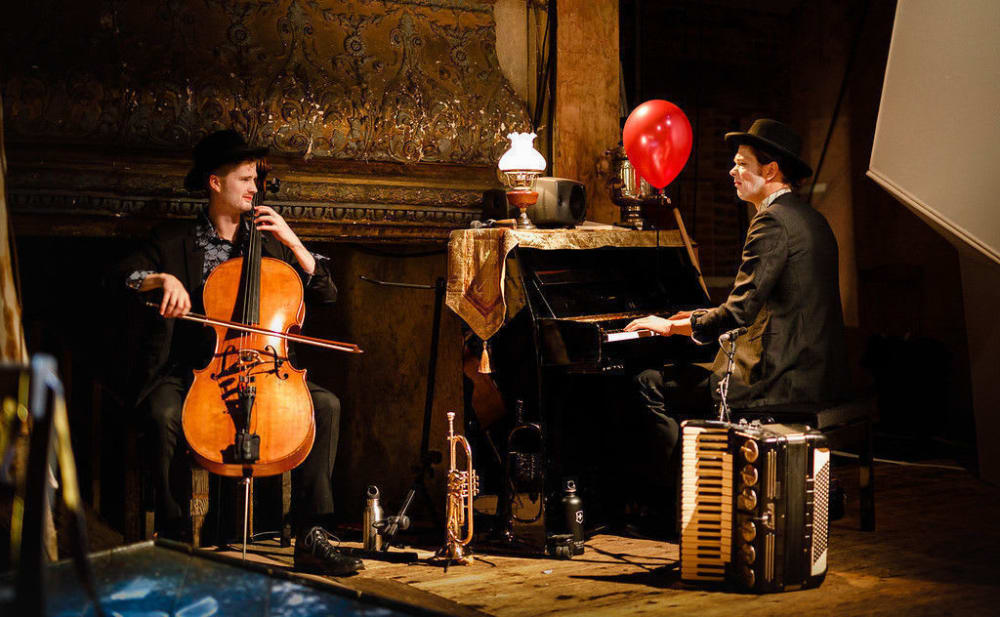 This is a show that began over 25 years ago as Birthday, inspired by the story of the love of Marc Chagall and his wife Bella, by his paintings and by the comparable love then shared by its creators, writer Daniel Jamieson and director Emma Rice, who were also its performers. Last year, themselves no longer married, they revisited the play for this Kneehigh production at the Sam Wanamaker Theatre, which now sets off on tour.
The Flying Lovers of Vitebsk is a fluid mix of music, movement and text that takes the Chagall's from falling in love at first sight on meeting at a friend's house in their home town of Vitebsk to their marriage when Marc gets back from being a student in Paris: a wedding between a poor boy and a girl whose father had jewellery shops. They go from starving in Petersburg, to exhibitions in Berlin, World War One sees Marc in a safe job in Moscow, the revolution gives him a new role, then off to Paris and as Fascism takes over Europe, Hitler's invaders destroying their home town with its many synagogues, escape to America, they avoid the Holocaust, companions until Bella's death and then beyond it.
The story is told by the painter as he draws in his sketchbook, memories a distraction from the phone call he is taking; he ignores the questions from the voice on the other end as he recounts them.
Marc is played by Marc Antolin and Bella by Daisy Maywood, both in classic mime whiteface make-up. The casting seems a perfect pairing. Removing his glasses, the older Marc becomes a youth again and never seems to lose his youthful spirit; a painter who paints the world as he wants to sees it. However loving, it is his painting that takes first place, even over devoted Bella, but when they are together life is full of passionate feeling that sees them almost airborne, almost the flying figures as he paints them in his pictures.
A raked stage, a scaffold of angled poles and a multi-faceted three dimensional backing create an environment where such things are possible (aided by some ropes to grip on) and Malcolm Rippeth's lighting floods Sophia Clist's set with changing colours: the greens, reds and violets of Marc's vision.
Here are the red fowl, blue fishes and green cows of Chagall's imagery. The poetic phrases in Jamieson's dialogue are like bursts of colour, there are songs in English, French, Russian and Yiddish and wordless ones. Composer Ian Ross on piano and James Gow on double bass often become part of the action and you don't need to understand the words of these songs the music communicates.
This is a beautifully integrated production that has been refined by time. Although it tells one couple's very personal story, it is also a reminder of the history they lived through and though the Chagall's flight to France and then taking refuge in America as horrors were happening in their hometown may be history, they have their parallels in too many lives today.
Though the subject gives The Lovers of Vitebsk a certain sadness, like Chagall's paintings it is predominantly joyful: loving, happy memories and it is delightful to be allowed to share them in this way.
Reviewer: Howard Loxton