The Flying Lovers of Vitebsk
Daniel Jamieson
Kneehigh and Bristol Old Vic
Sam Wanamaker Playhouse at Shakespeare's Globe
–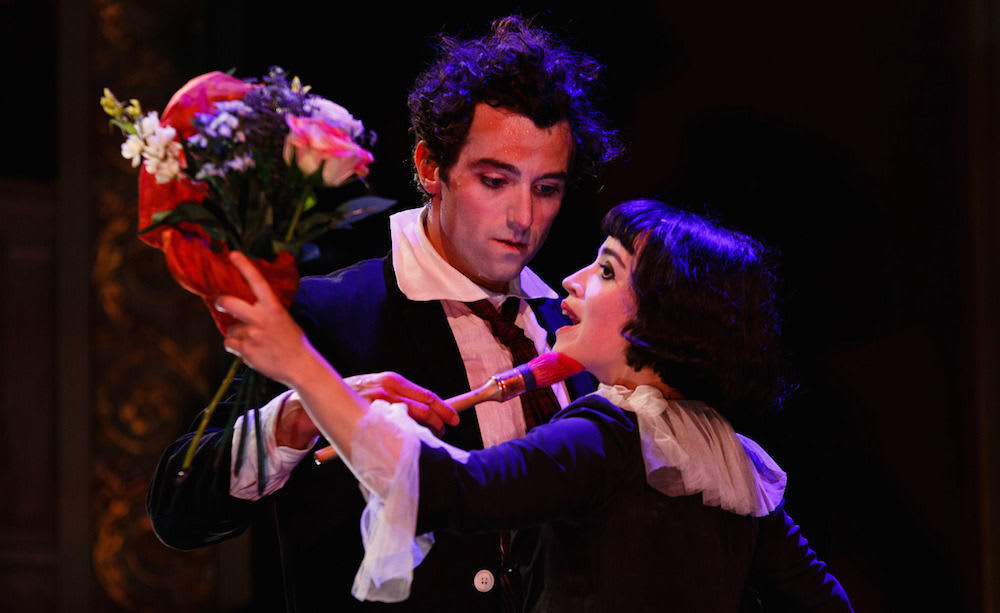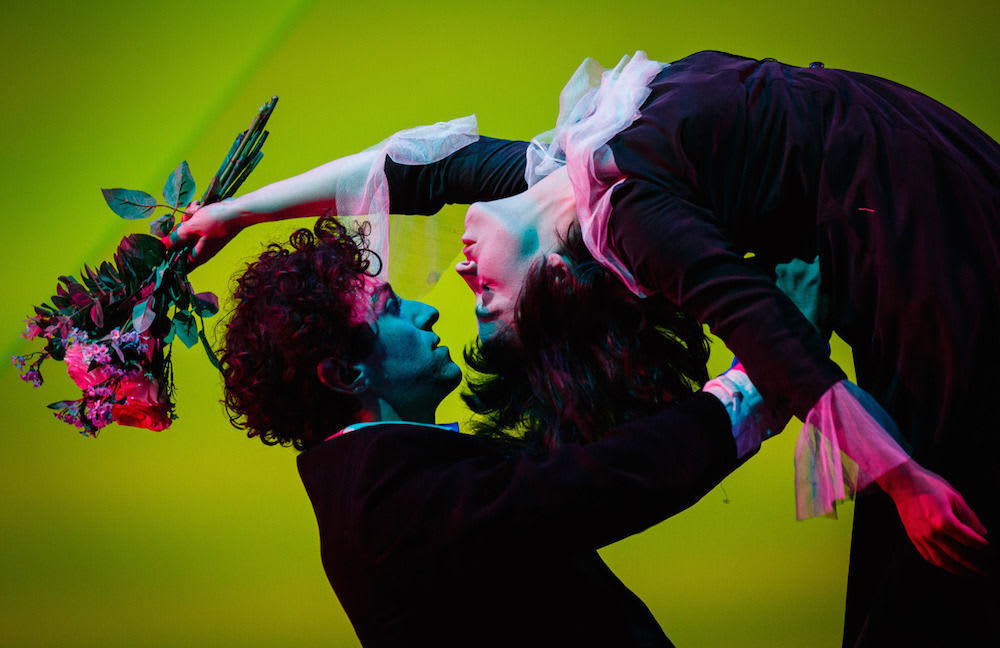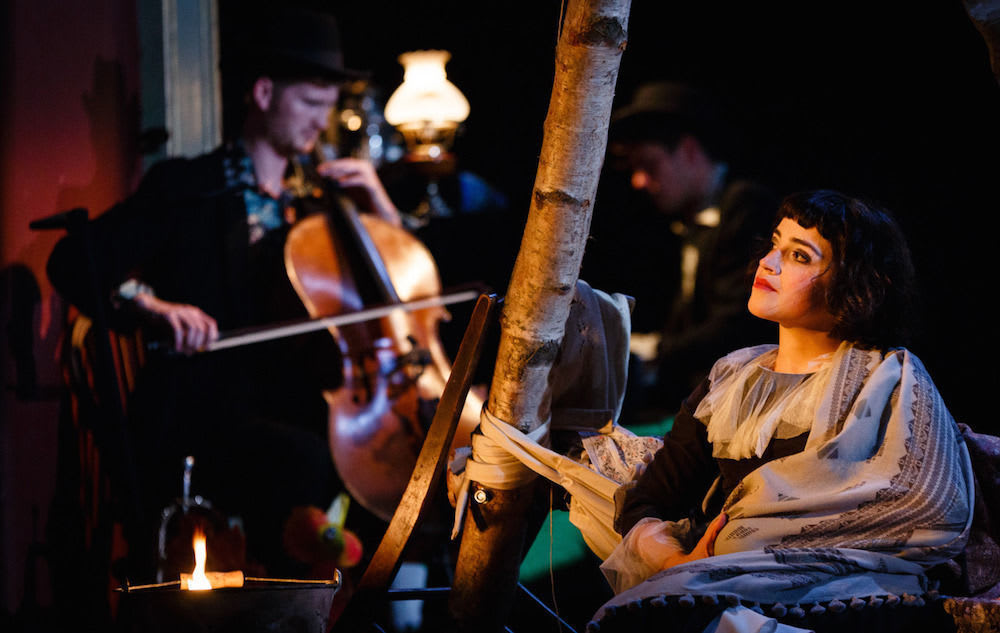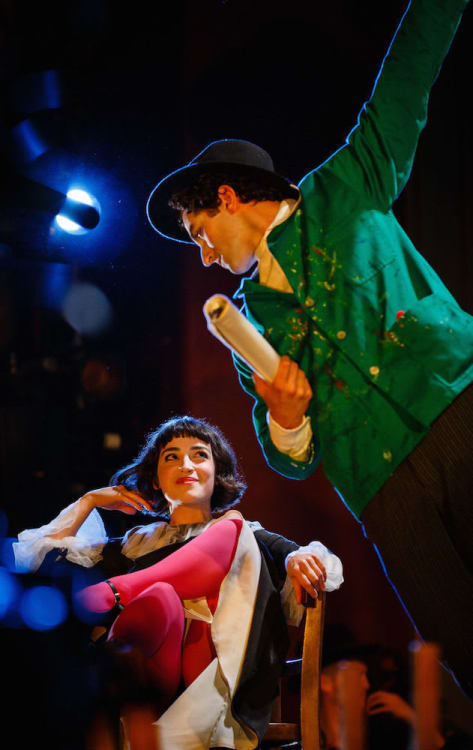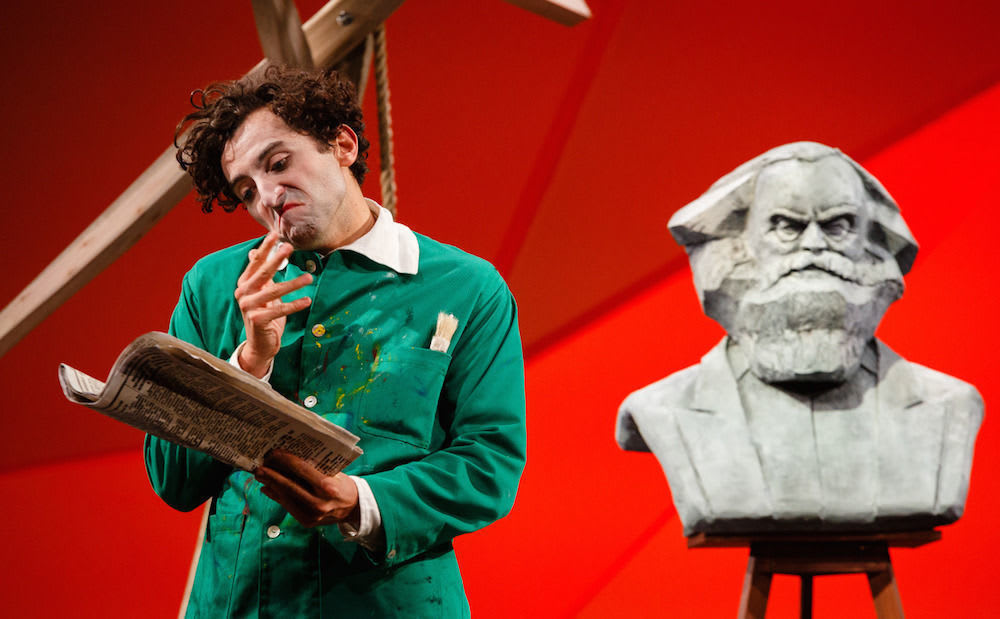 "Her silence is mine. Her eyes mine…. It's as if she had known me for a long time, and knew all my childhood, my present, and my future; as if she had been watching over me, reading my inmost thoughts, although I had never seen her before." … "They are my eyes, my soul." And Marc Antolin as Chagall and Audrey Brisson as Bella, the flying lovers of Vitebsk, have very expressive eyes.
In chapter 9 of My Life, Marc Chagall speaks of his love at first sight for Bella, his muse, his angel, his patient wife till premature death takes her away from him. Those of you who know Chagall's work will know that he and his wife are the lovers flying over his fantastical memories of Vitebsk, their home town that they would never return to after leaving Russia in 1922, which is when his autobiography stops.
But he lived a long, productive life (1887-1985) through the Russian revolution; the Second World War which wiped out so much Jewish life and his beloved Vitebsk; a last-minute escape to America from Vichy France; return to France after Bella's death in New York; remarriage—a charmed, self-absorbed life amongst this turbulent history of the twentieth century.
Bella eased it for him, ladled milk into his mouth on their 'milk moon'. "I told my wife of my sufferings. She suffered in silence." He missed his daughter Ida's birth by four days, he wasn't there to share her pain, but don't think his paintings don't come without pain, he tells her.
He forgets his own birthday; she doesn't. Second fiddle to him—poor peasant Jew as he calls himself—she attends to his every need at the expense of her own, and she was a very bright, educated woman with talent—studied in Moscow, loved theatre and acting.
So, it's not all about him, but it is really, his paintings brought to hilarious life with a model plaster green cow, and red rooster and blue fish hat accessories. Malcolm Rippeth's lighting has to be good—he's lighting a supreme colourist—and it is.
Who doesn't love a love story, especially one as poignant as this? Emma Rice and Daniel Jamieson created their first version of The Flying Lovers of Vitebsk more than twenty years ago—Jamieson and Rice, partners at the time, starred as Marc and Bella—and this revival, her last work as artistic director for Kneehigh, is also a personal empathetic journey and it shows. It is "a piece close to my heart", Rice confesses.
It is a piece that touches the heart, helped greatly by Ian Ross's music—a mix of evocative Yiddish and lovesick Russian songs—and his and James Gow's playing on a range of instruments above the action and amongst it.
But the best chanson ballad is "I'm Making Believe", a hit in 1944 for The Inkspots in America. Look up the lyrics… See if they don't put a lump in the throat. This Chagall and Bella sing together and, in an encore, she in paper angel wings. She never left him, and he painted her all his life. "Can you hear my eyes?"
The lovers remind me of Le Cirque Imaginaire with its travelling suitcase, and Dmitry Krymov's Opus No 7 in Bella's tidy arrangement of shoes, each pair with its own little book, her nurture of him and their daughter during the years of wandering.
Sophie Clist's set is both simple and complex, a suggestion of a wooden izba, a home-made life raft, its raked floor looking like an aged oil painting, but it feels squashed in the Sam Wanamaker 'Jacobean' Playhouse and sightlines are restricted by the theatre's pillars and the set's criss-crossing posts. A magical flying carpet needs more space and air to fly. Sit centre or in the pit if you can.
But the very best of all are Antolin as Chagall and Brisson as Bella. Casting is perfection, they are perfection: they can act, sing, speak with their eyes, dance, interact with the audience, do cabaret and bend over backwards for that agile floating kiss.
A touching, tender biographical sketch, an accumulation of life's bits and bobs, a pictorial love story told with expressionistic eloquence in two unequal halves, the first an hour, the second a truncated thirty-five minutes, like Bella's life (1895-1944). They were married for nearly thirty years: look at his paintings and she is there.
"In our life, there is a single colour, as on an artist's palette, which provides the meaning of life and art. It is the colour of love." Marc Chagall.
Like many, I've adored Chagall's work all my life, made the pilgrimage to St Paul de Vence to his grave, read much about him, but this little piece brings him very close. Though why Malevich's name is mispronounced I can't imagine, and that grey bust of Marx is horrible.
Reviewer: Vera Liber