The Freedom of the City
Brian Friel
Irish Repertory Theatre
Irish Repertory Theatre, New York
–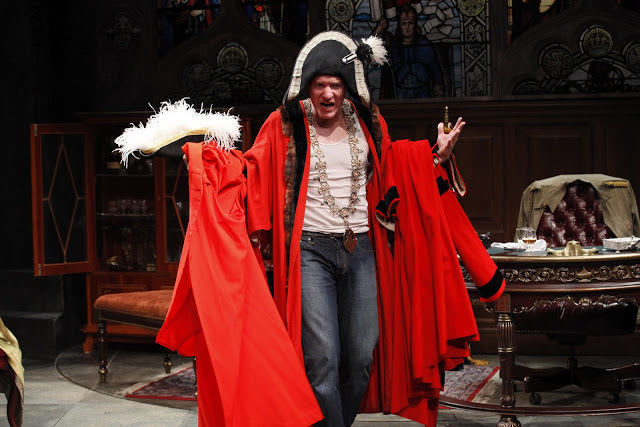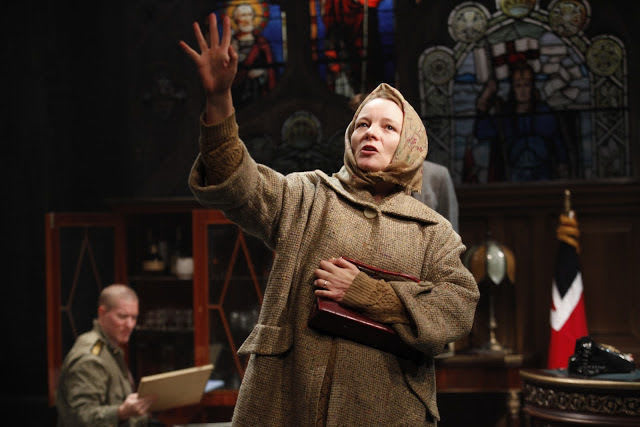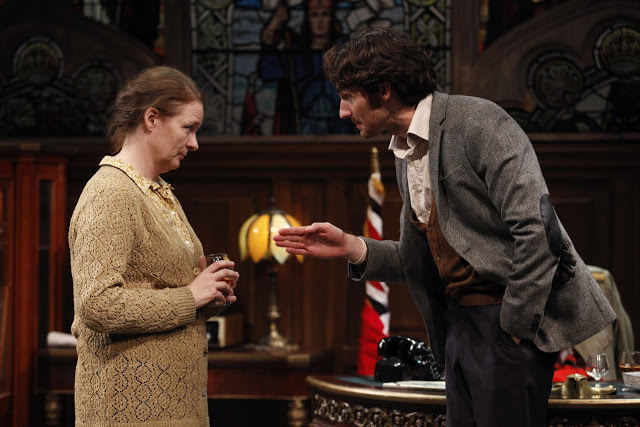 The Freedom of the City may not be Brian Friel's best play but it presents a strong political message by humanising the events of what came to be known as Bloody Sunday and even last year still remained newsworthy as yet more judges attempted to resolve what actually happened.
Friel got there almost 40 years earlier and his conclusions were pretty close to what we have learned of the truth about events that continue to shame the British Government all these years later.
The play comprises a mix of imagined reportage and dramatisation. All centres on the aftermath of a protest that that got out of hand and became a riot in (London)Derry in 1972.
The soldiers policing the protest got frightened and fired off CS gas, blinding and choking protesters, many of whom were peaceful.
In an attempt to escape the gas, a trio blindly enter a building for a breather. Their surprise is as great as ours when they find themselves in the Mayor's office in the City's ornate Guildhall.
The writer populates his play with a deliberately diverse mix. James Russell's Michael is an overly serious student with deeply held political views but no sense of humour.
Lily, played by Cara Seymour, is a housewife and mother of 11 who works part-time as a cleaner to make ends meet in their two room flat, hubby being too ill to bring in any money.
The final character is more a deus ex machina than a human being. Joseph Sikora is Skinner, a homeless drifter who seems to survive without any means of support except his native wit and a convenient vein of rather terrifying madness. It is he who drives the plot along, presenting evidence that justifies much of the plotting.
One strand of the play allows us to observe the three intruders having fun at the Government's expense—literally.
This is then subject to a kind of commentary presented from a number of sources. The primary of these is the Judge at an inquest into the breach of the peace and the subsequent cold blooded murders that ensued.
Peter Cormican's character weighs up the evidence reasonably fairly before coming to the only conclusion that the Government could reasonably countenance. This was that the unarmed innocents were killed while firing volleys of silent, invisible shots at the brave representatives of Her Majesty's army.
Along the way, the Judge gets help from a number of sources, principally medical experts and senior army officers.
These elements are then supplemented by a priest mourning his community's dead and an American sociologist disingenuously and rather irrelevantly decrying poverty and its consequences.
We learn just as much about deprivation in Northern Ireland from the group in the Mayor's office, especially cheery Lily.
The tense atmosphere of Ciarán O'Reilly's production is greatly enhanced by Charlie Corcoran's attractive set that extends into the auditorium, which is adorned with pop art murals and sinister barbed wire (not to mention some unpleasant squaddies) and some impressive mayoral robes courtesy of David Toser.
This well-judged and at times both moving and exciting revival of The Freedom of the City should act as a timely reminder of the problems that arose following Bloody Sunday and as such, ought to be seen.
Reviewer: Philip Fisher