The Frogs
Book by Burt Shevelove adapted from Aristophanes, further adapted by Nathan Lane, music and lyrics by Stephen Sondheim
House on the Hill Productions in association with Jermyn Street Theatre
Jermyn Street Theatre
–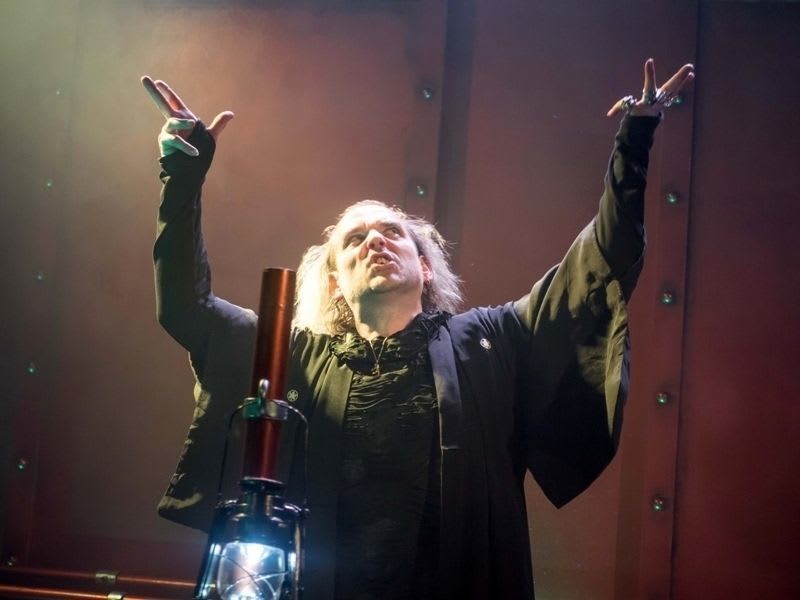 From the outset of The Frogs when actors announce "the time is the present. The place is Ancient Greece" you know you are in for a curious evening.
The plot is a simple one: Greek god of wine and drama, Dionysos, appalled by the mess society has got itself into, decides to bring back playwright George Bernard Shaw from the underworld, convinced that Shaw will be able to reach the masses through his writing, and thus set things back on track.
Originally a 4th century BC play by "father of comedy" Aristophanes, The Frogs was adapted in 1941 by Yale undergraduates to be staged around the college swimming pool. The production was devised and directed by a young Burt Shevelove, who would go on to collaborate with Stephen Sondheim, co–writing (with Larry Gelbart) the book for A Funny Thing Happened on the Way to the Forum.
Three decades later, when Shevelove was asked to revive the show, he set about a re–write and asked Sondheim to provide new songs and it is this iteration that was further expanded and adapted by Broadway giant Nathan Lane in 2004, including more songs from Sondheim.
The version presented now includes still further new material not seen in Lane's Broadway version of the show.
The show's history goes some way to explain the curiosity that we are now presented with—not least its length–to–substance ratio. To quote Sondheim "in Aristophanes' and Burt's hand, it had been an hour and a half long; it should have stayed that way."
The Frogs is a mixture of low brow comedy and high brow reasoning—in that respect something that Aristophanes would recognise—but it is not a formula that sits well with Broadway musical pretensions as US critics were wont to agree.
In London's diminutive Jermyn Street Theatre this quirky show is delivered on a small scale, its intimacy adding to its charm.
Director Grace Wessels uses dynamic staging to maintain a lively pace through most of the show though nothing saves The Frogs from falling into a lull when George Bernard Shaw and William Shakespeare are in contest.
As the two playwrights use their wits as rapiers, the energy is irrecoverably lost. Renowned speeches are movingly delivered (Martin Dickinson as Shaw and Nigel Pilkington as The Bard) but there is nothing after this scene to match either its intensity or the energy that precedes it.
Michael Matus and George Rae have an onstage rapport and make a strong comic pair as Dionysos and slave Xanthias, bettered only by Jonathan Wadey as Hades biker boatman, Charon.
Chris McGuigan, who also plays Herakles, and Emma Ralston as Pluto stand out from the strong Chorus, which includes Bernadette Bangura, Li-Tong Hsu, Dickinson and Pilkington.
Movement director Tim McArthur works choreographic magic with a cast of this size in a tiny space, and musical director Tim Sutton leads a terrific band, which plays a Sondheim score orchestrated to highlight musical phrases borrowed from other more accessible shows.
It is testament to how infrequently this work is performed that The Frogs, which opened earlier this week, has already sold out its whole run.
Seeing a rarity undeniably has a certain appeal but those who have missed their chance need not be consumed with regret. Sometimes there is a reason why a show is seldom seen.
Reviewer: Sandra Giorgetti