The Gates: An Evening of Stories with Adam Gopnik
Adam Gopnik
Under the Radar Festival
The Public Theater, New York
–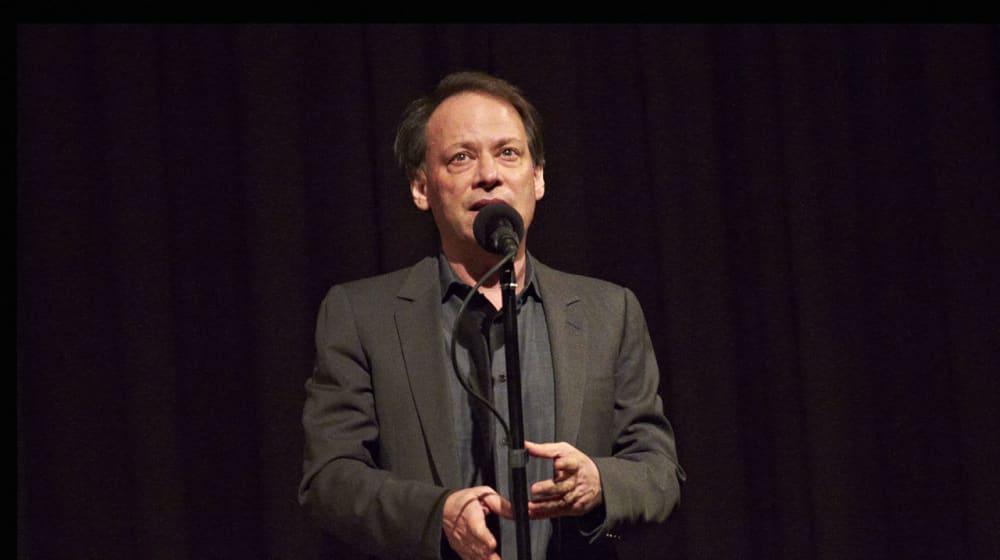 Adam Gopnik made his name as a writer for The New Yorker, though incongruously he started his career as Grooming Editor at what was then known as Gentlemen's Quarterly Magazine, now GQ. Judging by this charming 90-minute series of stories, he has the mentality and loquacity of the very best columnists / raconteurs, perhaps comparable with Alastair Cooke, Garrison Keillor or Bernard Levin.
Like a stand-up comedian, our guide stands in front of a microphone but the delivery is more relaxed, occasionally coming across like a less neurotic version of Woody Allen.
The tales start with a history lesson detailing a journey from Philadelphia to New York, via Montreal. It also stretches back further to his grandparents' arrival as Jewish immigrants to Ellis Island from Eastern Europe and subsequent relocation in Canada where they bred reams of college professors.
During the performance, guests will learn a great deal about the journalist and his family covering not only ancestors but his two children, both engrossing characters judging by proud Dad's depictions.
The gates of the title are two entrances to Central Park, each symbolic. The arrival in the city that the Strangers Gate heralds is followed by an intimate and affectionate portrait of his first home in New York, an apartment 9 x 11 feet, which Gopnik shared with his wife Martha for 3½ years.
Most of the stories are observational and amusing, although they also contain some profound philosophical musings about a variety of subjects but primarily families, apartments (complete with cockroaches and rodents) and New York over the last four decades.
This presentation has few of the attractions that New Yorkers are reputed to demand from theatre trips. There is one lonely man at a microphone, no song or dance, let alone a set or props and the laughs are gentle and thoughtful rather than raucous.
In that light, the only real reason for going to see The Gates is that Adam Gopnik's poetic language and ideas are mesmeric and the show an unadulterated joy.
Reviewer: Philip Fisher