The Gifts You Gave to the Dark
Darren Murphy
Irish Repertory Theatre
Irish Repertory Theatre, New York
–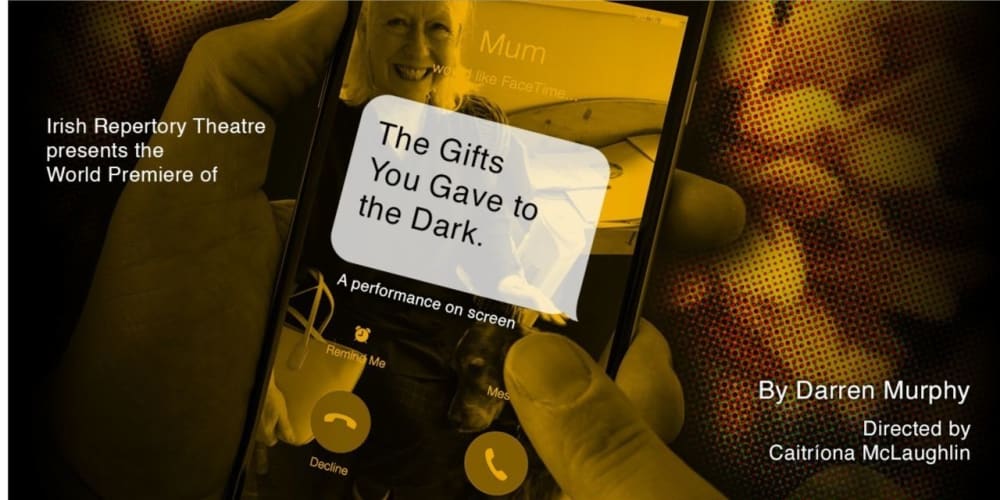 This coronavirus inspired play, receiving its world première under the auspices of New York's Irish Rep, lasts less than 25 minutes but packs a mighty punch.
Set in Belfast during the height of the pandemic, it features a standout cast directed by the Abbey Theatre's associate director Caitríona McLaughlin. The piece gets into top gear immediately, addressing issues that were facing so many across the world at the time and have regrettably not gone away today.
On one side of a telephone video line sits Uncle Larry played by Seán McGinley. He is in a Dublin bedroom with Marie Mullen's elderly Rose, practically comatose and very near to death. If the nurses treating her are to be believed, Rose may appear unconscious but is able to hear and understand everything going on around her.
On the other side of the Irish border in Belfast, sweating and coughing profusely as he suffers from the virus, is the dying lady's actor son Tom, portrayed with fearful realism by Marty Rea. Things are desperate for all concerned, as, given his condition, there is no way that the young man can visit his mother for a final farewell.
What develops is effectively Tom's eulogy incongruously delivered over a telephone line during the old lady's dying moments. This not only explores their relationship but also harks back to happier times, recalling a journey long ago and reminiscing about Rose's lively personality and "delicious filthy chuckle".
The magnitude of Tom's distress is emphasised as we begin to understand his sense of impending loss, given what has obviously been a very warm, lifelong warm relationship.
The Gifts You Gave to the Dark is not only timely and powerful but also thought-provoking and deeply moving.
Reviewer: Philip Fisher