The Girl on the Train
Based on the novel by Paula Hawkins and Dreamworks film, adapted by Rachel Wagstaff and Duncan Abel
Simon Friend, Amblin Partners and Josh Andrews
Curve Theatre, Leicester
–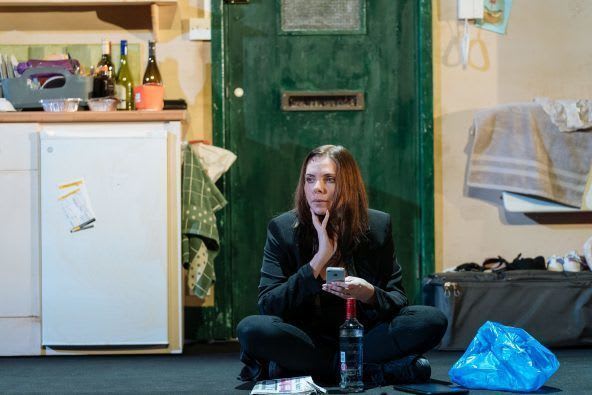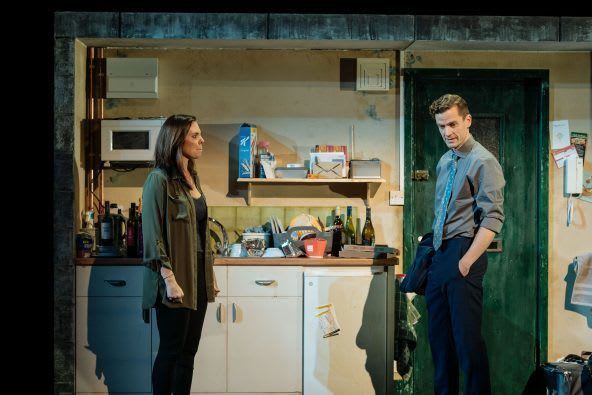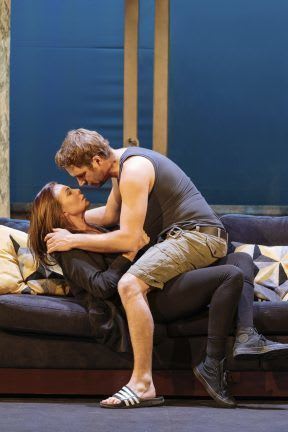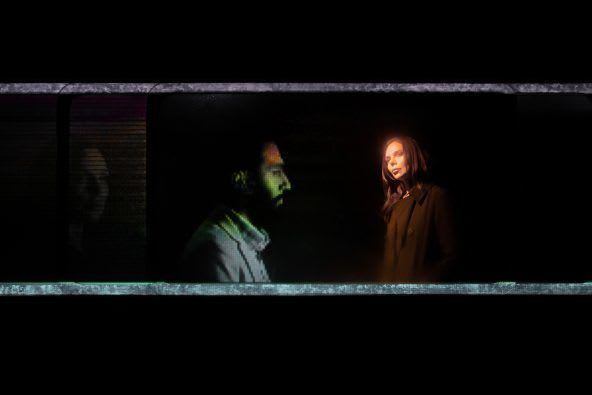 Adapting a best-selling novel for the stage would seem a wise business move (Paula Hawkins's 2015 novel has sold over 20 million copies worldwide and spawned a Hollywood film in 2016) and it was almost a full house on opening night forThe Girl on the Train, now in the early stages of a UK tour.
Rachel Wagstaff and Duncan Abel's adaptation premièred at the Leeds Playhouse in 2018, however, there is a new director (Anthony Banks) and cast for the touring production. A look at the writing would also have been advantageous though as the problems with The Girl on the Train rest heavily with the clunky dialogue and exposition dumps throughout. The intriguing opening scenes and a thrilling ending top and tail a frustrating couple of hours of repetitive and sometimes baffling exchanges and, surprisingly for a play billed as a psychological thriller, there is no real tension.
Rachel Watson (Samantha Womack) is a barely functioning alcoholic; she yearns for her past life married to her ex Tom (Adam Jackson-Smith), she yearns for the baby she can't have and her life is a mess, as detailed in James Cotterill's ingenious set (think Tracey Emin's "My Bed" but transferred to the kitchen). To add to Rachel's feelings of inadequacy, Tom is now married to Anna (Lowenna Melrose) and they have a baby.
Rachel spends her time watching the goings-on in an apartment block she views from a train window, fantasising about the seemingly perfect lives of Megan Hipwell (Kirsty Oswald) and her husband Scott (Oliver Farnworth). We meet Rachel as she swigs from a bottle, she has a mysterious cut to her head and no idea of where she was or what she was doing the night Megan mysteriously disappears from home.
Red herrings and a handful of twists and reveals combine with Rachel's unreliable narrator status, but it is all just too implausible, particularly the scenes with the therapist Kamal Abdic (Matt Concannon taking on the role for this performance from Naeem Hayat who appears in the production image). DI Gaskill (John Dougall) investigates what has become a murder inquiry and has a nice line in dry humour, however, he becomes superfluous to proceedings as Rachel takes it on herself to continue solving the crime. Other characters occasionally lapse into similar humour, which does get the laughs but adds to the lack of consistency.
The cast do a good job with the material they are given and cope well with several interruptions (the persistent ring of an audience member's mobile and the failure of a spotlight during a crucial moment as the actors continue in the dark until light is restored).
There's plenty of snogging, shouting and wine-swigging, but the one-dimensional characters are hard to root for and the whole piece doesn't say much about today's commuter society.
You know when you get on a train, find your seat and settle down, you get ten minutes into your journey only for the train to stop inexplicably and you sit for ages with not much happening? That feeling.
Reviewer: Sally Jack