The Glass Menagerie
Tennessee Williams
Theatre Pena / The Riverfront
The Riverfront, Newport
–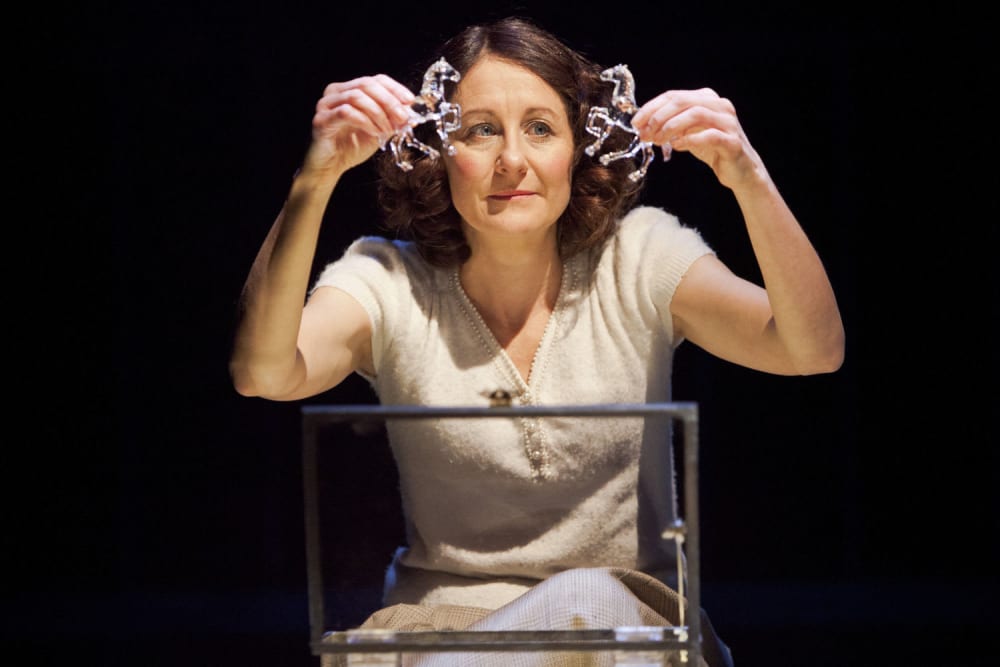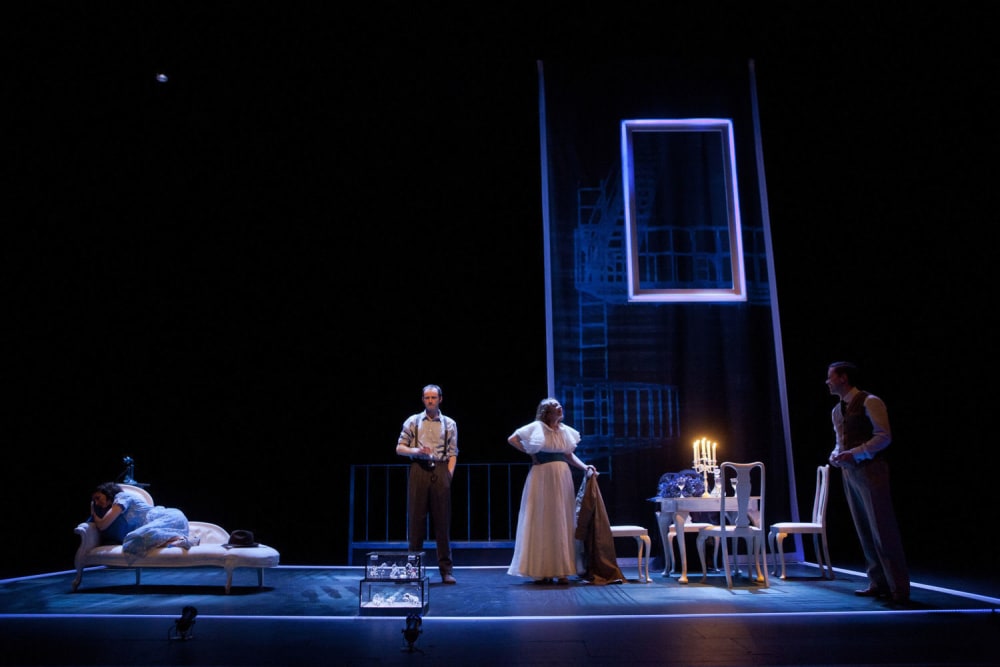 Theatre Pena is a company which was set up in order to counter the paucity of meaty theatrical roles for women—previous productions have included The House Of Bernada Alba, The Killing Of Sister George and Genet's The Maids. On the face of it, The Glass Menagerie seems an odd fit, since the story is dominated by men both on-and off-stage.
Anyone who is familiar with the colourful life of Tennessee Williams (his Memoirs is probably the best autobiography ever written by a playwright) will be aware that this play, the first in his series of Broadway hits of the 1940s and 1950s, draws heavily on his family life: his years as an aspiring writer in St Louis, working in unfulfilling jobs, living in a cramped apartment with his mother and sickly older sister, his alcoholic father having abandoned them.
Erica Eirian's production begins with the three family members already on stage, Holly McCarthy's set spare and suggestive—a chaise longue, a dining-table, a turquoise gramophone, a fire escape, and the small case containing the titular fragile glass animals. Rhys Meredith's Tom addresses the audience directly, telling us, in Williams's floridly poetic style, that he is about to present scenes from his past.
It quickly becomes clear that all was not well in the family home. Rosamund Shelley's Amanda is barely maintaining her morale, constantly spinning self-aggrandising tales from her youth as a Southern belle. Her son, Tom, is truculent and secretive, resenting the fact that he has to support the family by labouring in a warehouse, dreaming of being a poet, and passing most of his evenings elsewhere—Amanda throws doubt on his claims that he spends all his time in the cinema.
And then there is Laura, the focus of the story. She is painfully shy, limps as a result of childhood polio, has found herself unable to gain employment or pursue vocational education, and seems cursed to remain unmarried forever.
One evening, however, Tom sets hearts a-flutter by inviting Jim, a friend from work, over for dinner—a potential "gentleman caller" for Amanda. He is a former high-school hero who, like the Wingfields, is struggling to fulfil his potential. Tom's gesture, however, turns out to have been misguided.
The performances are excellent, Eiry Thomas somehow managing to mine some self-effacing humour from the tragic Laura's awkwardness and infirmity. I could almost feel my fellow audience members holding their breath during the long scene depicting her "date" with Gareth Pierce's ebullient but decent Jim, as we hope against hope that all will turn out well.
The dream-like mood is enhanced by Peter J Knight's Debussy-esque score (although it occasionally threatens to drown out the dialogue) and Kay Haynes's lighting—the dimness occasionally enlivened by the illuminated empty photo-frame representing the absent father, and the mirror-ball effects which evoke the nearby dance-hall and a carefree hedonism which is entirely alien to the Wingfield household.
As with all classic texts, there is much for the contemporary viewer to identify with: stunted ambition, frustrated hopes, the fear of loneliness, conflict within otherwise loving families. The cast is intentionally older than Williams specified; thus their desperation is even more palpable. His female characters aren't exactly role-models of empowerment, but neither are his men.
This is a painfully sad but beautifully written play, and Theatre Pena's delicately nuanced production more than does it justice. Following the Newport run, it tours Wales extensively—highly recommended.
Reviewer: Othniel Smith