The Good Person of Szechwan
Bertolt Brecht
Moscow Pushkin Drama Theatre
Barbican Theatre
–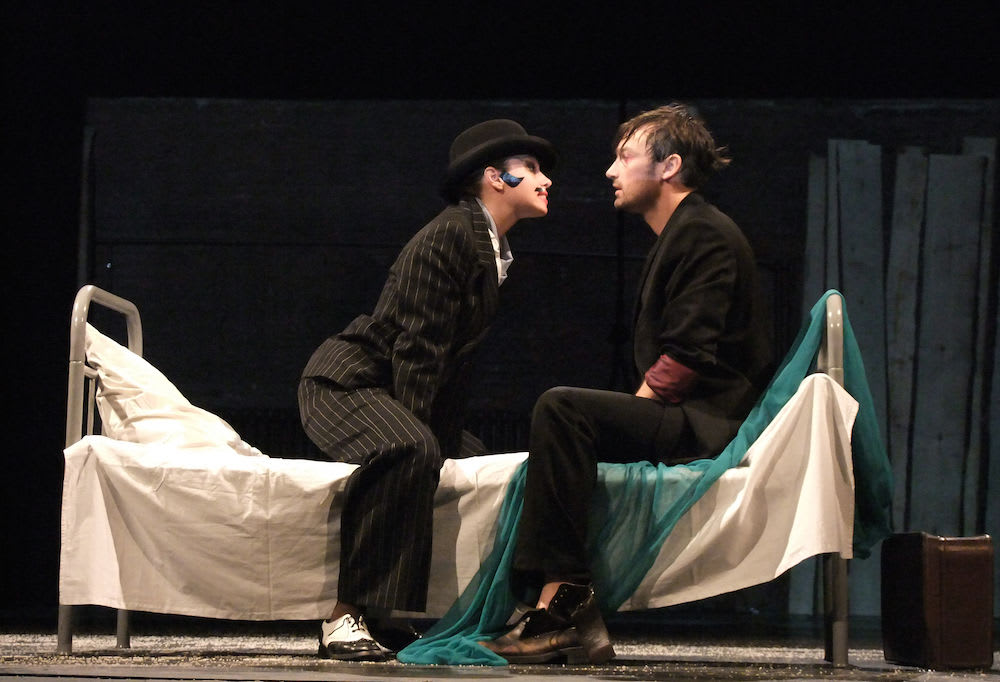 Director Yury Butusov takes a sledgehammer to The Good Person of Szechwan, Brecht's 1941 parable play, and shows how timeless its message is.
The enormous Barbican stage, open to the wings and back, all the ropes and workings on show, looks as if a bomb has hit it. Upturned chairs, scrap heap of bags, could be rubbish, could be tobacco sacks, iron bedstead, rocks, sand, trees to hang oneself off, a noose, microphone stands, and performances at full tilt and volume, physical and vocal.
The calm at the centre of this storm is the band, calmly sitting at the side, playing Paul Dessau's wonderful jazzy period score. His songs are sung vigorously in the original German, translated into Russian and English surtitles: a dream for any linguistic or comparative literature scholar. Russian really is a most elegant, expressive and succinct language.
There's nothing elegant or subtle, nor is there meant to be, about this punchy, raw production. Alexander Shishkin's deconstructed set design, lit very darkly by Alexander Sivaev, has a deliberately improvised economy of means Grotowski air about it.
Almost three and a half hours of persuasive means: if you've not got the message by the end of the long evening, an onslaught on one's senses, that it is very difficult if nigh impossible to be good in a wicked capitalist society whatever the moral standards the gods demand, you must have been sleeping.
Alexandra Ursulyak goes full vocal tilt at the double role of good prostitute Shen Te and her fake ruthless male cousin Shui Ta, making herself almost hoarse in the process, scratchy-voiced like Lotte Lenya by the end. That must have been a conscious choice. Her performance won her the Golden Mask Theatre Award for best actress in Russia in 2014.
Her Shen Te is coarse and loud, with coal black clown eyes, laddered black tights and shiny mac; her Shui Ta, a dapper little man in stuck-on sideburns and moustache, bowler hat and pinstriped suit with something of the silent movie look about him. The theatrical magic is as visible as the pipes on the outside of the Pompidou Centre.
The three gods (here represented by one enigmatic figure walking slowly—the holy trinity in one?) have come to earth to find a good person but find it almost impossible till impoverished Shen Te puts them up. They reward her with a tobacconist shop, and this is where all her 'angel of the slums' troubles start. Freeloaders and spongers come out of the woodwork.
Even the man she saves from suicide, the man who says he loves her, and his conniving mother try to exploit her good nature. If she's good, she will be stripped of everything, then what… So up pops Shui Ta to take matters in hand, starts a tobacco factory, organises everything to some satisfaction. He may be hardnosed, but the people understand that.
In the end, Shen Te comes clean to the gods and is exonerated, but she knows she will fail in their mission unless Shui Ta comes at least once a week. Once a month they say—some compromise… Giving money to poor people is not enough, the system and human nature needs improving. The gods are bloodied, but they don't give up.
A broad-brush interpretation of Brecht's characters parade along this nitty-gritty political road, belting out songs aplenty, illuminating parables within parables (the song of the eighth elephant). Mrs Mi Tzu (Irina Petrova), Shen Te's landlady, for instance, is a glamorous young woman in red, who walks sideways like a crab, a catwalk model in high red stilettos. Wong the water seller (an endearing Alexander Matrosov) steps in and out of role from narrator / chorus scolding the gods and back to deformed simpleton Wong.
Caricature and cabaret, gesture and contorted body language, and mysterious twins in sunglasses and designer dresses singing at the microphones front stage. The duality of human nature, split personalities, duplicity and doubling—we get it—the Russian couple next to me are on their phones throughout...
Goodness is too much of a burden. It is always exploited by greed, but what about fairness and decency? Something is wrong with this dog eat dog world. The last word is 'help'. The ultimate irony, or maybe that's the whole point, is that this production of The Good Person of Szechwan is financed by a billionaire oligarch, who was much taken with it when he saw it in Moscow.
Reviewer: Vera Liber