The Good Scout
Glenn Chandler
Boys of the Empire Productions
theSpace @ Surgeons Hall
–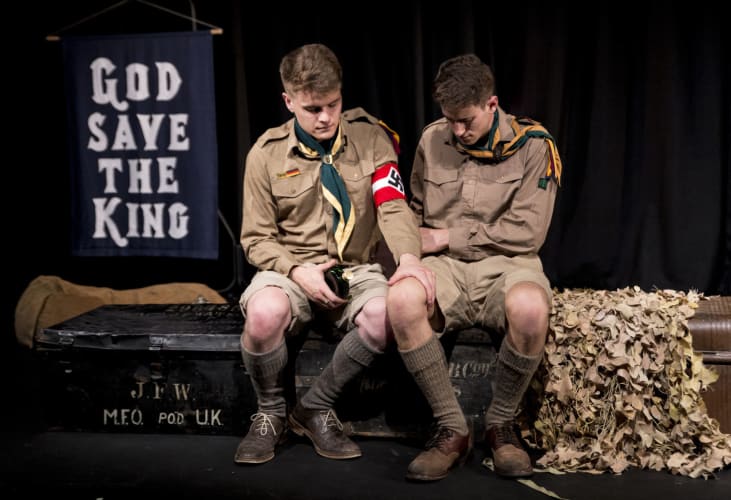 The Good Scout written and directed by Glenn Chandler is the latest of his work with Boys of the Empire Productions following last year's highly successful Kids Play.
This true story is based on an exchange visit from the Hitler Youth with a group of Rover Boy Scouts following a meeting between Lord Baden-Powell and Hitler's London ambassador Von Ribbentrop.
Although Hitler had banned the scout movement in Germany, it was hoped that they would be able to learn from each other but this visit would change their lives forever.
The two charming Germans, Gerard (Clemente Lohr) the leader and Friedrich (Simon Stache), are staying with Rose Parish (Amanda Bailey), the epitome of an English mum, and her son Will (Clement Charles) and his close friend Jacob (Charlie Mackay).
At first, all is well with the boys as they settle in but suspicion begins to arise as Gerard and Friedrich start to take photographs of the English airfields as they journey out on their cycling trips.
Could they be spies and who can or can't be trusted? When a shadowy family friend John Dory (Lewis Allcock) arrives, the plot thickens. He recruits Will to provide him with information on what the German lads are really up to. This is a time of doing your duty to King and country and keeping the Scout's Honour, so Will agrees.
As the boys get to know each other better, a love affair develops between Jacob and Gerhard who has already protected Friedrich's dalliances. The punishment for homosexuality in Nazi Germany was castration.
Sensitive Friedrich doesn't want to return back to Germany and wishes to stay and his reasons are poignant but will he be allowed?
The whole cast are strong, totally convincing, giving impressive performances in what is a fascinating slice of history.
This is a highly enjoyable production that should be on your "to see" list.
Reviewer: Robin Strapp