The Government Inspector
Nikolai Gogol, in a new version by Jeffrey Hatcher
Red Bull Theater
Red Bull Theater, New York
–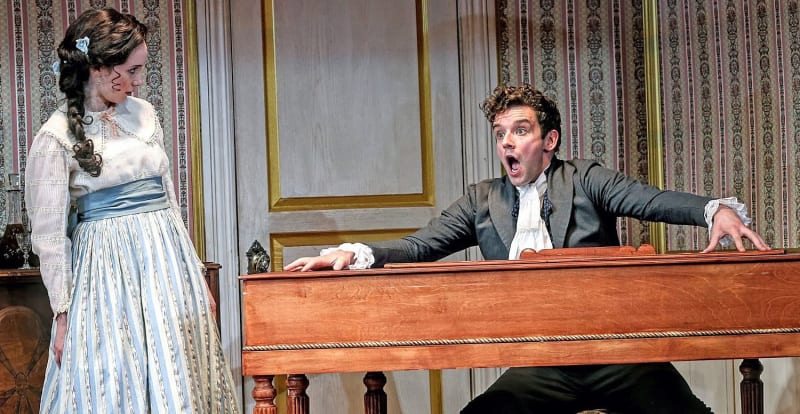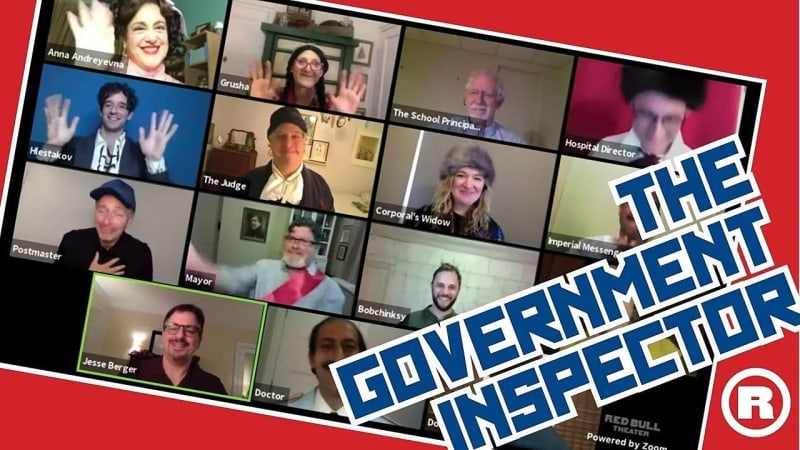 Jeffrey Hatcher's new take on Gogol's comic classic, which effortlessly retains its popularity over 180 years on, got fantastic reviews when it first appeared in the 2016–17 season.
Red Bull's Artistic Director Jesse Berger has managed to reconvene every member of the 14-strong cast for a Zoom reconstruction that loses the staging but still manages to retain much of the spirit and fun that made the original such a big hit.
It helps to have the multitalented Michael Urie providing a star turn in the title role, which many will still associate with Danny Kaye in the 1949 film musical The Inspector General.
Urie excels as ultra-vain Hlestakov, showing great (not-)stage presence, a deeply misunderstood visitor, utilising a grand acting style that first peaks when his character is intoxicated and again as he bursts into extemporised song.
From the opening scene in which Michael McGrath as a town's Mayor, along with its grandees, panics on learning of the impending arrival of an incognito Government Inspector charged with uncovering untold wrongdoing, the comic possibilities are obvious.
Even allowing for Shakespeare's best comedies, in doing so Gogol introduces one of the best misunderstandings in the realm of theatre.
What transpires is a 2-hour-long satire on corruption with a very Russian twist and outlook but overlaid with snappy, modern language, which will greatly appeal to contemporary audiences.
Gogol's ability to skewer societal weakness is magnificent. Along the way, he entertains us all at the expense of those with weak morals of every kind. Taking bribes ("unlicensed entrepreneurial spirit" in the vernacular) is an obvious target, along with attitudes towards religion, gender and class.
Despite the odd technological difficulty, the production is filled with beautifully nuanced performances. Particular favourites for this critic over and above those already named include Arnie Burton as the incredibly camp, prying Postmaster (and far from servile Osip) whose motto is "gossip is fun", Tom Alan Robbins portraying the Judge, Maria Testa as the Mayor's lascivious, posturing wife Anna Andreyevna and Talene Monahon as her equally passionate daughter, Marya.
Obviously greatly helped by the fact that the actors have played these roles together on stage, Berger draws wonderful performances that retain a degree of the physicality of the original, despite the obvious limitations resulting from the isolation of the performers and general lack of setting and costume, give or take the odd strategically introduced hat or facial hair.
He also manages to stage what is undoubtedly the best Zoom chase seen to date, as the townsfolk hilariously pursue Hlestakov around the globe in under a minute.
While Zoom productions can never compete with live performance, this highly entertaining and extremely funny version of The Government Inspector will bring great pleasure to anyone who has the chance to catch it.
Reviewer: Philip Fisher