The Government Inspector
Nikolai Gogol, adapted by Gavin McAlinden
Charm Offensive
Shaw Theatre
–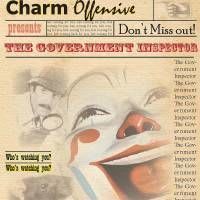 Charm Offensive has gained critical plaudits for such past productions as Pentecost, Wife to James Whelan and Gates of Gold—all directed by Gavin McAlinden—but this production, playing as part of the Camden Fringe Festival, though with the same director, is the work of their weekly workshop training group the Acting Gymnasium.
My guess is that the group has a preponderance of female members and that probably sparked McAlinden's decision to cast it as a cross-gender production. With a couple of exceptions, the male roles are played by women and the female roles by men, the exceptions possibly simply a matter of who was available to double in that scene. This is not a matter of gender reversal; the characters remain the sex of the original. This seems to be a matter of casting convenience, not making any point in gender politics.
Taking his cue perhaps from Meyerhold's expressionist 1926 production, McAlinden has directed Gogol's play about a stony-broke minor civil servant holed up in a provincial backwater who is mistaken for an incognito government inspector a surreal treatment. Though staged with the utmost simplicity mainly with chairs in front of black drapes, his young actresses have padded midriffs, their shirts ballooning above their trousers as heavy middle-aged stomachs (and at the same time disguising any bulging breasts while the actors playing women have exaggerated bosoms. Female hair is pile high on or behind the head or covered to give token masculinity, but there is no real attempt to disguise gender and most of the characters have whitened faces and a stylized makeup.
When actors are playing their own actual gender (including Francis Adams as a very naturalistic waiter), the makeup convention is dropped, as it is for some reason for Emily Florence Blanchard's Khlestakov (the faux Government Inspector) and his servant Osip (another naturalistic performance from Jennie Rich) which may be to suggest these are honest and genuine people but the messages are, as you can probably appreciate, somewhat confusing.
Much of the playing, with some bodies bent with age and rather mechanised limb movements, reminded me of French and Saunders playing men in their inflated body suits, but what comes over as savage satire in a short television sketch can lose its appeal over a whole evening.
When only minutes into the show the whole cast start beating each other up, we get a vivid image of the undercurrents in this provincial township and a style which looks like taking off but it isn't carried through; this production pursued other grotesqueries. Perhaps this young cast just doesn't have enough experience to handle the demands that the director is making of them, but they certainly give it all their energy. Why then was the audience so impassive in response to this classic comedy, producing smiles but few laughs?
I think the problem is that these young people are playing in a space much larger than they are used to and with the pressures of rapid turnaround festival conditions simply had not had a chance to tailor their playing to the space, especially since they had had a last minute cast change which could not have helped, though assistant director Alexander J.C. Forni, taking over as Anna, gives a big, drag-queen-like performance. Pace is no good if the words don't get a chance to come over and, sitting half way back in the auditorium, much was not really reaching me, not just words lost but a lack of projection and connection with the audience. These actors seemed to be playing it for themselves. Emma Jane Sullivan's Governor was an exception, not afraid to command the whole theatre and play to the audience
Emily Florence Blanchard as faux Inspector Khlestakov also pulled out all the stops in a performance full of tossed locks and extravagant gesture with no attempt to be masculine that should get her a booking as Principal Boy come panto season. But for the whole of the first act she seemed to have forgotten the audience. Mind you, the director's stage groupings that so frequently line up the cast upstage of her don't help, since she directs her lines to them. At the beginning of the second act, she discovered the audience. It maybe that by then I had moved to the front row that made communication better, or perhaps the cast were adapting at last to the house, acknowledging an audience for more than the obvious "aside" lines.
Given more time, perhaps the Acting Gymnasium could have pulled this together and pulled it off. By the end of the week they may have got used to the house and it will certainly have been a very useful learning curve for these actors in training.
Reviewer: Howard Loxton