The Great Gatsby
Choreography by David Nixon
Northern Ballet
Sadler's Wells
–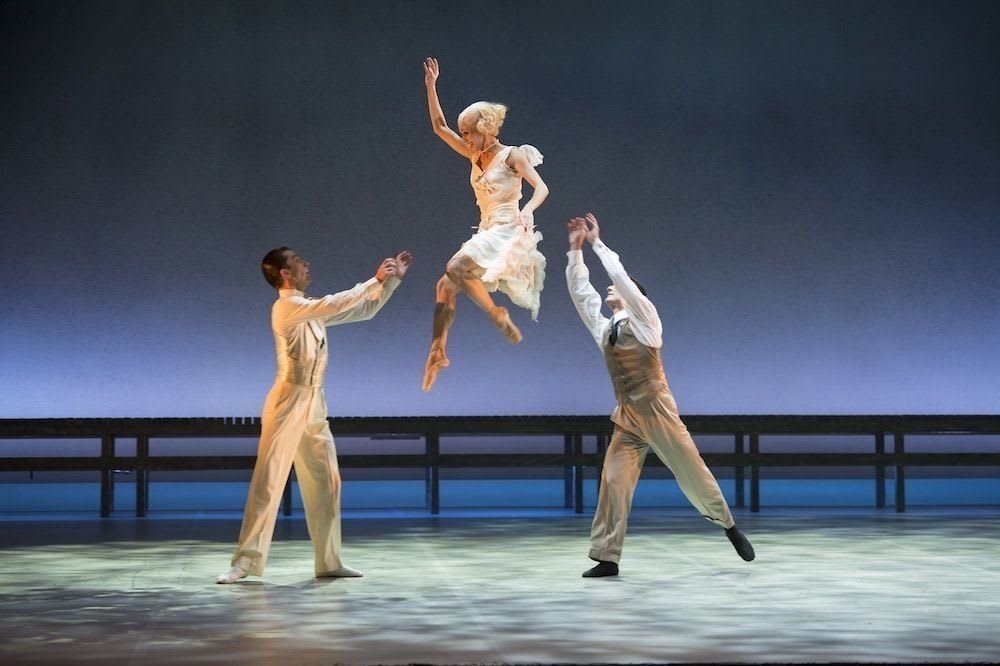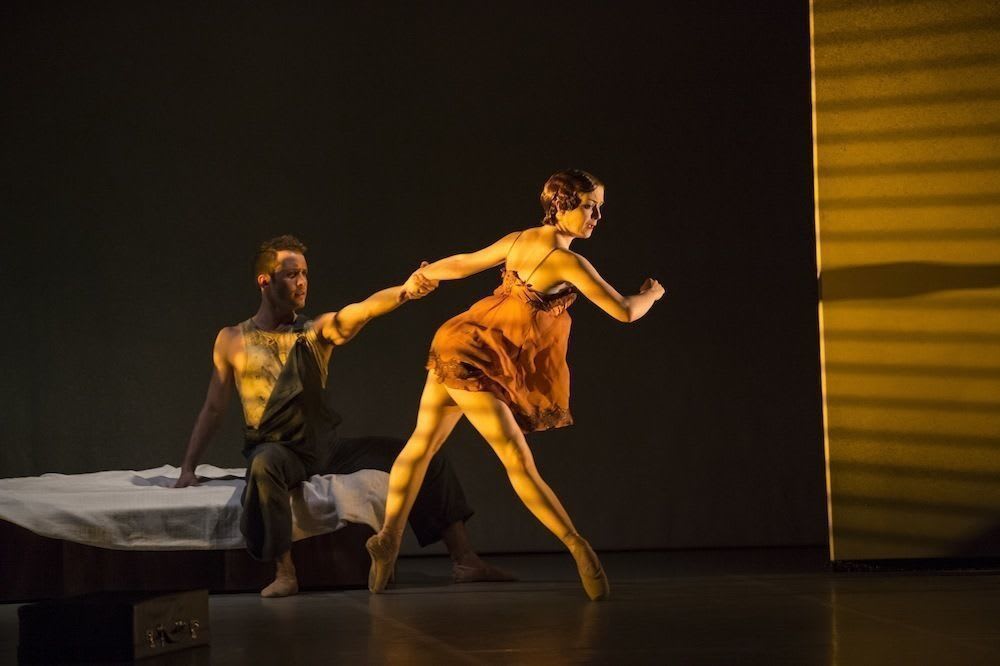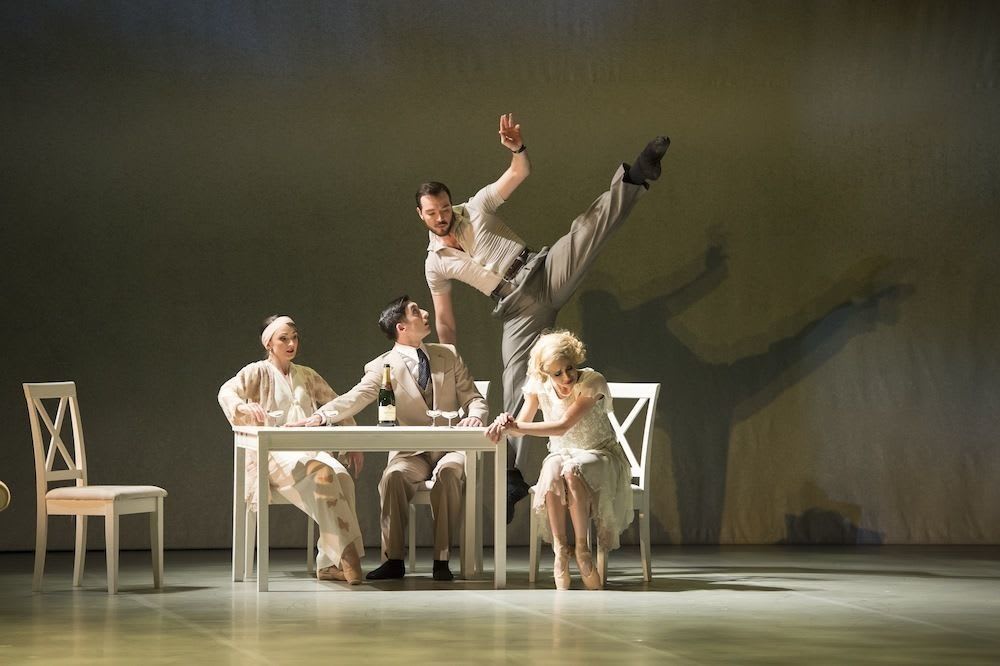 How does one recapture a dream, grasp a mirage, find Rosebud, translate an elusive tale of lost love, cruel fate, class snobbery and corruption in an era where anything goes—flappers dancing the Charleston, speakeasies, bootlegging, shady deals? Go for the glittering surface?
Many have fallen trying, thwarted, just like the man himself, the great Jay Gatsby. David Nixon, choreographer and artistic director of Northern Ballet, is amongst the latest to grasp the nettle, and comes as close as, if not closer than, the rest to succeeding. His Great Gatsby is a labour of love. Even the costumes are to his design.
Sir Richard Rodney Bennett's music is Nixon's way in. Music the food of love is the true narrator and nourisher of his two-act, two-hour narrative ballet, The Great Gatsby, F Scott Fitzgerald's sorry tale of misguided eternal love and stunted development, set on New York's Long Island in the 1920s. The Northern Ballet Sinfonia must take full credit.
A stitching together of music from Rodney Bennett's vast rich catalogue of film, jazz, and classical scores, twenty-seven extracts for as many patchwork scenes, snapshots of a past very much in the air today. The gilded Teflon rich dancing as the world heads towards disaster, the lower orders expendable.
A popular musical without the songs is perhaps a shorthand description for Nixon's classical ballet, reminiscent of the great musical films of Hollywood's heyday, but there is one crucial song, Rodney Bennett singing I Never Went Away inspired by his own lost love, that captures Gatsby exactly.
Gatsby, a poor boy from the mid-west falls in love with rich girl Daisy just as he is about to go to war. His uniform masks his status. Daisy doesn't wait for him, marries the millionaire Tom Buchanan, a womanising brute, has a child, and continues with her vapid life, summering on Long Island, on the old money side of the dividing sound.
Five years after the war, the reinvented Gatsby buys a mansion on the wrong nouveau riche side of the sound, directly opposite the magical green light of the Buchanan home that draws him so.
Lavish parties full of hedonistic freeloaders fail to attract the Buchanans away from their exclusive milieu. Conveniently Nick, a distant cousin of Daisy's, moves in next door to Gatsby, and sets the events in motion, the go-between and unreliable narrator.
Why Gatsby still carries a torch for the shallow Daisy, why a possessive Tom has set up a mistress, Myrtle Wilson, the dirt poor garage owner's wife, in New York, and its tragic consequences, Nick unpicks over time and in stories within stories flashbacks.
Easy to settle for the glitzy superficiality of the party scene, which has its longueurs—which party doesn't—but what about the mood, the tone, the undertow of sadness, the pity of it all? No coda, no awkward father come to Gatsby's poorly attended funeral, just a bullet to the head, bang and lights out.
A longing for time past, time lost—Alain Fournier's magical Le Grand Meaulnes, the elusive lost domain of youth and beauty, could be Fitzgerald's Great Gatsby marker. 'So we beat on, the boats against the current, borne back ceaselessly into the past.' 
David Nixon and co-director Patricia Doyle go for a faithful reconstruction of the facts, with a prologue to set the scene. Sliding panels, suspicious men in black belted overcoats and black fedora hats lurking in their shadows, New York bustle, five different household setups, expensive cars, lots of servants, guests and colour.
Jérôme Kaplan's magnificent sets—Edward Hopper garage, Gatsby's mirrored ballroom, Daisy's white-draped home, the jetty across the water—are masterfully lit by Tim Mitchell, light streaming down, sunsets and sunrises, Wilson's garage interior murky gloom.
The company is effervescent and individual characterization is especially good, though not strictly by the book. Martha Leebolt's Daisy is a joy, but gorgeous dancer Kenneth Tindall is a much more sympathetic and fanciable Tom, protective arms around wife and daughter, than the white supremacist original.
Tobias Batley has the tricky role of Gatsby, a closed book, which he opens briefly in pas de deux with his younger self, Daisy and Nick. Hannah Bateman is the amoral decorative golf-playing Jordan, and Victoria Sibson has her moments as Myrtle, but it is Benjamin Mitchell as her husband George who gets the loudest applause.
In one-shoulder dungarees and dirty vest he is more of a Stanley Kowalski than The Postman Always Rings Twice fool everyone takes him to be. His agile dance number with a car tyre is one of the sequences that stay in the mind.
Daisy kicking her heels as she is thrown through the air is another, and a flashy dancer (Kevin Poeung?) puts the zing into Gatsby's party. The tango number is a delight. And the pas de deux, de trois and quatre are lovely (one-hand lifts too).
Best to read F Scott Fitzgerald's book before seeing the ballet. With that knowledge the ballet makes wonderful sense. Otherwise a fulsome programme synopsis must do the trick. It took the whole first act before my companion made complete sense of who's who.
Behind the façade of the sets, not the mirror to Gatsby's parched soul, a boyish fantasy turns into a hollow dream, into ashes, into the valley of ashes that George and Myrtle inhabit.
An ambitious production with high values exceeded my expectations. Can't say better than that. 
Reviewer: Vera Liber