The Grimm Hotel
Charles Way and Paul Bosco McEneaney
Cahoots NI
Cityside Retail & Leisure Park, Belfast
–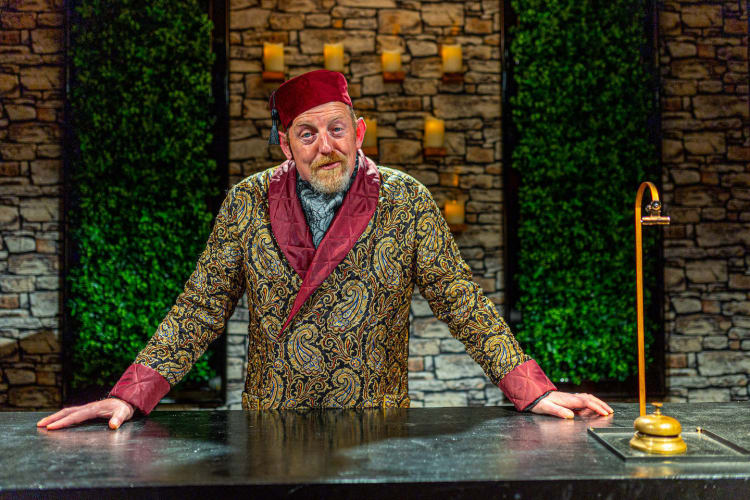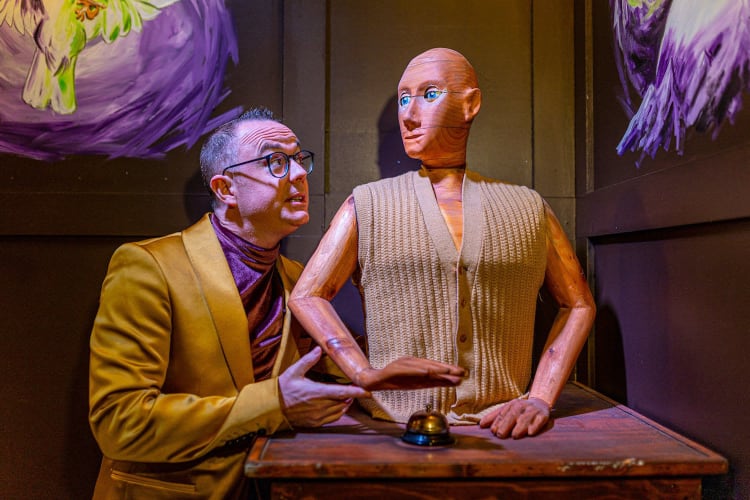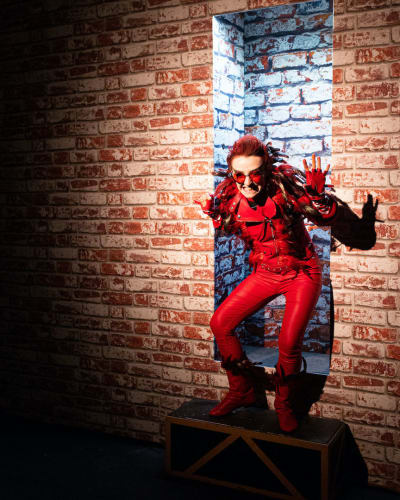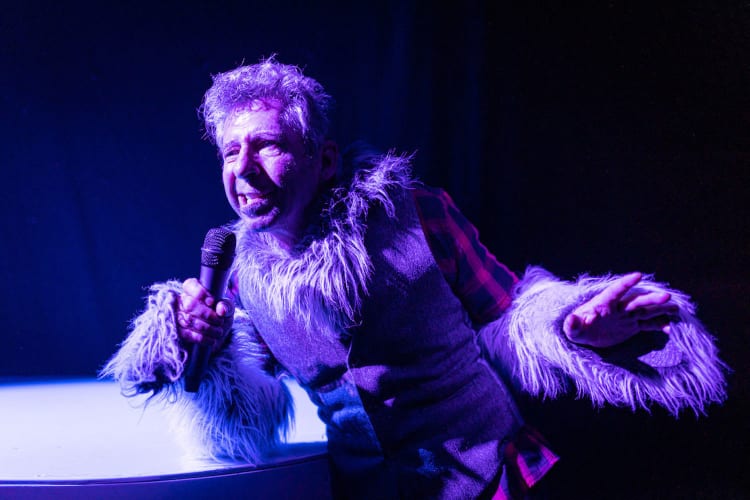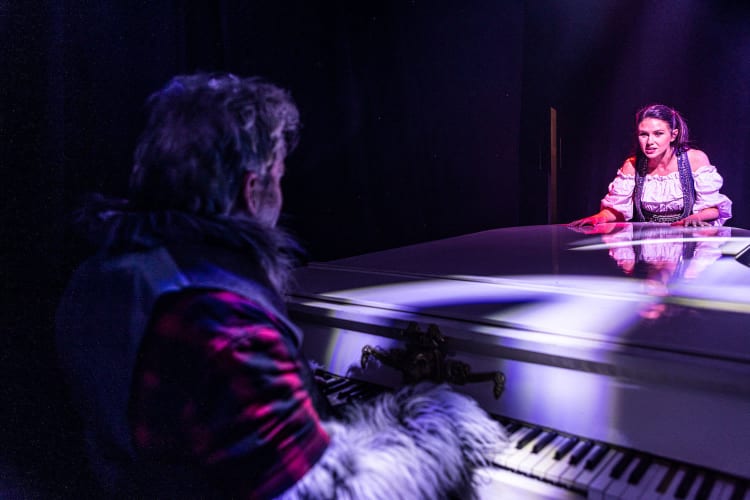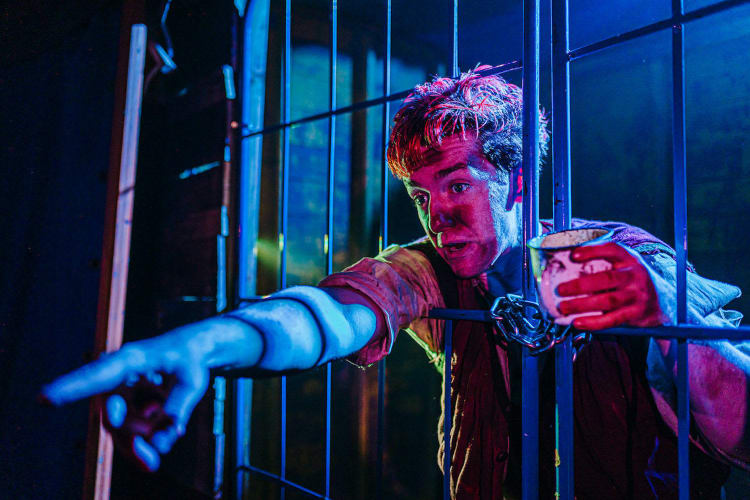 Hidden away in a labyrinth of forgotten corridors and rooms in a North Belfast shopping centre, Cahoots NI's The Grimm Hotel, part of this year's Belfast International Arts Festival, is perfect family fare for the Halloween season.
Loosely based on the fairy tales of the Brothers Grimm, it more solidly roots itself in the dark, disturbing atmospheres of the famous siblings' fables. Its own appreciable sense of fantasy is conjured by shadow-cast lighting, one lightly thrown-off magic trick after another, and some excellent video wizardry, abetted by suitably spooky music and a grand piano—complete with a ravenous, serenading wolf at the keyboard—that levitates and spins 360 degrees in mid-air.
A spectacle on a small scale, it plays to the company's family-friendly strengths while deftly exploiting the technology learned during recent lockdowns, when it adroitly managed its forced migration from stage to streaming with an enjoyable crash course in mathematics, astronomy, art and environmentalism, The University of Wonder and Imagination.
In the show's standout episode, Kyron Bourke's charismatic, bushy-tailed wolf is a lupine Liberace channelling Tom Waits in bar-room balladeer mood. His song for the gluttonous wolf (with lyrics by Charles Way, arranged by Garth McConaghie) serves as the compact but full 75-minute show's literal curtain fall. You really can't top a gravity-defying grand piano.
Bourke is ably aided by Philippa O'Hara's Little Red Riding Hood, possessed of requisite fairy-tale innocence and a singing voice that would grace any West End show.
It is the production's conceit, as much as its execution, that grabs the imagination. With COVID-limited audiences for each rolling performance, staggered at 30-minute intervals and numbers restricted to two full black Belfast taxis' worth, one is left wondering what the audience before or after might have witnessed. Not least given the titular hotel boasts 210 rooms—each allegedly themed to the similar tally of the Grimm Brothers' stories.
Though common sense dictates it was the same experience shared by all, the temptation to return to visit other rooms and witness different stories is a central part of the show's allure. And tribute to co-devisers and writers Way and Cahoots' artistic director Paul Bosco McEneaney.
Assembling in the shopping centre's foyer, my audience group was greeted by Hugh W Brown's red-and-gold costumed, cheeky-chappie bellhop—"Chief Bellhop"—an affable, hard-working tour guide, part preening Ruritanian attendant, part engaging front-cloth comic.
In quick, slick succession, Caolan McBride's brisk intendant and Sean Kearns's Bela Lugosi-inflected hotel head honcho cleverly persuade that seemingly randomly elicited audience choices have led to a unique experience.
Before Bourke and O'Hara's turn as predator and potential prey is Holly Hannaway's feisty, Puck-incarnate Shoemaker's Elf. Clad in scarlet leather, she blends mercurial uppitiness with mischievous malice, abetted by Kearns's touching doubling as the afflicted cobbler and some astonishing video effects by BNL Productions.
Allison Harding's fine, securely middle-European Witch and Lennin Nelson-McClure's caged Hansel ink in the evening's middle section, atmospherically located in a dilapidated, storm-tossed circus tent, its floor strewn with aromatic bark.
Bridging the threshold from public space to hotel environment, designers David Morgan and Diana Ennis suit space perfectly to style, McConaghie's music and sound design offering its own appropriately evocative, hauntingly disconcerting accompaniment to proceedings.
Perhaps best seen when uninhibited children outnumber reserved adults, The Grimm Hotel remains a clever, captivating show that makes much of the slender resources available to the company to create something rather special for all ages.
Reviewer: Michael Quinn