The Handmaid's Tale
Music Poul Ruders, libretto Paul Bentley based on the novel by Margaret Atwood
English National Opera
London Coliseum
–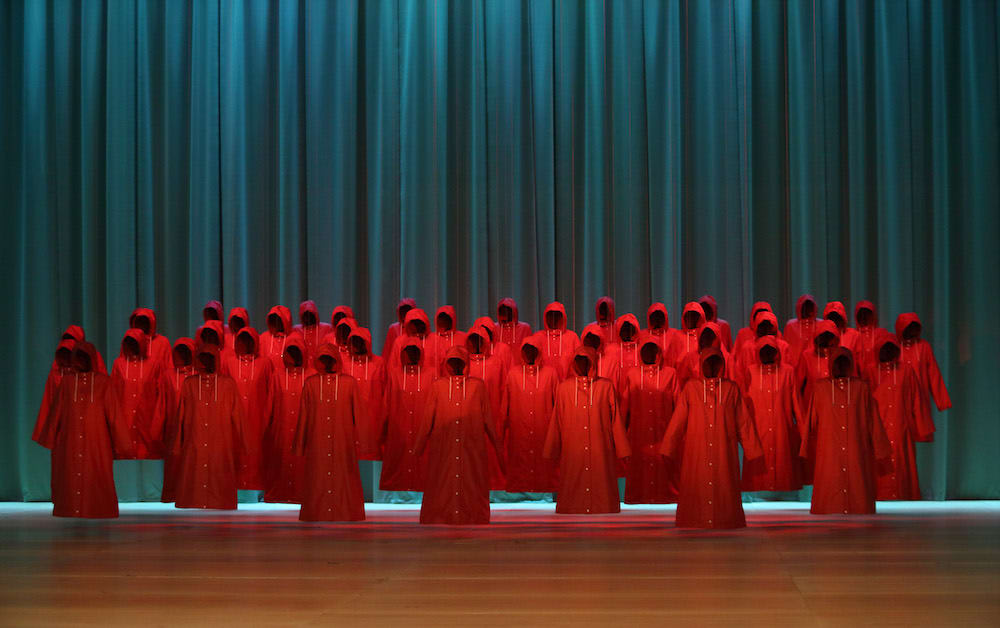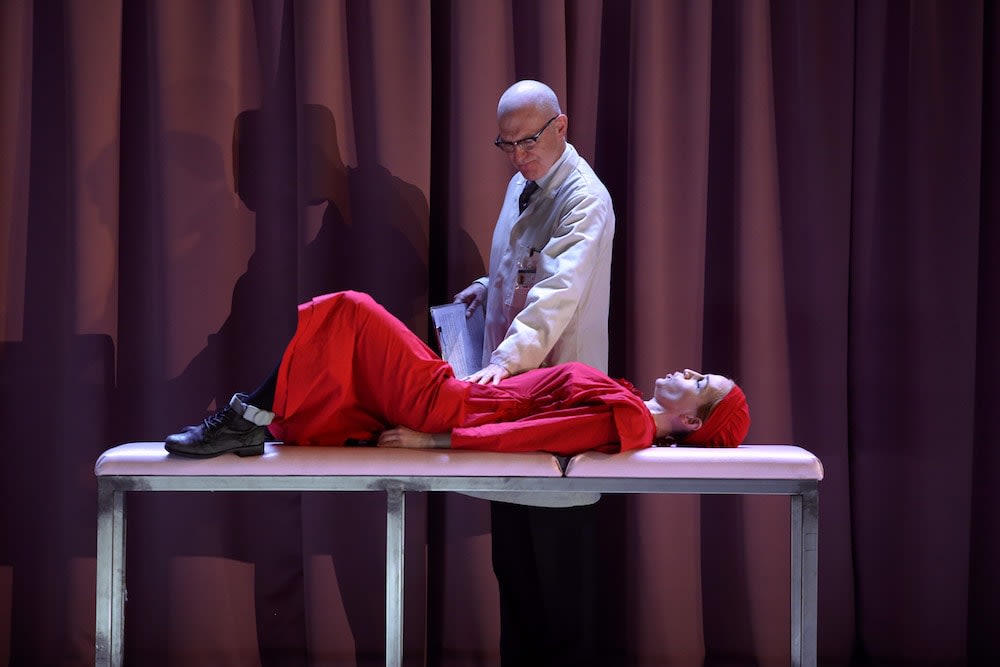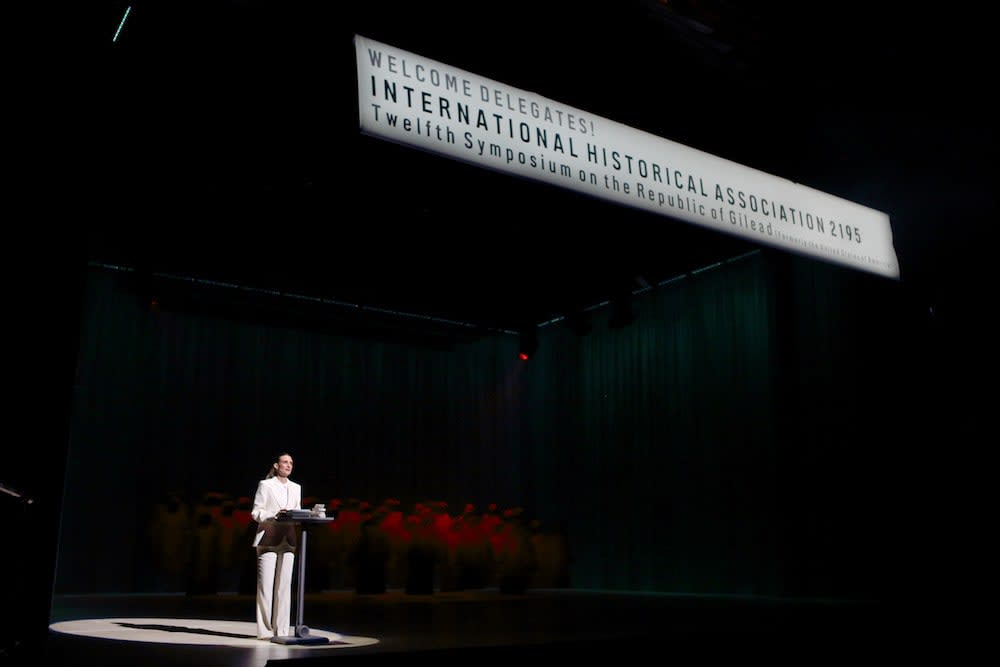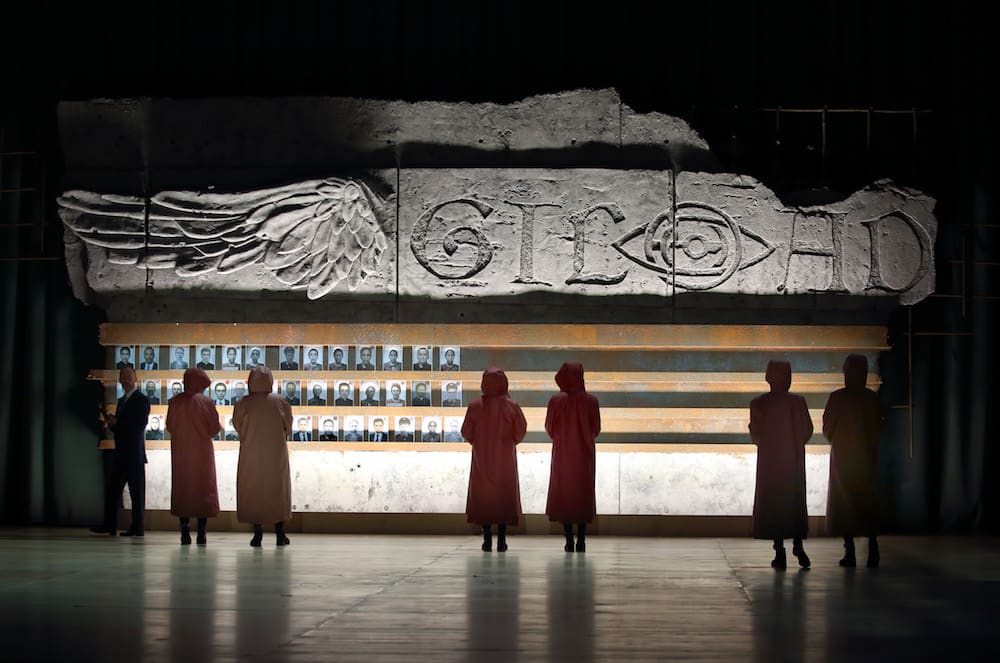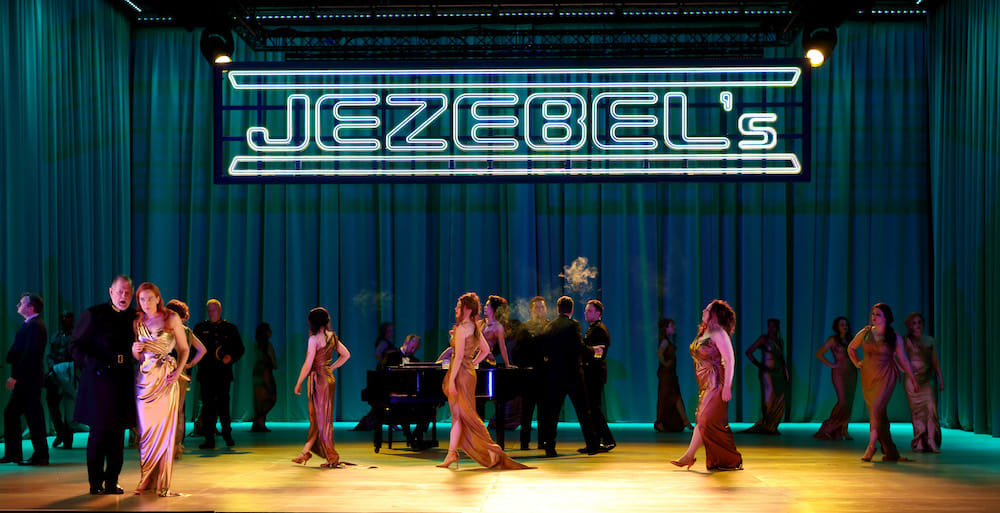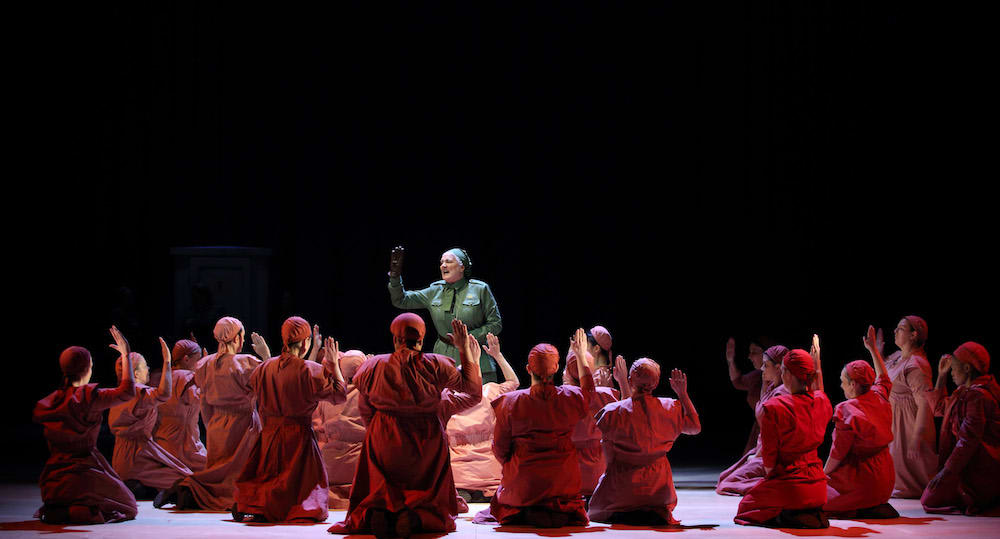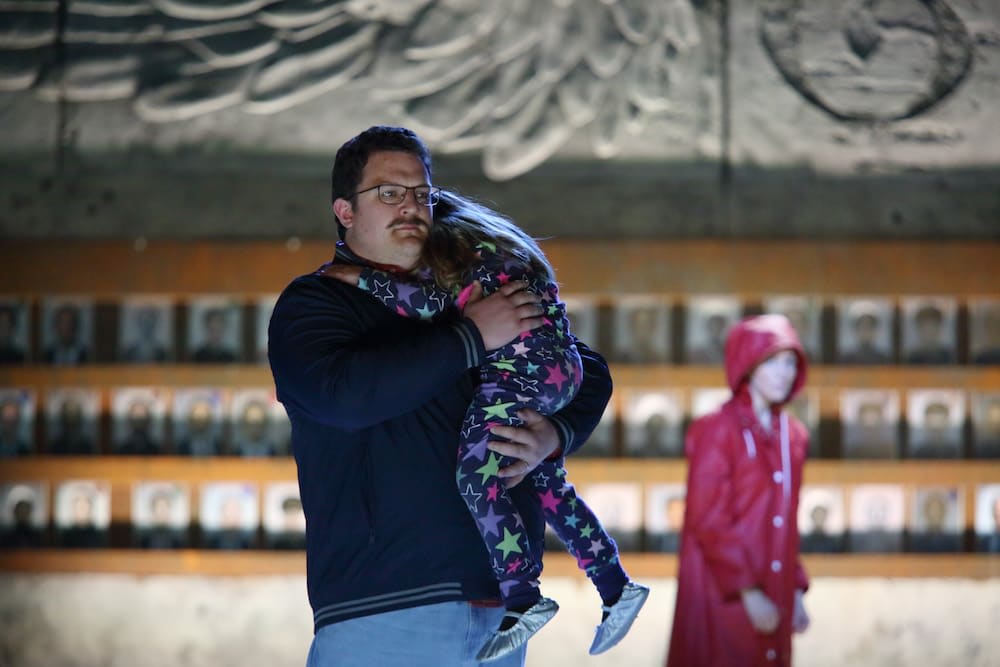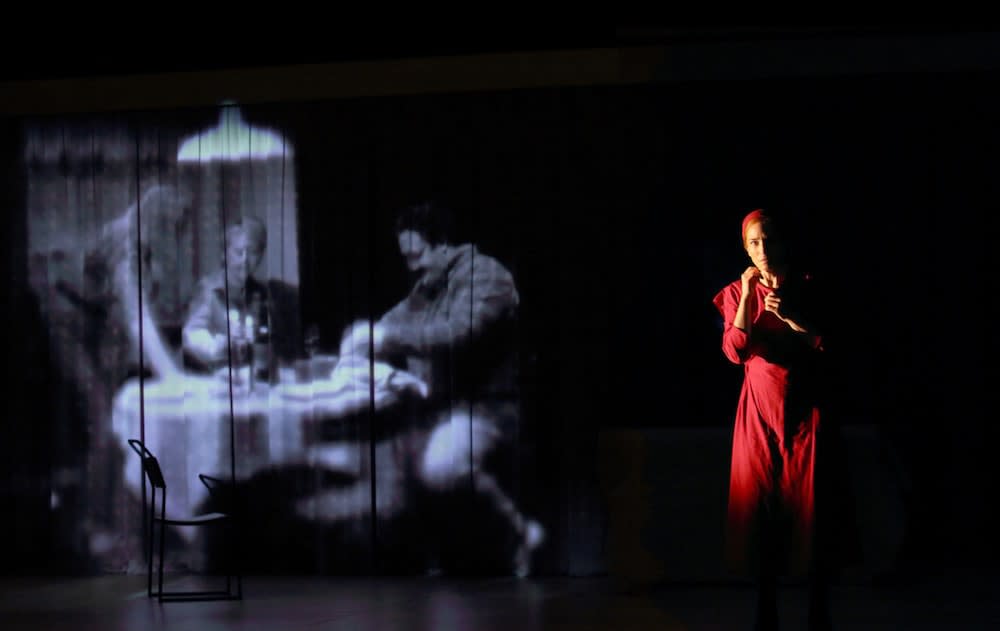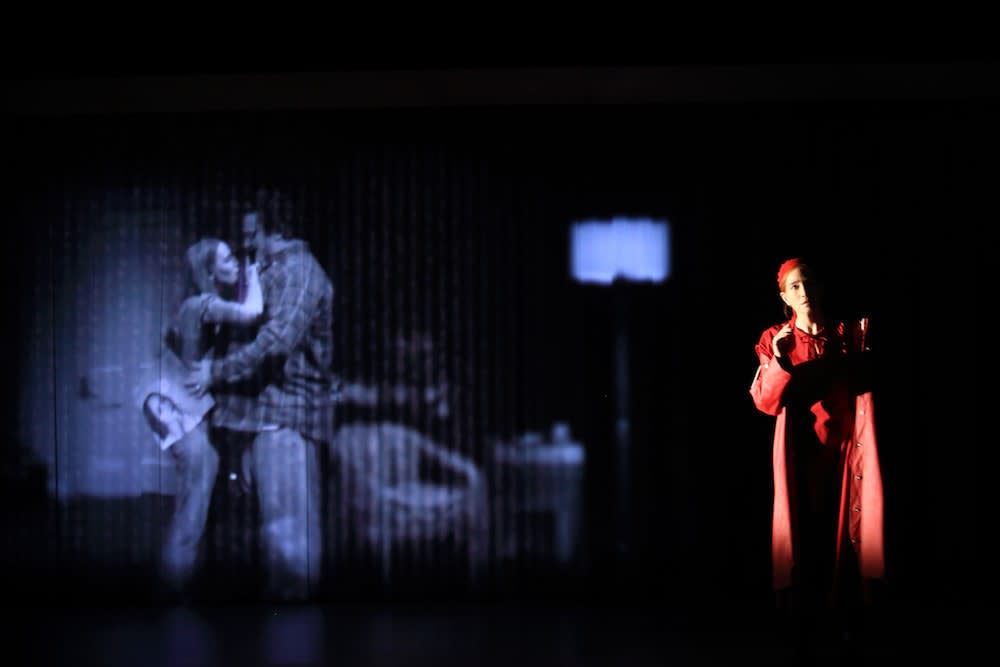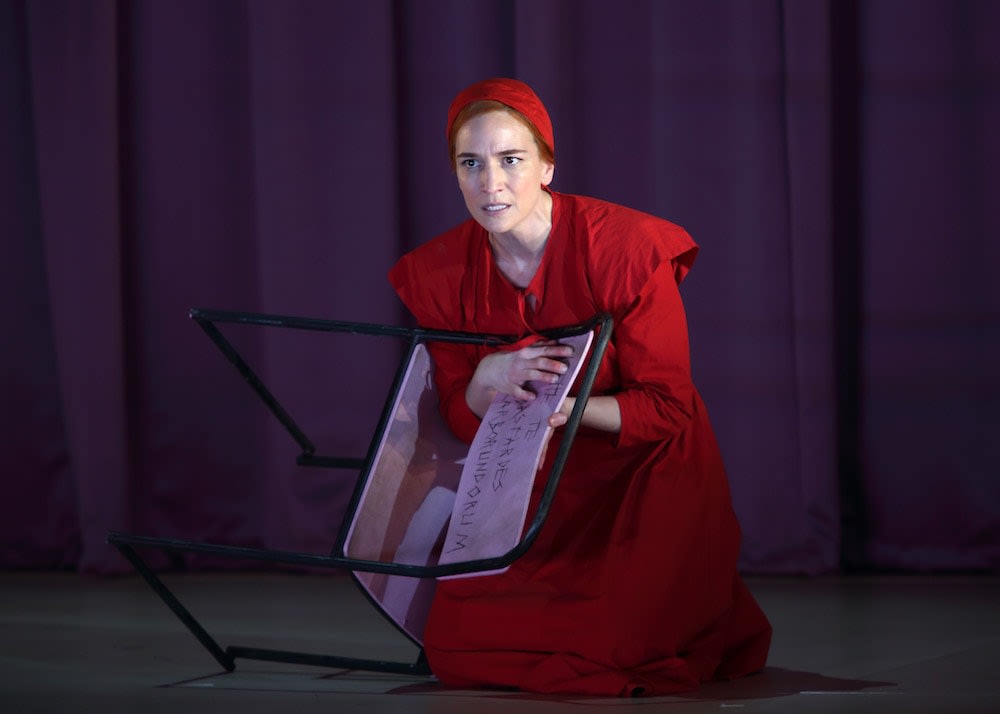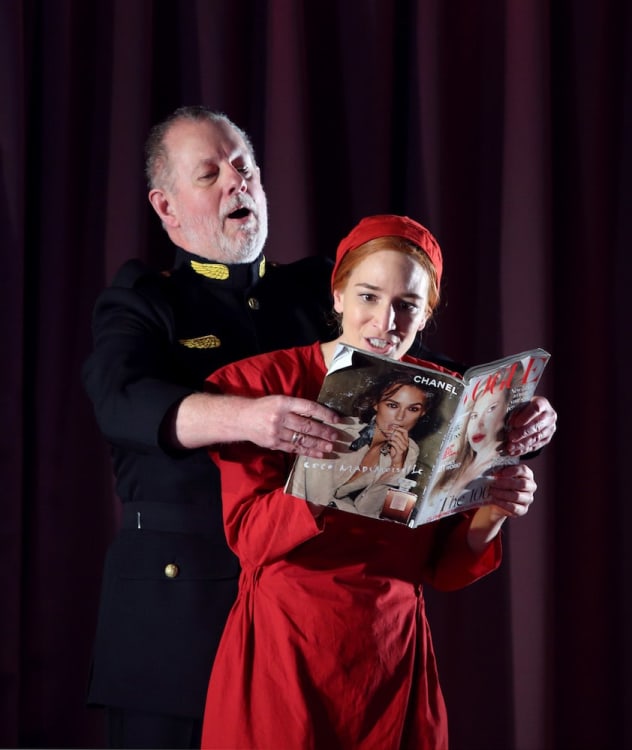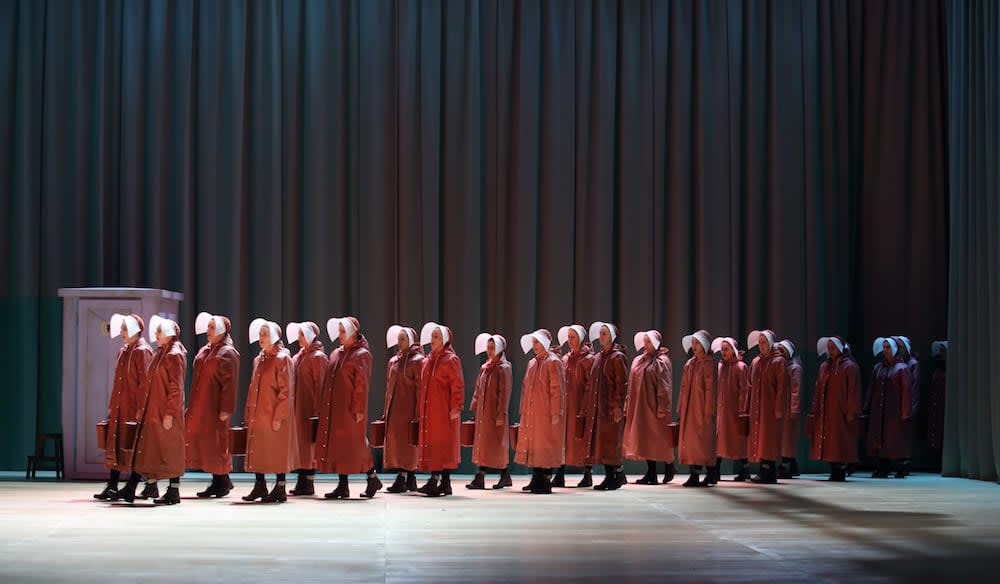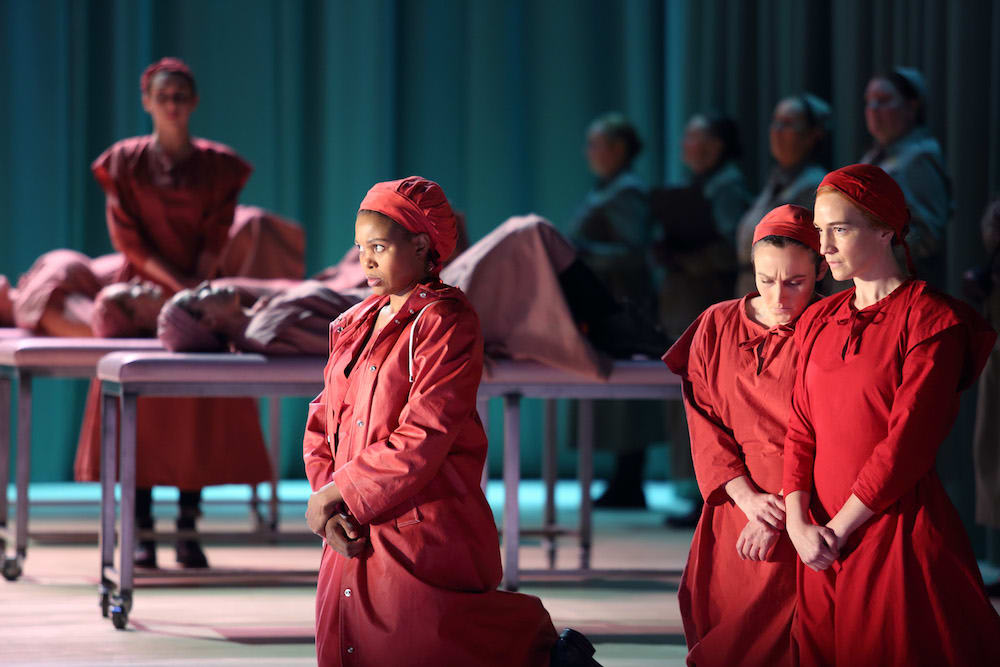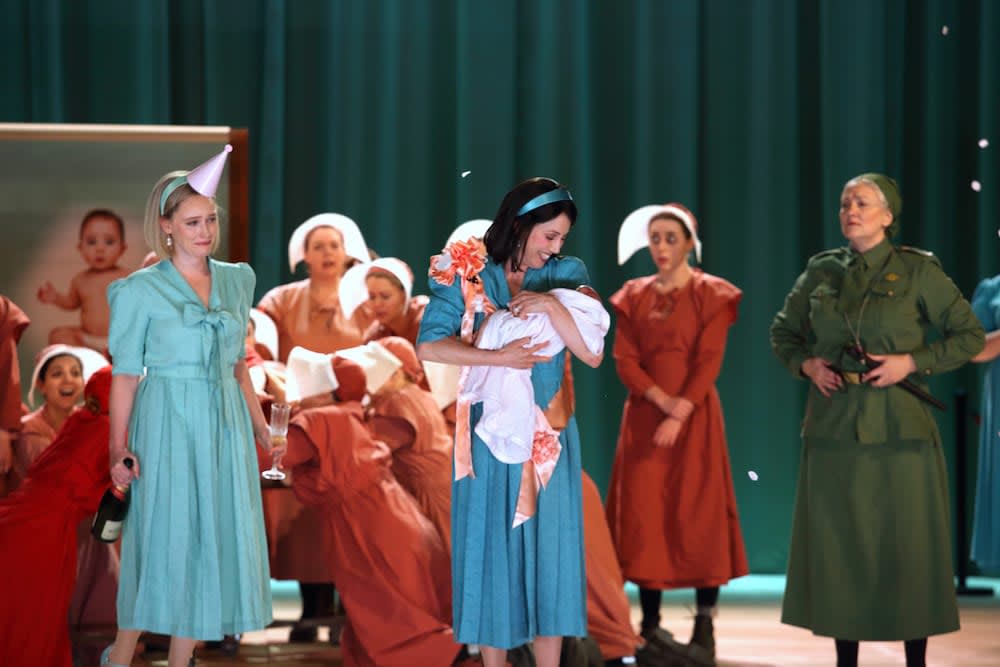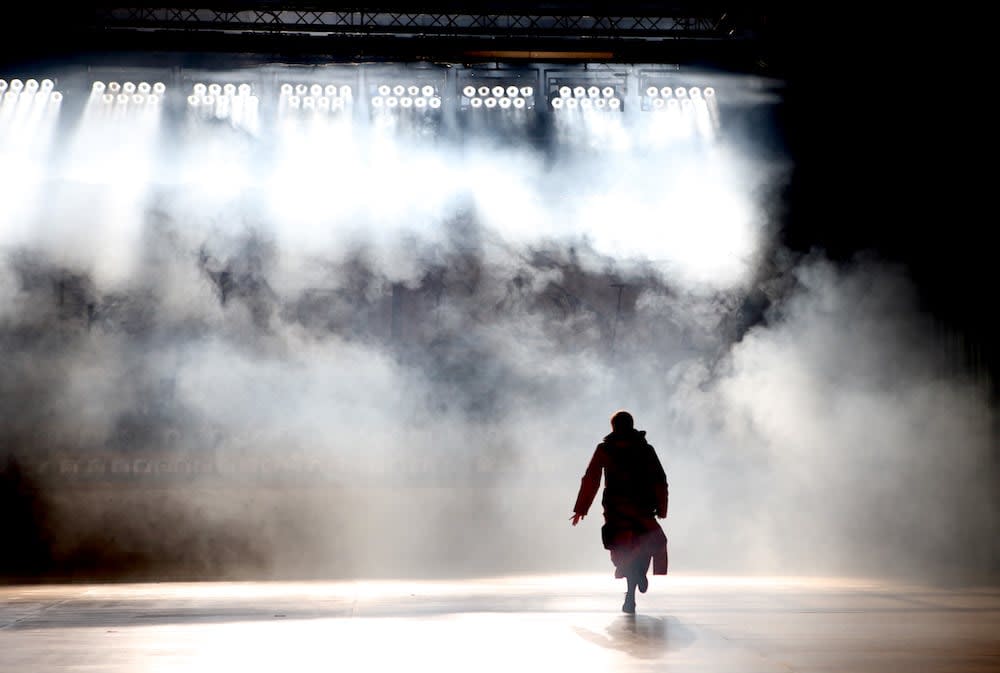 I read the book the year it was published, I saw the film with Natasha Richardson in 1990, watched the first TV series, and now the opera. I was apprehensive about it, a harrowing subject matter for our harrowing times, but in fact it is compelling thanks to Poul Ruder's score and mezzo-soprano Kate Lindsey's central performance. An admirer of her work at the Met (streaming only), it was a pleasure to see and hear her live. Making her debut at the Coliseum, she gives a commanding sympathetic performance, totally immersed in the distressing gruelling role.
The Handmaid Offred (Of Fred), a captured surrogate birth mother, her own daughter stolen from her and given to another, Lindsey delivers, in both the singing and acting departments, a range of subtle emotions, humble, angry, scared, defiant. The only way to survive is numbness. From time to time, her little girl runs onto the stage as she relives her memories of former liberal times. It tugs at the heart. Her husband Luke (Harewood Artist John Findon), who fails to get their five-year-old daughter over the border, her feminist mother (Susan Bickley in a tiny role), appear in the video image of her mind.
This is the Republic of Gilead, a Puritan-style theocracy based on Genesis chapter 30. Atwood foresaw this in 1985—in Iran, in the Taliban, in America's evangelical movement—and it came to pass not only with Trump. How prescient was Atwood… she'd probably say deductive... pity more weren't.
After the catastrophic early years of the 21stcentury, climate issues and low birth rates, right-wing fundamentalists have assassinated the President and members of the Congress and installed their own dictatorship in which women have no rights, not even to be able to read and write. Divorce, abortion, gender treachery are all a crime. Sick babies are exterminated.
It is the Dark Ages. But everything has its time, and Gilead is history we discover at a symposium given in 2195 AD by a female professor in a stylish white suit, Professor Pieixoto of Cambridge University. In the book, this comes at the end as Historical Notes. Here the "International Historical Association Twelfth Symposium on the Republic of Gilead (formerly the United States of America)" bookends the opera, which softens the blow. Camille Cottin of Call My Agent fame is the professor who has discovered audiotapes left by Offred. But she doesn't know the ultimate fate of Offred.
And so the tale unfolds in all its dystopian Orwellian satire. Librettist Paul Bentley serves Atwood well, telescoping the action into less than three hours. Atwood's wonderful euphemisms remain—'Salvaging' for public execution is a chilling one—the 'Ceremony' for official rape. Verbal conditioning.
It is also ENO's artistic director Annilese Miskimmon's debut here as opera director. Most of her crew are pointedly female—all from the highest to the lowliest take a bow at the end to richly deserved applause. It is a clear new reading. And Ruders music is its unsettling driving force. Heavy percussion, brass, church bells (bells are always tolling in the book), and I think I hear Shostakovich (I'm thinking of the Soviet humiliations he had to endure), but Ruders admits to Strauss, Berg, even Puccini as his influences. And much more: minimalism and atonality which suit the subject matter: a fascinating cinematic score, which I'd like to hear again. Snippets of "Amazing Grace" and a child's musical box grace the dramatic score.
There are not many arias as such, though Aunt Lydia has a long one, and Offred duets with her former self from the Time Before, cleverly done with video projection (Akhila Krishnan) in faded black and white. Often she sings front stage directly at us in recitative. Her story, her suppressed emotions—Handmaids don't have a right to these. They are walking wombs for barren wives and impotent Commanders, hypocritical Commanders, who take their illicit pleasures at Jezebel's brothel.
Whores, whether in brothel or a Handmaid blessed by biblical diktat. There is an underground movement, and Offred's Handmaid friends try to escape, some commit suicide, some go mad, one ends up in the brothel, anything rather than be sent to the Colonies to clear up radiation spills.
The male roles are small and two-dimensional: there's the doctor (Alan Oke), a creep who offers to impregnate Offred to save her situation, there's Nick the chauffeur (Frederick Ballentine) who does the deed at the command of Serena (Avery Amereau), the Commander's wife. Both women need to deliver. And Serena is jealous as she suspects the Commander (Robert Hayward), her husband, has got too close to Offred. He has, playing Scrabble with her, giving her Vogue to read—really… the wicked wit of Atwood. There is some humour: "Do you come here often?" "Only in the mating season".
The Handmaids are controlled by older women, 'Aunts'. Aunt Lydia, who indoctrinates the Handmaids with the aid of cattle prods, is given shrill coloratura shrift by Emma Bell. She turns them into collective killing machines, Bacchae I think, to tear apart (it's called 'Particicution") a so-called rapist. The Wall, an Elgin Marbles-like sculpture, has memorial portraits rather than hanging corpses as in the original. Another softening. Rita (Madeleine Shaw) a 'Martha' household servant, also keeps an eye on Offred—and Eyes watch everyone.
The set (Annemarie Woods) is minimal, the stage is draped in dull green-grey curtains on three sides, a mid-level curtain in pink denotes the Commander's home, and tinged green it is the countryside. Costumes are clear red for Offred and off-red for the other subjugated women, all with ankle tags. The Aunts are in military green; the Commanders' wives in pale blue; the Commander in a Salvation Army style black uniform. Not exactly dazzling colours, bleached and depressing.
And the opening tableau, with its forty or so Handmaid costumes hanging over the stage, captures the horror (as do the institutional beds, the Handmaids' gulags—"breathe, hold, expel", "to be seen is to be penetrated", "it's not a prison but a privilege") of the condensed Tale, conducted with supreme conviction by contemporary music specialist Joana Carneiro.
There are only four performances, COVID having put paid to two. Ruders's opera premièred in Denmark in 2000, Phyllida Lloyd staged it at the Coliseum in 2003. It is advised for 15+.
Reviewer: Vera Liber