The Harri-Parris: The Big Day
Llinos Mai
Mai Oh Mai / Chapter / The Torch Theatre / Little Wander
Chapter, Cardiff
–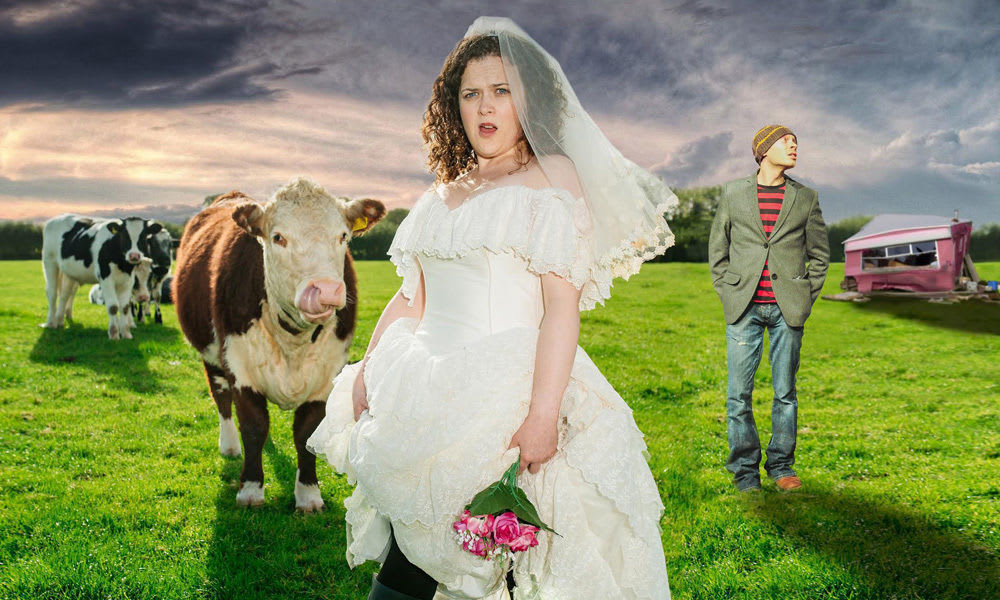 The Harri-Parris were first encountered (although, regrettably, not by me) in 2012, in the show The Leaving Do, which played throughout Wales, and was widely well-reviewed on the Edinburgh Fringe. The semi-autobiographical creation of actress-writer-musician Llinos Mai, it told the tale of a girl from an eccentric farming family departing her tiny village for the bright lights of London.
In this sequel, on the last leg on an extensive Welsh tour, young Anni has returned, but not alone—she has brought Ben, her fiancé, for his first encounter with his future in-laws. Confrontations occur, secrets are revealed, and there is much singing and dancing.
We find ourselves itself in the large but comfortable kitchen of the Harri-Parri's farmhouse (a beautifully detailed design by Dickie Dwyer) in the fictional West Walian hamlet of Llanllai. We are fellow residents, here to welcome the couple on the eve of their marriage. There is much humorous interplay as various innocent audience members are implicated in petty village mischief (such as being accused of being one of Anni's many ex-boyfriends).
The kitchen is unusual in that it is filled with musical instruments, which are frequently employed by the multi-talented cast. In this respect, at least, Ben fits in. In others, he does not: he is an Englishman, from Manchester, a graphic designer and, most shocking of all, a vegetarian. This clash of cultures is the root of much of the comedy.
In terms of plot, there is little here than hasn't been seen before: the small community where everyone knows everyone else's business, the guileless boyfriend meeting his lover's peculiar family, the mishaps which threaten to derail the marriage before it has even begun. There are arguments over the wedding cake, for example, and the choice of band—not to mention the incident involving Anni's wedding dress and an unfortunate pig.
There are uniquely Welsh twists, however: Anni's family insists on greeting Ben whilst wearing their version of traditional dress and there is much amusement caused by conversations carried out entirely in the Welsh language which remain entirely comprehensible due to their consisting largely of English words.
The Harri-Parri family comprises recognisable types: the loving but over-bearing mother, Rhian Morgan, the earthy, truculent brother Ifan, Dan Rochford, and camp cousin Deiniol, Rhys ap Trefor, revelling in his role as self-appointed wedding planner. This is a likeable comic ensemble, well drilled by director Owen Lewis. Mai as the endlessly exasperated Anni and Oliver Wood as Ben, easily undone by Ifan's home brew, more than hold their own in their less showy roles.
What the frequent musical numbers lack in melodic inventiveness they more than make up for in terms of lyrical wit and stylistic variety. At various points, we get agriculturally-inflected R&B, indie guitar anthems, wistful balladry, rap and even a spot of bhangra.
The Big Day is essentially a show about family, honesty and acceptance. More importantly, it is excellent entertainment, assembling its familiar elements with great charm and skill.
BBC Wales has already commissioned a Harri-Parris radio series. The highly appreciative full house on press night suggests that it will find a receptive audience.
Reviewer: Othniel Smith