The Hatpin
Music by Peter Rutherford, book and lyrics by James Millar
A Heather Doole, Blue Elephant & Greenwich Theatre Co-production in Association with Lazarus Theatre
The Blue Elephant
–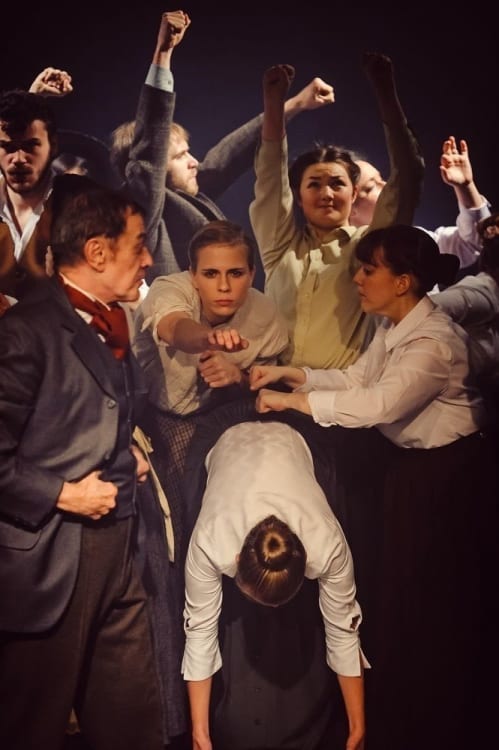 Australian musical The Hatpin is not a comfortable watch—it is a disturbing story, made all the more chilling by being based on true events.
In 19th century Sydney, being an unmarried mother was more than just shameful and illegitimate children were often given over to families who would care for them, for a price. Destitute Amber Murray is an abandoned new mother. She fears for the health, even life, of her child and in order to protect him and to be freed up to work and care for him in the future, she temporarily puts him into the care of the Makin family.
Amber is permitted to visit her little baby Horace only fortnightly on pay day but each time she is prevented from seeing him. Soon the gruesome truth comes out that thirteen little bodies have been buried in the yards of the Makin's recent homes.
Amber is the only one of the babies' mothers to come forward to claim the body of her dead son, this positive identification being essential to try the Makins for murder, which is the backbone of the second act.
With the second act, The Hatpin becomes something of a traditional courtroom drama, with the dramatic denouement coming not at the hands of the heroine but in the testimony of Clara, the Makin's 'peculiar' daughter. Out of the mouths of babes...
The Hatpin is somewhat disadvantaged by being based on a story with a known outcome but it is further hampered by a poor book from the pen of James Millar who also wrote some very uninteresting lyrics. The first act particularly is plagued by laboured references to bad weather and the whole suffers from a story that emerges unevenly.
Music is by Peter Rutherford, who employs discordant and shrill tones (that owe a debt to Sweeney Todd) to effectively punctuate the unsettling plot points. He provides mostly likable but unmemorable tunes, though the first act closer has haunting characteristics and Clara's deposition is striking.
Some of the harmonies, especially from the female ensemble, are excellent under the musical direction of Aaron Clingham, though he and director Ricky Dukes need to recognise that the intensity of anger and anguish need not always be expressed at full volume.
Dukes also needs to address some very serious lighting errors which bedevil this otherwise visually detailed production.
The Hatpin is delivered with Lazarus's trademark physicality, here used by Ricky Dukes to enhance the narrative effectively. He has assembled a youthful cast who work extremely hard: Eleanor Sanders as Harriet, Amber's only friend, and Gemma Beaton as Amber both give strong vocal and natural performances and Emma White is outstanding in the supporting role of Clara. These three performances are the evening's ultimate reward.
Reviewer: Sandra Giorgetti