The Haunting of Exham Priory
Chris Buxey based on H P Lovecraft
Rumpus Theatre Company
Guildhall Theatre, Derby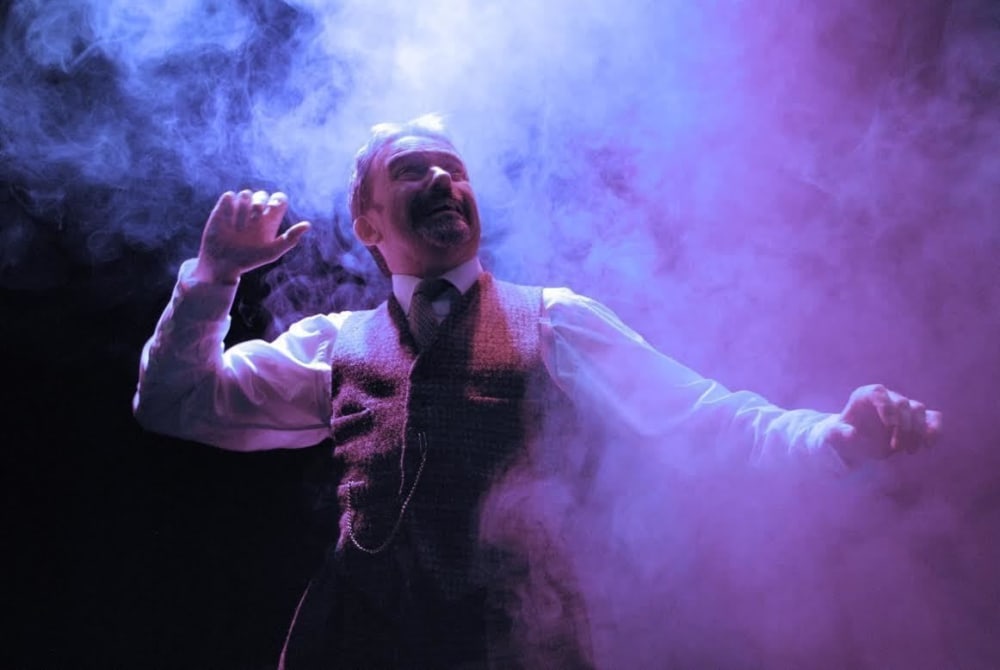 Rumpus is a theatre company that has built a solid reputation through touring to small- and medium-sized venues, performing stories that are best described as classic, appealing tales.
The company's penchant for coming up with gothic mysteries or horror stories proves to be popular every year, particularly around Halloween.
Rumpus's latest offering is a new play by Chris Buxey, an admirer of 20th century American horror writer H P Lovecraft. Buxey has taken Lovecraft's story The Rats in the Walls and adapted it into The Haunting of Exham Priory.
Lovecraft said his story was "suggested by a very commonplace incident—the cracking of wallpaper late at night and the chain of imaginings resulting from it".
The Haunting of Exham Priory begins with American Robert Delapore retiring to rural England to restore his ancestors' home which was a hollow shell, "fit only for the ghosts of history". But local people viewed the Delapore family with suspicion and Robert was unable to commission a local labour force to do the work.
Captain Edward Norrys turns up at the Priory. He was a friend of Delapore's son who died from injuries he sustained in the World War I. Delapore opens up about his battle to be respected in the community. His ancestors were looked on as "sadistic monsters" and were thought to be responsible for the disappearance of several villagers.
Delapore begins to hear sounds which appear to be coming from the walls. He believes he is losing his mind, so Norrys agrees to accompany Delapore into the depths of the Priory to try to uncover the disturbing truth.
The Haunting of Exham Priory is a two-hander featuring David Gilbrook and Nicholas Bourne. Both of them appear in another Rumpus play which is touring, Raffles: The Mystery of the Murdered Thief.
When I saw that I remarked how Gilbrook made an impression as a jeweller and also a crook who deals in stolen goods. In The Haunting of Exham Priory, he plays Delapore, a huge part which he delivers superbly, showing a loving, grieving father, a bemused homeowner and a distraught man struggling to understand what is happening in his brain.
Bourne did not have much chance to shine in Raffles but here he looks totally comfortable as the former Royal Flying Corps captain whose enthusiasm to uncover the Priory's disturbing secrets is coupled with his determination to look at everything rationally and objectively.
Rumpus founder John Goodrum directs with a steady hand. He also designs a sparse, functional set which never overpowers the acting; the emphasis is clearly on the words and how they are delivered.
This means the production is not particularly atmospheric; Gilbrook's sound and Keith Tuttle's subtle lighting are the only elements of the production to set the mood.
Some members of the audience, dressed in gothic outfits or Frankenstein T-shirts, might have been expecting more in the way of ghouls and ghosts from The Haunting of Exham Priory. It is a real test for the two actors performing it; Gilbrook and Bourne definitely rise to the challenge.
Reviewer: Steve Orme