The Haystack
Al Blyth
Hampstead Theatre
–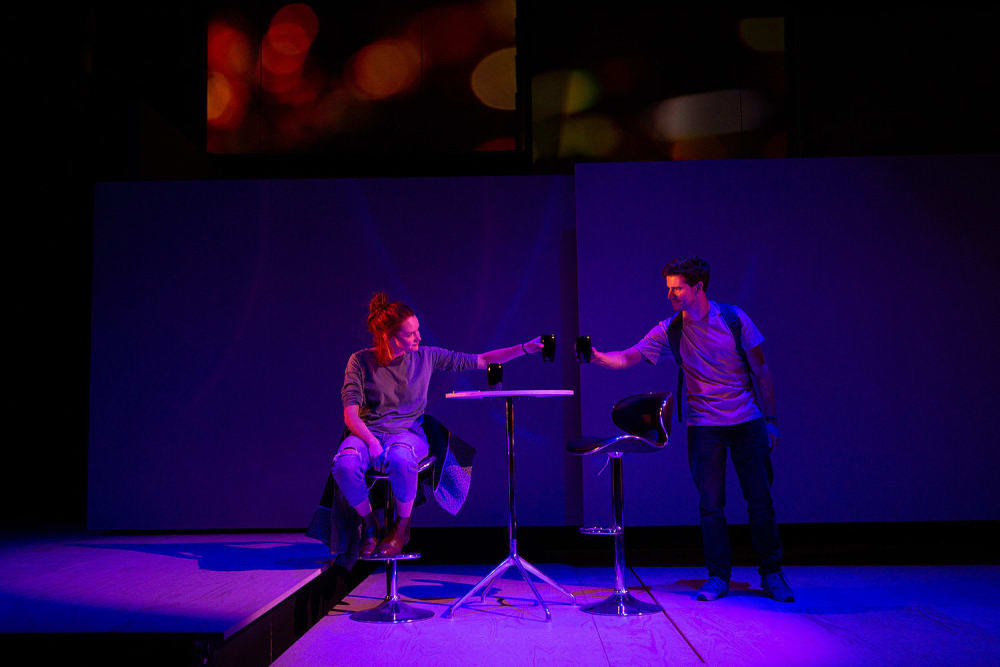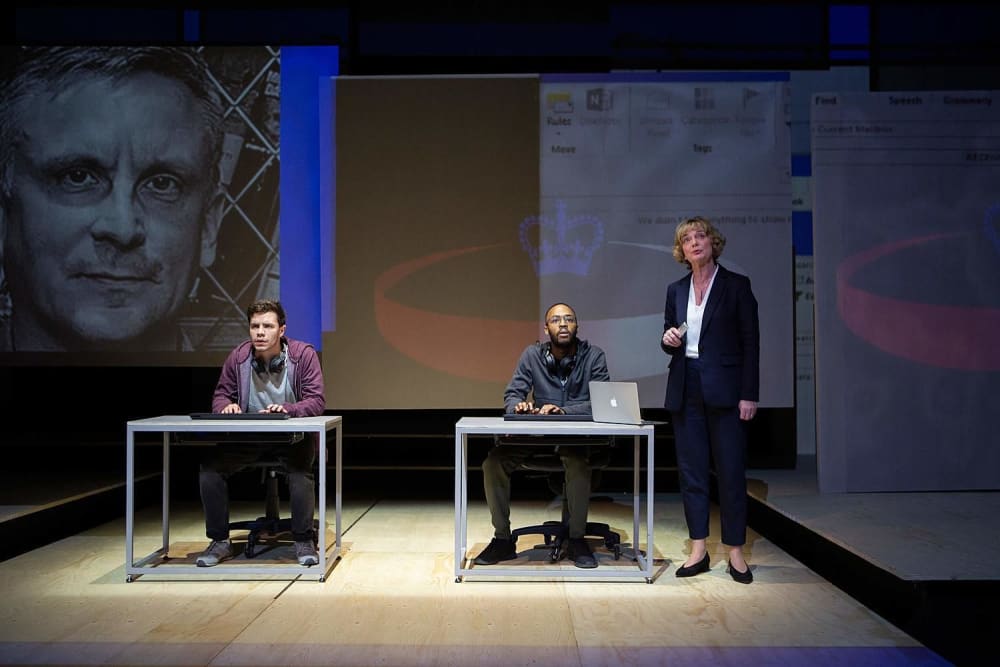 Al Blyth is hardly your average playwright. Rather than drama or English literature, this writer studied econometrics and mathematical economics and then worked as a research economist at the Institute for Fiscal Studies.
This atypical experience left Blyth perfectly placed to write The Haystack, his first full-length play, since the central characters of this contemporary spy thriller are mathematical geniuses of the eccentric kind who end up labelled as "geeks".
Backed by nine large TV screens, the opening scenes portray Enyi Okoronkwo as Zef and Oliver Johnston playing Neil in their natural habitat. Although these twentysomethings are high-powered spies working for GCHQ, they could easily be mistaken for Peter Pan types who have never quite managed to grow up, spending their working days secretively playing video games.
Unexpectedly, when confronted by Sarah Woodward as counterterrorism expert Hannah, they instantly transform into nerdy geniuses, able to hack into any computer, phone or quite possibly brain in the land. Having established their credentials, Hannah sets the young men off on the trail of a story leaked to The Guardian, with unexpected consequences. Almost instantaneously, they identify the source of the leak and the journalist who received it, starting off a 2¾-hour drama that is rich in thrills and spills.
It doesn't take long before the leaker, a minor member of the Saudi Arabian royal family, disappears from a third floor balcony to her death. The question that fires up Zef and Neil is the identity of the culprit. It could be the lady herself, but that seems unlikely, which leaves dirty tricks teams from either the British or Saudi intelligence networks. In an effort to find out more, the dynamic duo start an intensive investigation into the young, Scottish journalist whose byline was on the story. Rona Morrison plays Cora, eager to advance her career despite obstacles put in her way by ageing colleagues, and her editor, Lucy Black playing Denise.
What starts off as a murky story, in every sense, becomes increasingly complex and contrived in the manner of a racy TV drama of the kind that keeps viewers bingeing for episode after episode long into the night.
It may sound a little far-fetched but Neil overdoes the surveillance, somehow managing not only to prevent a suicide but, using a pseudonym and pseudo-life, also overcoming a complete lack of social skills to commence an affair with the attractive journalist. You do not need to be a genius to realise that when a spy gets into bed with the woman whom he is supposed to be trailing, no good will come of it.
The Haystack, which has been directed by Hampstead's Artistic Director Roxana Silbert, asks some telling questions about our digital society, is action-packed and therefore likely to find favour with audiences.
Although some of the characterisation may be a little thin and the plotting requires suspension of disbelief too often, it is the theatrical equivalent of a gripping, if sometimes baffling, page turner. On that basis, there is every chance that it will have a highly successful run at Hampstead with the possibility of a West End transfer if a theatre happens to be dark at the right moment.
Reviewer: Philip Fisher