The History Boys
Alan Bennett
Sheffield Theatres
The Crucible, Sheffield
–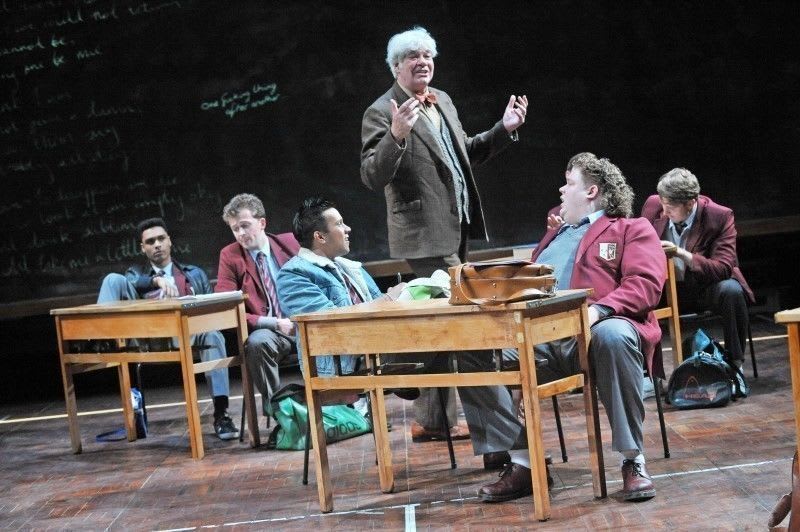 The History Boys, Alan Bennett's most acclaimed stage play, premièred at the National Theatre in 2004. The subject matter is partly autobiographical, based on Bennett's experience as a sixth former preparing to sit a Cambridge entrance exam, and his subsequent experience as a college teacher at Oxford passing on examination techniques to a later generation of students.
The play charts the experience of eight boys from a standard grammar school preparing to sit an entrance exam in history. We sit in on a number of entertaining lessons, which open up debates about the purpose of education and the nature of history.
The Headmaster is only interested in League Tables and enhancing the reputation of the school; Mrs Lintott advocates a solid, balanced approach with the reservation that women are poorly represented ('History is women following behind with the bucket'); Hector, the General Studies teacher, is passionate about words, and sees poetry and the other literary arts as providing a bulwark against all of life's eventualities; the newly appointed, pragmatic Irwin teaches the boys to challenge and subvert established attitudes to historical events in order to write eye catching essays; and for the blunt, sporty Rudd, history is 'just one fucking thing after another'. But, what the play explores, in either a personal or global context, is that history results as much from chance and accident as from predermination.
Designer Chloe Lamford transforms the Crucible stage into a vast school hall with overhead strip lighting and badminton court markings. Supplementary mobile stages represent the head's study (a glass case for fossils) and the school staffroom, which are wheeled on by the boys. The many scene changes are a vigorous and entertaining part of the action, with the boys leaping onto desks and over chairs as they re-arrange the furniture, or performing rhythmic movement sequences to loud pop music (choreographer Imogen Knight).
As Hector, Matthew Kelly makes the part his own, displacing memories of the late Richard Griffiths's performance in the NT production and the subsequent film. Kelly is ungainly and eccentric, passionate, provocative, and, when the time comes, a broken man. His comic timing is superb in scenes that are bursting with Bennett's wit and delight in language.
Newcomer Edwin Thomas (Irwin), a recent Guildhall graduate, is outstanding in his professional stage debut. He gives the impression of being a seasoned actor, though at the beginning of his career, and successfully captures the complexity of Irwin's character in a convincing and well-rounded performance.
Julia St John is a likeable Mrs Lintott, world weary but wise, perceptive and genuinely concerned for her students and colleagues. She is a necessary antidote to Nicholas Day's splendidly obnoxious and petty-minded headmaster, who is at his pretentious best in the delightful French lesson. 'Pourquoi cet garçon... est sans…ses…trousers'. Stacey Sampson is a nubile Fiona who fleshes out a small part.
The boys make a wonderful team, and they work hard at it. There is not a weak link there. Each actor has clearly characterised his role, and is an important member of the group. Tom Rhys Harries has successfully captured Dakin's vanity and intellectual arrogance; Oliver Coopersmith's plangent singing adds a significant emotional dimension to the play, as does his sensitive performance as Posner; Will Featherstone as Scripps (and accompanist) has an important observational and linking role; Ross Anderson is forthright as the blunt, gauche Rudd; Edward Judge shows his comic potential and makes the most of his cameo as the prostitute in the French class; Joshua Miles, Nav Sidhu and Rege-Jean Page give ample support in the classroom scenes and make the most of their individual opportunities.
Michael Longhurst's production is a model of clarity, the debates well articulated and the comic possibilities explored to the full. This is a fast moving production full of vitality and interest, which also allows the audience to engage with Bennett's thought provoking views on education, history, achievement and the life long value of the arts.
Reviewer: Velda Harris