The History of the World Based on Banalities
Titus de Voogdt and Johan de Smet
Kopergietery
Summerhall
–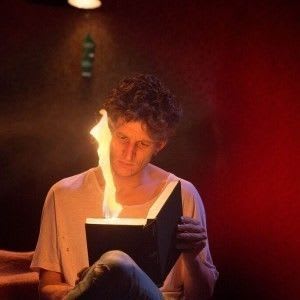 It is merely coincidental but The History of the World Based on Banalities is uncommonly like Robert Lepage's 887.
Both try to encompass a good deal of history and comment on the foibles of society in autobiographical musings related by a solo performer. In this case, actor Titus de Voogdt is supported by loud live music from Geoffrey Burton's electric guitar.
The perspective for a tale told in a kitchen is the impending death of Philip's mother in her early fifties. The physicist, who was distinguished in her day, has succumbed to Alzheimer's.
This play from Belgium thus becomes a poignant homage to her, as well as depicting the sometimes turbulent times of the man telling his own story at the same time.
Reviewer: Philip Fisher