The Hound of the Baskervilles
Sir Arthur Conan Doyle, adapted by Steven Canny and John Nicholson
Octagon Theatre with Original Theatre Company
Octagon Theatre
–

Listing details and ticket info...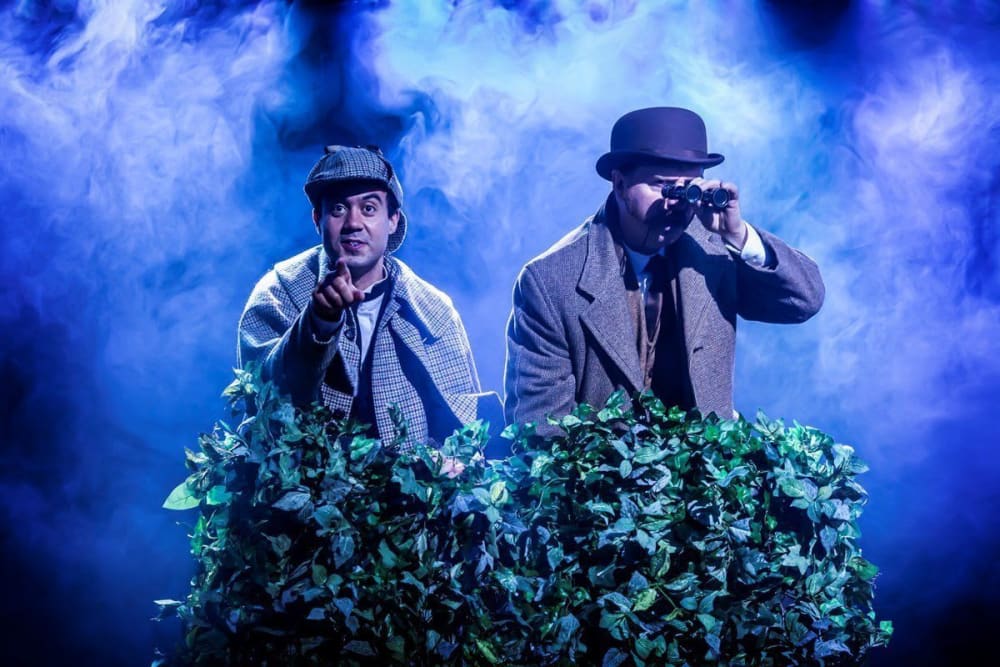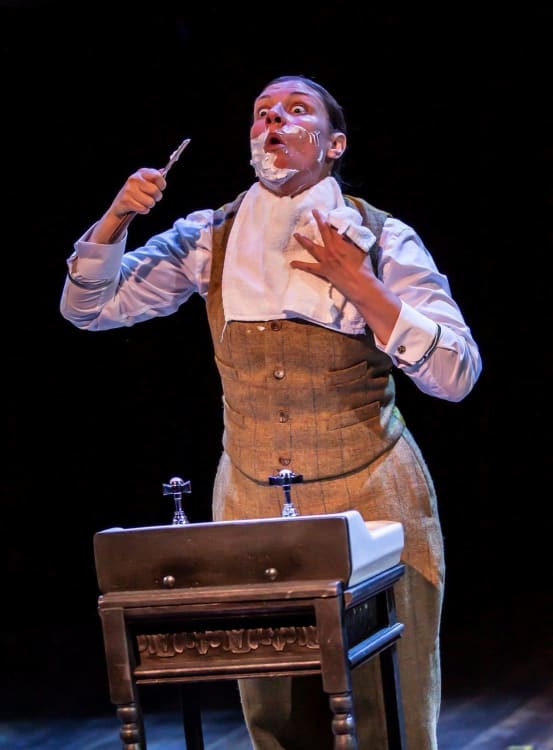 Originally appearing nearly 15 years ago, around a year after the successful Patrick Barlow adaptation of The 39 Steps opened at the Tricycle, this Peepolykus version of the novel that brought Sherlock Holmes back from the dead follows the same idea as the latter in using a small group of actors frantically playing a large number of characters with lots of knockabout comedy and imaginative use of props and costumes.
After warning the audience how scary the story is to be, the play begins proper in the office of Sherlock Holmes (Reuben Johnson), where the great detective and his friend Dr Watson (Simon Kane) are visited by Dr Mortimer (Polly Lister) with a legend of a ghostly hound roaming Dartmoor bumping off successive generations of the Baskerville family. Sir Charles Baskerville (also Lister) died recently in suspicious circumstances, and the next in line to the Baskerville estate, Sir Henry (Lister again), is about to arrive from Canada. Can Holmes protect Sir Henry and solve the mystery?
In fact, Holmes leaves Watson to travel to Dartmoor with Sir Henry and remains in London. Or does he?
This talented cast create some great characters. Johnson is a rather jollier Holmes than we usually see, as well as the sinister Stapleton, suspicious butler Mr Barrymore and his wife and sexy, tangoing Cecille. Simon Kane is mostly Dr Watson, whom he plays just as we might expect as bumbling and not entirely effective but well-meaning, but he is also one of a pair of yokels with Lister, leaning on a gate and commenting on the world, just like The Two Ronnies used to do. Lister, meanwhile, plays two generations of the Baskerville family, Dr Mortimer, a cab driver and a scary yokel selling animals in a bag with impressive energy.
Designer David Woodhead keeps the stage mostly bare but supplies a 3D backdrop with a spooky house in the distance surrounded by skeletal trees and a large moon behind. There is some imaginative use of pieces of set and props that come on and off with eerie music and occasional spot sound effects to enhance mimed actions from sound designer Andy Graham.
This seems to add up to a promising package, so why doesn't the production ever really take off? For one thing, I don't envy the cast playing comedy to a Monday night audience (not even press night—I had to isolate last week and missed it) scattered thinly across the auditorium to follow 'social distancing' rules and wearing masks—these aren't the perfect conditions for getting them rolling in the aisles, even if that were allowed.
A lot of the gags in the script are poor, not even worth groaning at, and the plot of a story that had to keep building the tension to make readers want to buy the next issue of The Strand Magazine, where it was originally serialised, seems to be irrelevant here. A few times, the characters stand around telling each other the plot to help us keep up, but it's still pretty confusing.
But while the cast inject a great deal of enthusiasm into their playing, the production itself often flags. Even the opening of act 2, which begins with a quick summary of act 1, though short, isn't particularly fast, so that farce energy of everything being on the brink of falling apart isn't there. Sequences of short scenes separated by blackouts for scene changes covered by the same piece of music also kill the pace.
A full audience, when such a thing is allowed, would no doubt lift the production considerably, as there are some great performances that did raise plenty of muffled chuckles from the scattered and masked midweek audience that became louder and more frequent towards the end.
Reviewer: David Chadderton