The House with Chicken Legs
Oliver Lansley, based on the novel by Sophie Anderson
Les Enfants Terribles and HOME Theatre, Manchester
York Theatre Royal
–

Listing details and ticket info...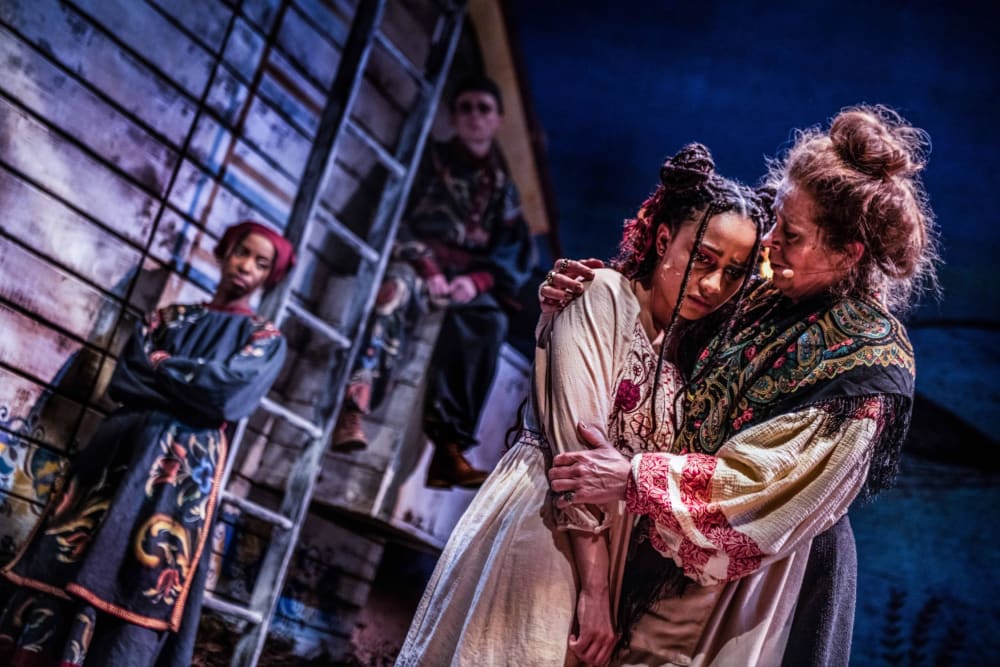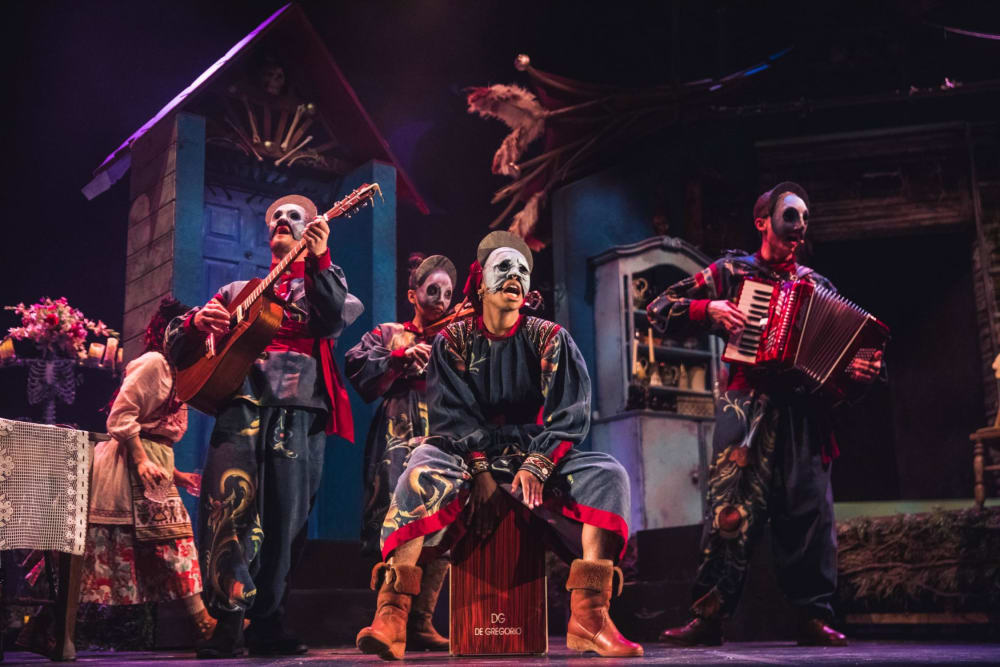 The concept of death has inspired countless pieces of art, but it is not necessarily a subject that we expect to see explored in works aimed at younger audiences. There are notable exceptions, of course, with many children learning about mortality through the loss of parents in films such as Bambi and The Lion King, but generally speaking we assume that child-centred texts will tread carefully in this area.
Adapted from Sophie Anderson's 2018 novel, The House with Chicken Legs tackles the subject of death directly, but in a way that makes the subject palatable to children. Indeed, the highest praise I can give the show is that it reminded me of the glorious Pixar film Coco, which approaches the impermanence of life in a similarly vibrant and celebratory manner.
Inspired to write the novel after several of her family members passed away within a couple of years, Anderson also draws upon the Slavic myths and legends she was told as a young girl by her Prussian grandmother. 12-year-old Marinka (Eve de Leon Allen) lives with her grandmother Baba Yaga (Lisa Howard) in a magical house that moves around on massive chicken legs.
In legend, Baba Yaga is often depicted as a child-devouring witch who flies around in a mortar whilst wielding a pestle. This production puts forward a more flattering interpretation, portraying her as a spirit guide whose job it is to meet with recently deceased spirits in order guide them through a magical door into the afterlife.
Marinka is expected to follow in her grandmother's footsteps, but she finds herself torn between an overwhelming sense of duty and her desire to be a normal girl with friends her own age.
The House with Chicken Legs received excellent reviews when it was first performed at HOME in Manchester last year, and it is not difficult to see why. This production—confidently directed by Oliver Lansley and James Seager—manages to deal with serious issues in a deft and sure-footed way without lurching into sentimentality. The show's confident appropriation and re-invention of established folklore reminded me of top-flight fantasy writer such as Neil Gaiman, and the show is suffused with a high level of energy and imagination.
The versatile cast inhabit their roles with great skill whilst also singing, playing musical instruments and performing puppetry. Eve de Leon Allen shines in the leading role, ensuring that Marinka is an appealing and sympathetic protagonist. Lisa Howard is terrific as Marinka's free-spirited grandmother, providing many of the production's strongest comic moments. The rest of the cast manage to impress in a range of smaller roles.
Unfortunately, The House with Chicken Legs was plagued by technical difficulties on the evening I attended, meaning that some momentum was lost during scene changes. While these issues might have been resolved by relying on simpler set designs, it would have been a shame to lose Jasmine Swan's beautifully constructed house, which bears the influence of Russian folklore and Slavic architecture in its design.
Once the technical issues have been resolved, I'm confident that The House with Chicken Legs will be very strong indeed. Furthermore, quicker transitions will result in a shorter, pacier and more purposeful production.
The House with Chicken Legs will tour the UK until the end of year and will next be performed at the Leeds Playhouse from 13 to 16 September.
Reviewer: James Ballands