The Hunting of the Snark
Lewis Carroll / Annabel Wigoder
Sherman Cymru, Alice House, RGM Productions
Sherman Cymru
–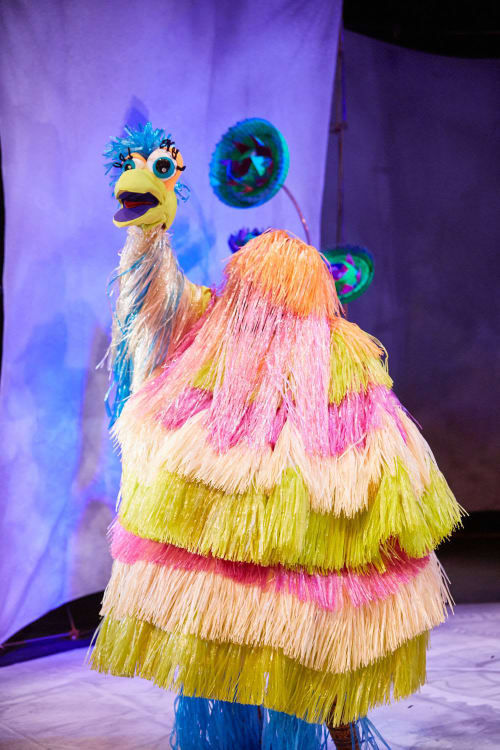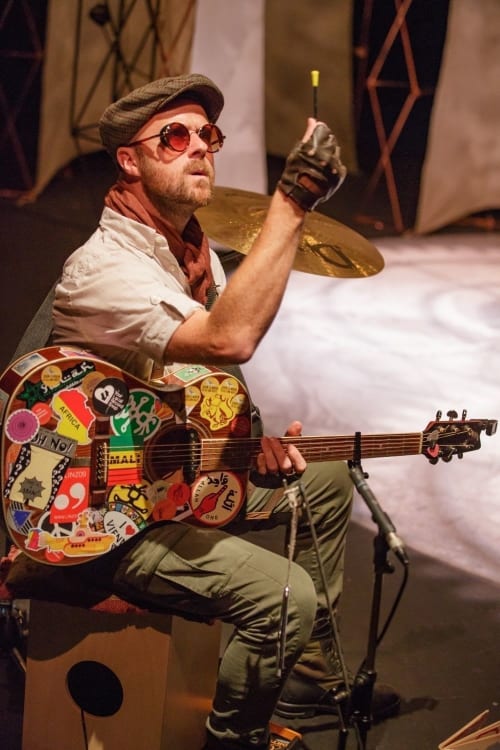 Lewis Carroll's mock-epic poem, telling the tale of the quest for a mysterious creature, has resisted easy interpretation for nearly a century and a half. There have also been many attempts at adaptation, most notably Mike Batt's star-studded extravaganza in the 1980s.
This production, first seen on the Edinburgh Fringe in 2015, is on a smaller scale, with a cast of five, plus frequently referenced on-stage musician. Scripted by Annabel Wigoder, working in conjunction with director Gemma Colclough, it is a fairly free take on the text, firmly aimed at a young audience.
The story begins with one-man-band Steve, played by Jonathan Glew, wordlessly introducing himself and taking his place onto Justin Nardella's dreamlike set, where the Boy—played by Kate Spencer—is asleep.
As he awakens, we soon discover that he is the son of the money-obsessed Banker—Vedi Roy—who is too busy to take him to school, but not too preoccupied to notice a news report suggesting that the legendary (and valuable) Snark has been spotted in a faraway land. Thus, in contrast with the original, the initial motivation for the search is purely financial.
Other cast members—Neal McWilliams and Polly Smith—are introduced as the Banker interviews prospective expedition leaders, quickly settling upon Alex Parry's boastful Mr Bellman, a self-proclaimed authority on Snarks, even though, in common with everyone else, he has never actually seen one.
Many characters from Carroll's original are absent, this version of the narrative focussing on the relationship between the Banker and his son, who stows away on the expedition vessel. Thus, along the way, we encounter such figures as McWilliams's panicky, amnesiac Baker, Smith's gleefully homicidal Butcher, and the Beaver—a puppet who is the source of much wisdom, as well as knitted goods.
And this is even before we arrive on the island home of the Snark, where the camp, black-clad kleptomaniac Bandersnatch (McWilliams) and the annoying but beautiful Jubjub bird (Parry) play their part in impeding the mission.
Gareth Cooper's songs are witty and full of contemporary references, although the minimal score, more than ably played by Glew, seems a tad one-dimensional.
Spencer's ebullient Boy went down well with the youthful press night audience, as did the skilful clowning of the rest of the cast; although Roy suffered a little from being saddled with the least interesting and most problematic character—the neglectful father who has a predictable change of heart.
If the piece has a flaw, it is the centrality of this theme, to the effective exclusion of others—the elusiveness of happiness, the nature of blind faith, the importance of endeavour to human progress, etc—which means that it does not impact as deeply as it might.
Nevertheless, all but the very youngest audience-members were kept intrigued and amused throughout the 75-minute running-time.
Reviewer: Othniel Smith