The Hypochondriac
Richard Bean and Richard Thomas, from Molière's Le malade imaginaire
Richmond Theatre
–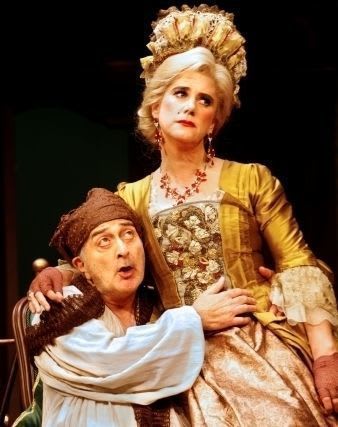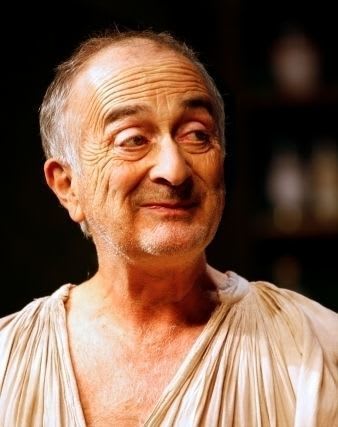 Between Great Britain, Pitcairn and Made in Dagenham, there can be few playwrights who've been as busy as Richard Bean's been in 2014.
The writer's latest venture, which debuted at Theatre Royal Bath in October and is now touring, is a new version of Molière's 1673 comédie-ballet Le malade imaginaire, one that reteams Bean with his Dagenham lyricist cohort Richard Thomas, who provides the songs. And with this mischievous pair on board, it's not much of a surprise to find that this is an adaptation that turns the rudery of the original up to the max, creating a production that practically redefines the term "scatological."
Molière's satire (during the fourth performance of which the playwright himself—with grim appropriateness—sickened and later died) has both miserliness and the medical professional in its sights, focusing on the various quacks and charlatans who attend Argan, a wealthy penny-pinching hypochondriac.
Health issues aren't Argan's only concern, though. He's also meddling in the matrimonial prospects of his daughter, Angelique, who loves Cléante, but whom her father wants to marry a trainee doctor, Thomas. Meanwhile, Argan's wife Beline—a conniving survivor of seven spouses—is eager for Angelique to get herself to a nunnery, the better for Beline and her very attentive legal advisor to get their hands on Argan's wealth.
Such farcical shenanigans are meat and drink to Bean, whose adaptation retains the time period of the original but adds plentiful naughty touches all its own. Thomas's songs (delivered with great gusto by MD Andrew Bevis) set the tone—titles include "Germs Are in the Air," "Where Would Be Without Drugs?" and (yes) "Blood in my Poo"—for a version that revels in the smutty and the lavatorial, not to mention such groan-inducing quips as: "With friends like these who needs enemas?".
Co-directed by Lindsay Posner and Lisa Blair, and strikingly designed by Paul Wills, the production starts quite spryly and seems to promise a disreputably enjoyable evening to be had. Sadly, though, the proceedings take a considerable dip in the second half where poorly-done disguises and Molière's own less-than-inspired plotting quickly become tiresome.
The performances are variable, too. Parked, Hamm-in-Endgame style, in a wheelchair-cum-commode, and surrounded by jars of his own stools, Tony Robinson is good value as Argan, lighting up with glee at each new diagnosis and treatment that's offered him. But Tracie Bennett as the nursemaid Toinette and Craig Gazey as Thomas ("breastfed until 16!") ham outrageously and not very amusingly in their roles.
Lisa Diveney's Angelique has her moments, especially on a satisfyingly silly improvised duet that she shares with Jordan Metcalfe's ardent Cléante. But the best sustained and funniest performance comes from an elaborately costumed Imogen Stubbs as the scheming second spouse, delightfully mixing cooing baby talk with perfectly timed asides.
If the clever, cheeky Made in Dagenham showcased Bean and Thomas at their best, then The Hypochondriac sees them at their best and their worst. They're similar writers, in many ways, both capable of delivering genuinely funny material, yet equally liable to fall back on weak, tired gags and tastelessness. (AIDS and Ebola references here seem especially ill-advised.)
There's fun to be had in the first half of the show, undoubtedly. But come a botched musical finale, plus a misguided meta coda, and there's little cure for what's ailing this production.
Reviewer: Alex Ramon