The Importance of Being Earnest
Oscar Wilde
Stratford Festival Theatre
American Airlines Theatre, New York
–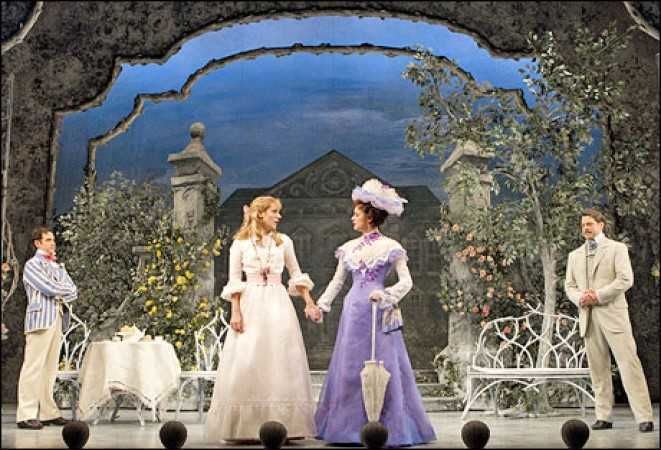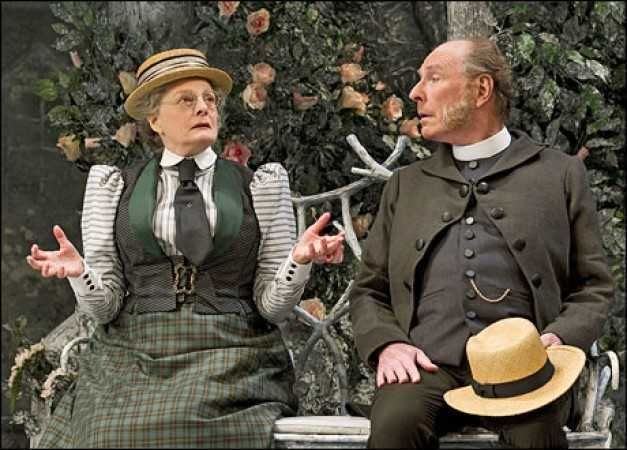 Another gem has emerged courtesy of the pandemic and is sharing its pleasures with the world.
Brian Bedford was not only chosen by Stratford Festival Theatre to direct this revival of Oscar Wilde's classic but he also agreed to take on the central role of Lady Bracknell. As he explains in an interview with David Hyde Pierce, Bedford only accepted the role on the basis that he would play her ladyship as a female, rather than a camp cross-dresser. He does so remarkably convincingly, setting the tone for a joyous production that was thankfully recorded for posterity in HD.
Scenic designer Desmond Heeley has created a series of impressionistic confections that perfectly convey the period and are things of beauty in themselves, while his costumes also fit the bill, particularly those sported by Lady Bracknell, which are reminiscent of garishly wrapped Christmas gifts, while the loud jackets and bow ties sported by Santino Fontana taking the role of Algernon Moncrieff are also eye-catching.
It is hardly worth commenting on the plot, since almost every reader will be familiar with a tale of two young society gents in the Victorian era seeking marriage to pretty young things. In order to achieve their goal, both use subterfuge creating imaginary helpers, Algernon utilises his ever-ailing friend Bunbury, while David Furr as his friend Jack Worthing frequently despairs for his badly behaved brother Ernest.
The young women are a contrast, Sara Topham's society-obsessed Gwendolyn as shocked by rural life as Cecily, appropriately played as a gauche teenager by Charlotte Parry, is by city slickers.
Adding to the fun are the older generation led by Bedford as a glorious Lady Bracknell, uttering every hilarious line straight but in doing so getting constant laughs. In support, Dana Ivey as hapless Miss Prism and Paxton Whitehead portraying strait-laced Canon Chasuble add to the fun.
The filming reminds viewers that they are part of an audience and ensures that, while video can never compete with a live theatre experience, this is an evening to be enjoyed for posterity.
Many might feel they have seen more than enough productions of The Importance of Being Earnest to last a lifetime, but Bedford has done such a good job that this version recorded in front of a live Broadway audience at Roundabout Theatre Company's American Airlines Theatre in 2011 should not be missed thanks to its humanity, humour and the deliciously delivered aphorisms.
Regrettably, this recording was viewed on its final day on the platform of Stratford Festival, the company that originally conceived the production in 2009, but there is every chance that it will come around again, having appeared for short runs at various different online locations during lockdown.
Reviewer: Philip Fisher