The Importance of Being Earnest
Oscar Wilde
Nottingham Playhouse Theatre Company
Nottingham Playouse
–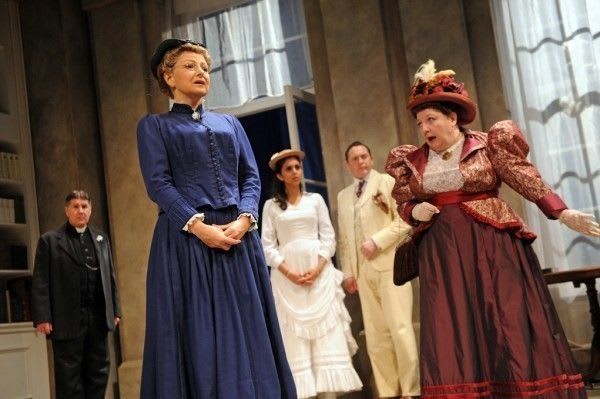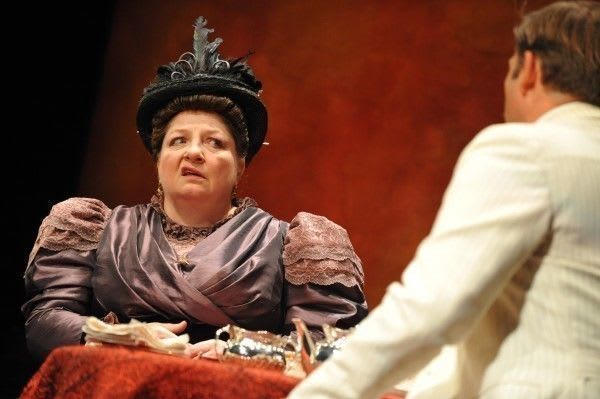 Astonishingly it's five years since I last reviewed The Importance of Being Earnest and remarked then how hard the cast had to work to extract something different from Wilde's wonderful script.
When a theatre company revives a play which has been successfully performed often over the past 100 years, it has to put up with comments from cynics that it's been chosen as a crowd-pleaser and a sure-fire financial success.
But what struck me while watching Giles Croft's production was that many people in the audience were guffawing in such a way that it appeared they were watching Wilde's comedy for the first time.
Whether it's your initial or umpteenth version of The Importance of Being Earnest, there's plenty to enjoy in this one.
Croft, the Playhouse's artistic director, has a steady pair of hands when he's offering a traditional take on a classic. Here he's employed a terrific cast who clearly relish their roles.
For The Importance of Being Earnest to succeed, there has to be chemistry between Algernon Moncrieff and Jack Worthing, a different rapport between Jack and Gwendolin Fairfax and Algy and Cecily Cardew, and affinity of a contrasting nature for the two young women.
Sam Callis, probably best known for playing Sgt Callum Stone in The Bill, shows how versatile he is with a spirited performance as Jack, indignant over Algy's "bunburying" yet not averse to inventing a younger, amoral brother to disguise his philandering ways.
Hywel Morgan slips effortlessly into the role of Algy, more louche than his friend yet retaining the audience's empathy for the character.
Rokhsaneh Ghawam-Shahidi quickly changes from a determined young woman who knows her own mind to an obedient daughter who cowers whenever Lady Bracknell puts her in her place.
Her scenes with Anjli Mohindra as Cecily, initially greeting each other with warmth and generosity only for the relationship to crumble into nastiness because of confused identities, are a treat.
As for Lady Bracknell, Joanna Brookes almost steals the show.
Last year she appeared in a rep season at Newcastle-under-Lyme's New Vic, giving what I described as a "master class" in the role of Mrs Malaprop in Sheridan's The Rivals.
As Lady Bracknell she provides haughtiness mixed with practicality and puts over the lines as though Wilde had written them for her.
There's not the merest hint of Edith Evans in her "A handbag?" proclamation which is infused with laughter—an excellent touch.
There are impressive cameos from Playhouse regulars Claire Storey as a refreshingly natural Miss Prism and panto dame John Elkington as Canon Chasuble along with Robert Banfield as the butlers Lane and Merriman.
This production shows that if a theatre earnestly puts importance in a well-chosen cast and an astute director, the results will be wildly successful.
Reviewer: Steve Orme