The Importance of Being Earnest
Oscar Wilde
Vaudeville Theatre
–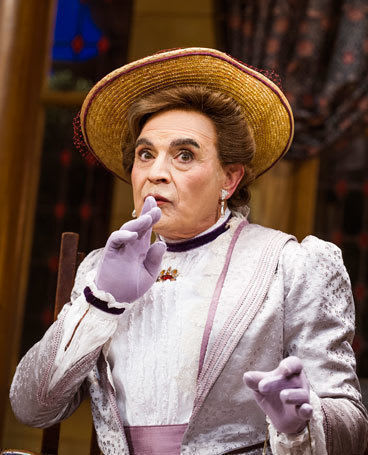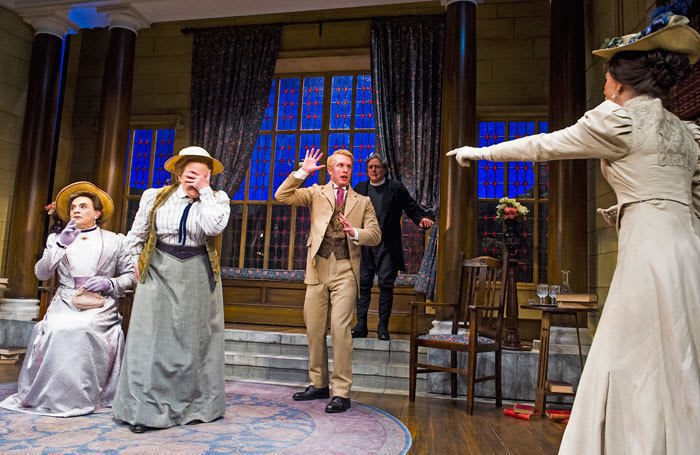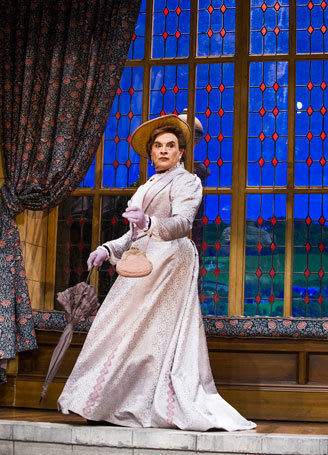 However many times one sees The Importance of Being Earnest, the wit and wisdom of Oscar Wilde continue to dazzle.
Even 120 years after the play first wowed London audiences, revivals continue to be popular and audiences are always pleased.
The plotting is merely a catalyst for insightful and frequently funny aphorisms, while Lady Bracknell is a dream role for an actress (typically a Dame of the British Empire) of mature years.
On this occasion, though, director Adrian Noble has taken a different route, casting popular Poirot actor David Suchet in the role, which adds extra nuances to the piece.
Peter McKintosh has created glorious sets for each of the three acts, the first a comfortable if somewhat cramped London living room, the second a hedged-in garden and the last a lavish library. The two rooms feature the Moncrieff coat of arms with the ironic motto Veritas Victrix Estis, broadly truth is the victor or conqueror.
The opening sees two young men with love in mind and an equally lax relationship to the conquering truth.
In brief, Philip Cumbus as Algernon Moncrieff lives in London and pseudonymously woos in the shires, while Jack Worthing, played by Michael Benz, does the reverse.
The objects of their affections are Emily Barber's Gwendolyn Fairfax, who seems to have inherited haughtiness with her mother's milk and Imogen Doel as Cecily Cardew, an 18-year-old who gushes and pouts more like a sheltered country girl approaching her teen years.
Through 2½ hours, including intervals between each of the three acts, plot twists complicate and then unravel leading to misunderstandings, embarrassments but an inevitable happy ending.
Not only do the young lovers run the gamut of emotions from passion to hatred, often within seconds, but their chaste older equivalents Miss Prism and Canon Chasuble, respectively Michelle Dotrice and Richard O'Callaghan, gambol like youngsters.
One of the oddities about this revival lies in the decision that most of the actors should use excessive and very modern physicality, presumably in case some of Wilde's timeless lines fail to hit home, despite over a century of unalloyed popularity.
The exception to this rule is David Suchet who is a wry Lady Bracknell, even playing down and laughing through his character's immortal line "a handbag" rather than expostulating a la Dame Edith Evans.
The key to a fine performance is the actor's innate comic timing and ability to trust the role and script, thereby generating countless laughs and keeping the unlikely plot flowing.
There seems little doubt that with a big name in the lead giving a fine performance, this limited run will sell out and there is no question that it is very funny.
Reviewer: Philip Fisher