The Inconvenience of Wings
Lara Foot
The Baxter Theatre Centre at the University of Cape Town
Assembly George Square Studios
–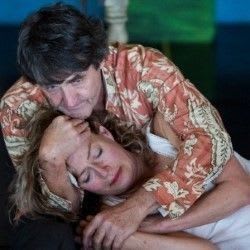 Whether you call it manic depression or bipolar disorder, the affliction wrecks peoples' lives. Eventually, as this play so eloquently demonstrates, it removes even hope.
Like Betrayal, the timeline of this 80-minute drama runs backwards. It starts in 1995, by which time Andrew Buckland's Paul is suffering from dementia, remembering little of his past.
The play then shows us that past, moving in leaps backwards eventually reaching his first meeting in 1961 with Sara, who would become his wife.
Jennifer Steyn's character is Paul's obsession, giving him two children but also untold heartache as her bipolar illness combines with addiction to drugs prescribed to relieve its symptoms to turn a loving, fun-filled woman into an unpredictable, suicidal mess.
Witnessing their disintegration is Mncedisi Shabangu as James, remarkable in his own right as a black professor of psychiatry when Apartheid was in its pomp.
Without wishing to diminish the fine efforts of her colleagues, The Inconvenience of Wings proves to be a great advert for the prodigious acting talents of Jennifer Steyn, who delivers an unforgettable performance, graphically depicting the highs and lows of this mania.
Lara Foot has written and directed a beautifully modulated work for the Baxter Theatre Centre at the University of Cape Town that sympathetically explores the pain and confusion of husband and wife in considerable detail and should not be missed.
Reviewer: Philip Fisher