The Invisible Hand
Ayad Akhtar
Kiln Theatre and Dasha Theatricals
Kiln Theatre
–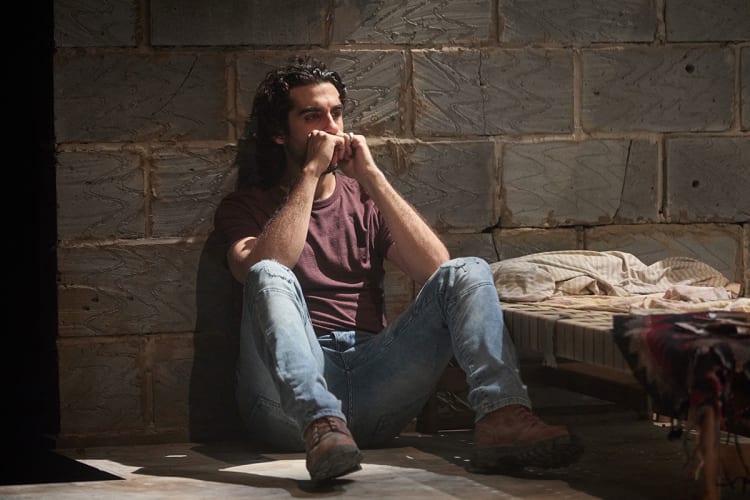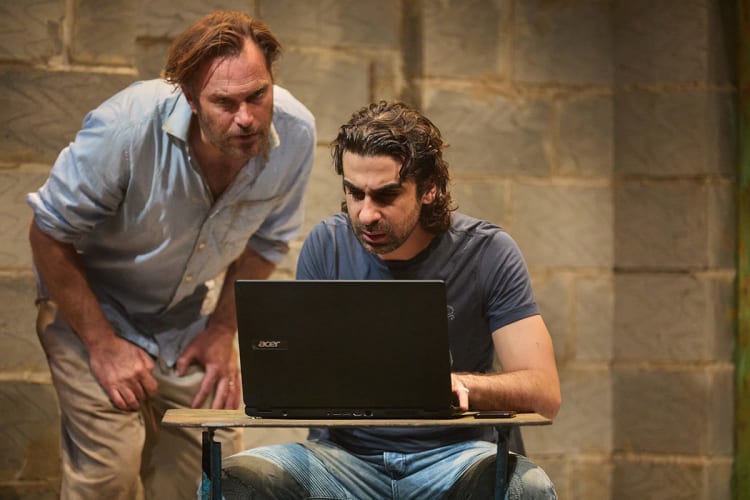 The "invisible hand" is the phrase Adam Smith used in expounding his theory that individual self interest would regulate the stock market and return it to parity, and Ayad Akhtar's play crosses a terrorist thriller with a caustic portrayal of financial expertise (aka capitalist jiggery-pokery).
Nick Bright (Daniel Lapaine) is an American banker who's been kidnapped and held to ransom in Pakistan, but he isn't the big cheese they thought him. There is no way that they can get the $10 million they expected for him and anyway the US government refuses to negotiate because their leader has been labelled a terrorist.
Nick claims that with his skills he can make that much for his captors in return for his freedom and their leader Imam Saleem (Tony Jayawardena), whose main aim seem to be to support his community, does a deal with him.
Nick is not allowed himself to use their computer. Everything must be done through his keeper, Bashir (Scott Karim), a Moslem who grew up in Hounslow, and he turns out to be an adept pupil.
Will Nick find a way to escape? Can he make that $10 million? Would they let him go anyway? This is a drama with plenty of tension; there is an undercurrent of violence that is emphasised by the blinding light and noise that mark every scene break and allow characters to magically appear and disappear in a moment.
At the same time, we are getting a lesson in finance from the Bretton Woods agreement that put the world on the gold standard, dominated by the US dollar to the game of futures. The Imam sees his people as "prisoners of a corrupt country that is of our own making" and we see that corruption at work too.
Indhu Rabusingham's intense production was first seen in 2016, the last show before the Tricycle closed for its redevelopment as the Kiln. Daniel Lapaine and Tony Jayawardena again face each other as Nick and the Iman with Sid Sagar as lowly foot-soldier Dar, but now Scott Karim brings his energy to Bashir, bitter about the way England treated his father and the West the rest of the world.
These are all strong performance, as gritty as the breezeblocks of Lizzie Clachan's setting, presenting a picture of good intentions giving way to self-interest and corruption. Financial success is fed by inside knowledge (and here that may be a prior news of a killing) and there is a kind of analogy between the financial and the political scheming with them coming together, along with a reminder of the way that Bin Laden hiding himself in Pakistan produced US dollars for the Pakistan government.
Reviewer: Howard Loxton