The Invisible Hand
Ayad Akhtar
Tricycle Theatre
–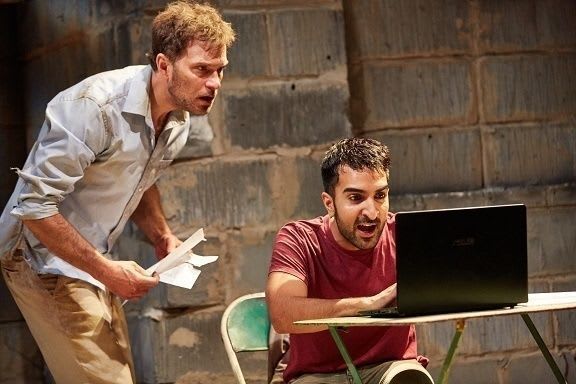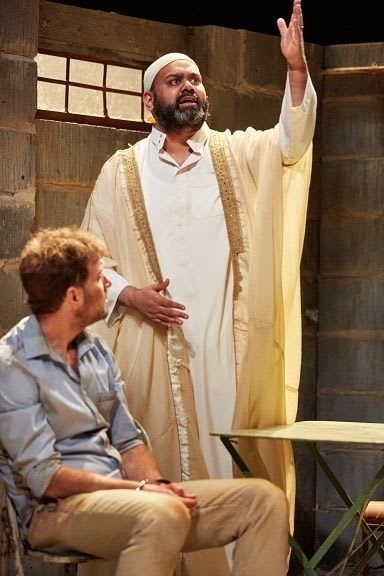 The Invisible Hand, an award-winning drama which enjoyed considerable success at New York Theatre Workshop, proves to be something of a coup for Indhu Rubasingham who must have beaten off considerable opposition to secure its UK première for the Tricycle.
She directs a claustrophobic piece ostensibly about the War on Terror but which manages to combine many of the attractions of Someone Who'll Watch over Me by Frank McGuinness and Enron by Lucy Prebble.
The two-hour play is set in an angled, Lizzie Clachan-designed primitive Pakistani breezeblock home, converted into a prison for American financial trader Nick Bright, played with considerable conviction by Daniel Lapaine.
His captors may come from the kinder side of Islamic extremism but still put the fear of (someone's) God into the heart of a family man who was kidnapped by mistake.
In the early scenes, Parth Thakerar's Bashir seems to mix the neurotic with the psychotic in a dangerous combination that makes his prisoner's longevity seem unlikely. This committed jihadist hails from Hounslow rather than Ahmedabad and seems willing to lay down his life for his people and eternal happiness.
The voice of reason comes from Tony Jayawardena as Imam Saleem, an avaricious holy man with Mephistophelean tendencies.
Following a couple of attempts to fulfil a $10 million ransom that will never be paid, Nick persuades the holy man that dealing in financial instruments offers a far better future (pun entirely intended) than murderous criminality.
In by far the play's most amusing and engrossing scenes, the trader and his unbelievably fast learning sidekick Bashir create their own version of Stockholm syndrome, playing the markets at long range using inside information obtained from the local serious extremists.
In a series of plot twists that eventually become overly schematic, the fresh financial whiz kid discovers ways to rig markets that would instil pride into the hearts of even the most devilish bankers.
The title itself comes from Adam Smith and his theory that the free market contained its own invisible hand that would regulate prices and transactions.
At the same time, the Imam proves himself to be much more a man of the world than one might expect particularly when only heavenly riches should be on his agenda.
Thanks to tight direction from Indhu Rubasingham, some excellent performances and a taste for the mildly melodramatic, The Invisible Hand builds to an unlikely but satisfying denouement, even if it dilutes some of the potential political and satirical power of the piece in doing so.
Reviewer: Philip Fisher