The Judas Kiss
David Hare
Robert Fox, Theatre Royal Bath Productions, Hampstead Theatre and Chichester Festival Theatre
The Duke of York's Theatre
–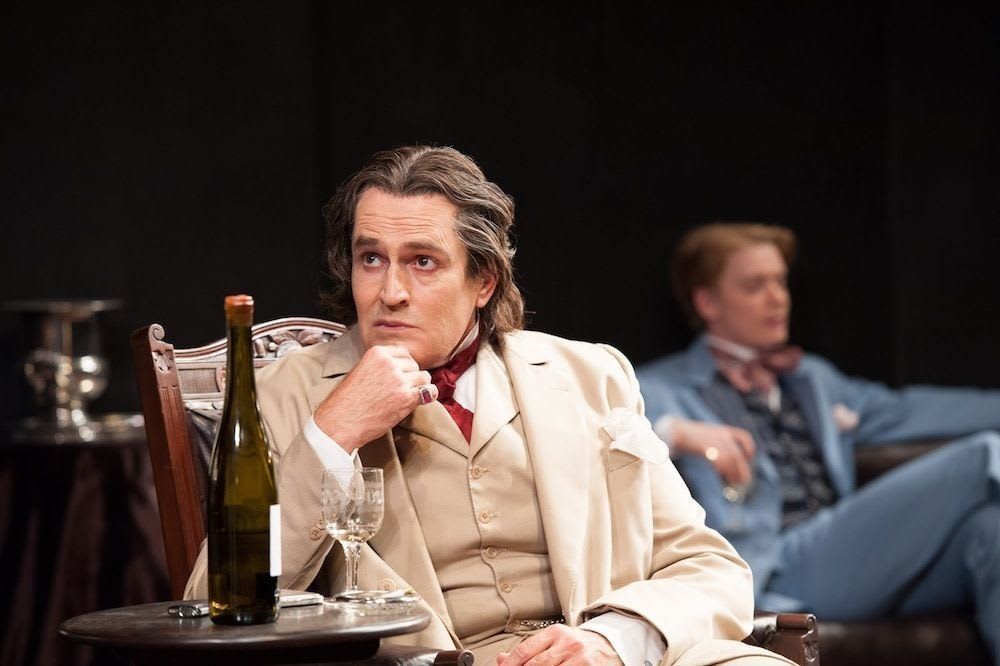 Rupert Everett's performance and David Hare's script combine brilliantly to make the Oscar Wilde at the heart of The Judas Kiss not simply the flamboyant caricature of so many dramatisations and sketches, but a fragile, feeling and captivating human being.
Neil Armfield's understated revival of Hare's 1998 play has moved to The Duke Of York's following its well-received première at Hampstead Theatre. It follows in two acts Oscar Wilde's (Rupert Everett) relationship with the self-obsessed Lord Alfred Douglas (Freddie Fox). Act one shows us Wilde in a London hotel on the day a warrant for his arrest is issued, whilst act two takes place some years later with Oscar hiding in Naples, ill and a shadow of his former self.
It is a great triumph of Hare's play that in the events of just a few hours, separated by years, he manages to somehow capture the entire life, genius and conflict of a man. Hare is restrained in his writing, making the Wilde on stage instantly believable; he resists the temptation to fill his dialogue with brilliance and flair and instead creates a man of obvious intelligence and charm, believably brilliant but also someone you believe you could meet.
In partnership with the text, Everett is superb, always resisting the temptation to play too much for laughs when the script is funny and showing similar restraint in moments when many other actors would be trying hard for tragic sympathy. At the heart of the story he creates a noble, kind and talented man left with nothing and no one who simply has to endure.
Freddie Fox meanwhile provides the perfect foil; his portrayal of Lord Douglas avoids the easy broad acting choices and stereotypical pitfalls of the character. He comes across as self-obsessed and vain, even at times truly, astonishingly selfish and yet he manages to be sympathetic to the last. When Cal MacAninch's earnest Robbie, Wilde's oldest friend, asks Oscar why he puts up with Alfred, the poet cannot explain, and yet there it is for all to see, something between him and Alfred you cannot put your finger on it, but you feel it.
Dale Ferguson's design is simple but atmospheric with Armfield's minutely brilliant direction allowing the story to tell itself. The ensemble is unanimously very strong whilst Paul Groothuis's subtle sound and Rick Fisher's unobtrusive lighting give life to a world on stage.
The Judas Kiss does not employ any gimmickry or flash production values; its pace is measured but never dull. Hare shows here why he is, when he resists his recent temptation to be overly-political, one of the theatres greatest living writers. The characters are engaging, the play is strong and all the cast and creatives know it. They have nothing more to do than serve to the audience a story; challenging, depressing, at times uplifting and joyous but always true.
There are politics, messages, contemporary parallels and questions raised, but all in such a way that does not patronise; instead the audience is flattered and spoiled by a rare theatrical treat.
Reviewer: Alisdair Hinton